So much for expanding the lore of June 11. Despite a dominating puck possession performance and their ability to raise the level of play as the game progressed, the Kings were denied by Henrik Lundqvist 40 of 41 times on Wednesday night in a 2-1 loss that felt even narrower than the one-goal difference. Lundqvist also benefited from two pucks that stopped short of pay dirt, with Alec Martinez's first period power play attempt making it as far as the goal line before being turned back. Also, credit Derek Stepan for having the wherewithal to push Tanner Pearson's stopped puck away from the goal line instead of closing his hand on the puck to bring it back, which would have prompted a penalty shot. Los Angeles skaters after the game spoke about wanting to get better traffic in front, needing to show more desperation, playing a more physical style of game and offered a collection of other theories to analyze the 2-1 loss, but really, they were the better team, and their performance in Game 4 may have been their best performance of the series. They dominated in shots on goal, possession, scoring opportunities, and lost a game because their bounces, deflections and redirections were not as fortunate as their opponents, and because Lundqvist was the best he has been this series. Though he was beaten on a brilliant move by Dustin Brown one-on-one, he also denied Brown in a separate one-on-one opportunity and tracked Jeff Carter very well as the forward moved laterally atop the crease after beating a Rangers forward wide down the left wing in the second period.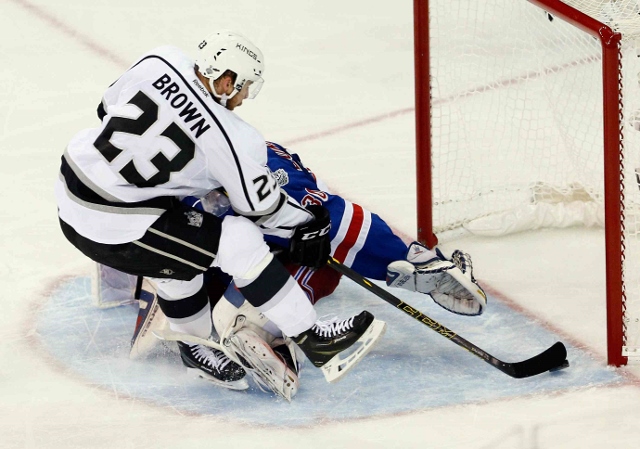 While Los Angeles spoke of the ways to accentuate their performance, New York pushed the needle of the Road Apples Detector after the game. Leading a team that had previously decried the bounces and poor luck throughout the series, Alain Vigneault said that the Hockey Gods were on New York's side in Game 4, and Henrik Lundqvist said that "We talked about it the first couple games where, you know, especially against this team, you need that little extra puck luck." While the bounces certainly favored the home team on Wednesday, over a seven-game series, the better team is going to advance, not the "lucky" team. There's a good piece on Deadspin today about the hollowness of using "luck" as a tool in evaluation, or as Barry Petchesky writes, "some agency in chaos." Over small sample sizes, "luck," whatever the definition may be, is worth noting; by the time this series is claimed, it won't be a relevant jumping off point to analyze why the Kings or Rangers are Stanley Cup champions.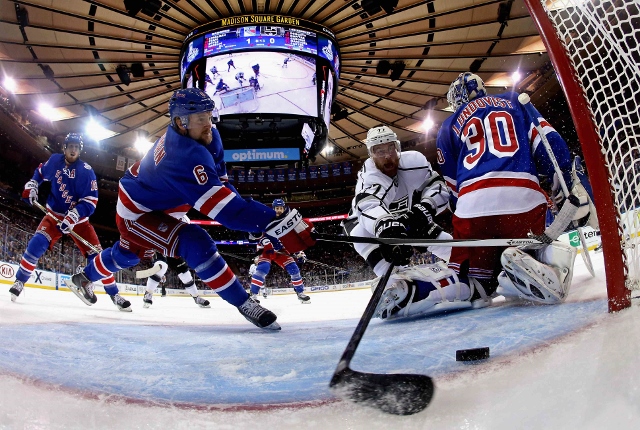 Welcome back, That 70's Line. After its emergence earlier in the playoffs and breakthrough in the Western Conference Final, Tanner Pearson, Jeff Carter and Tyler Toffoli contributed with their finest performance to date in the Stanley Cup Final, and that's a good sign for Kings fans. Pearson and Carter were perhaps Los Angeles' best forwards, and though he's not the likely Conn Smythe Trophy choice should the Kings ultimately win this series, Carter has been about as consistent as any forward on the team this postseason. Pearson, though, took eight shots and tied for a team-high four hits in 13:15 of ice time in Game 4, and his constant speed and confidence with the puck against top defensemen is a reflection of his own skill and the quickly but marvelously-chiseled chemistry inherent in a line comprised two-thirds by rookies. Both the Kopitar and Carter lines contributed with healthy possession numbers but when combining Pearson, Carter and Toffoli's shot attempts, 14 shots were on goal, one shot was blocked, and one shot missed the net. As has been noted everywhere, Henrik Lundqvist was very good for the Rangers.