The march of the cockroaches continues. Two months ago that would have been silly nonsense, but after the Kings rallied to win the third straight game in which they faced at least one two-goal deficit – there were three such deficits on Saturday – Raid is going to have to develop some sort of extra-strength Might and Determination Killer. Yes, this has become the postseason of the intangible.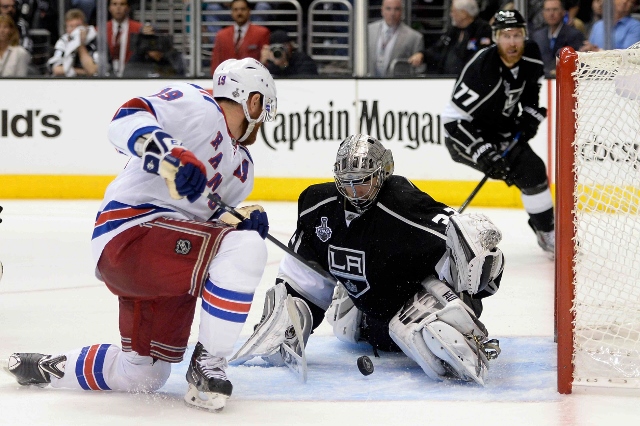 After the game, Los Angeles discussed the win as if there were an untold number of improvements that could be made in their performance. They practically bemoaned the win. Yes, there are certainly aspects of their game that need refinement, beginning with better first periods, and continuing down the line to better defensive zone checking and perhaps a few individual performances that could see improvement in various areas. But they've won a pair of games against a very, very good team by playing a game that probably grades somewhere around a B+ on the range of Kings postseason performances. Jarret Stoll was asked after the game if this feels like the first two games of the Anaheim series, where the Kings won a pair of games without having played their best, and I don't think the comparison is 100% accurate. Game 2 of the second round was probably the worst performance in a Los Angeles win this postseason and was a game in which they were bailed out by Jonathan Quick and outshot 37-17. Last night the Kings had most of their players going quite well for them and despite a pace of play that may have sagged at certain opportunities, still won the possession and shot attempt metrics and relied upon an improved ability to get pucks and bodies to the front of the net.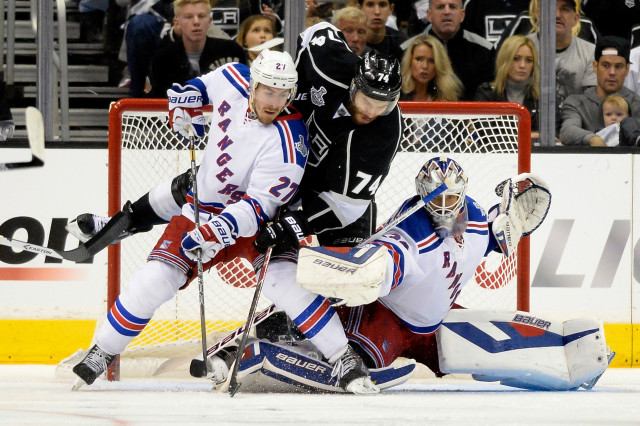 Speaking of which, it's still worth a discussion whether or not Henrik Lundqvist's anger over the third Kings goal is completely justified; it's a close play and a judgment call that went in Los Angeles' favor, but yeah, that's probably goaltender interference. Lundqvist's ability to make the save is encumbered in that situation, but whether or not that was by Dwight King's own accord, or by Ryan McDonagh's inability to contain King, who leveraged the New York defender and gained an inside position is still worthy of a discussion. Unable to keep him outside of the crease, McDonagh more or less channeled King right on top of Lundqvist. Again, that's probably goaltender interference, but it's not a completely black and white play, and credit King for winning a netfront battle to deflect a puck that ultimately put the Kings in position to tie the game. That's a gutsy goal by King, who has scored quite a few of them over the last three postseasons.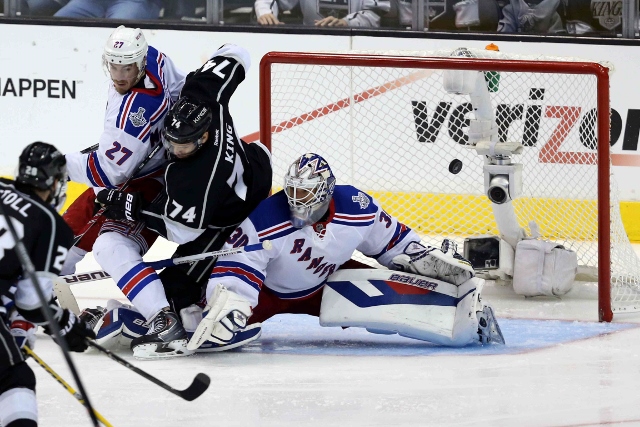 Depth – Los Angeles has plenty of it. The Kopitar line wasn't the team's strongest line for the full 91:26 and was not as effective in possession metrics, though they drew very difficult assignments. The Carter line – perhaps due to Carter getting dinged up by a McDonagh first period hipcheck – was better possession-wise but did not make a big impact on the game. And then there was the Jarret Stoll line, which combined for six points and was fully in the black in shot generating metrics, led by Dwight King's +7 in shot attempts directed towards the attacking net over the defending net while he was on the ice. Also impressive – the Mitchell-Voynov pairing began an overwhelmingly disproportionate number of shifts in their own zone yet still finished a shade under 50% in Corsi percentages. They were given incredibly difficult assignments, and, by and large, handled them well.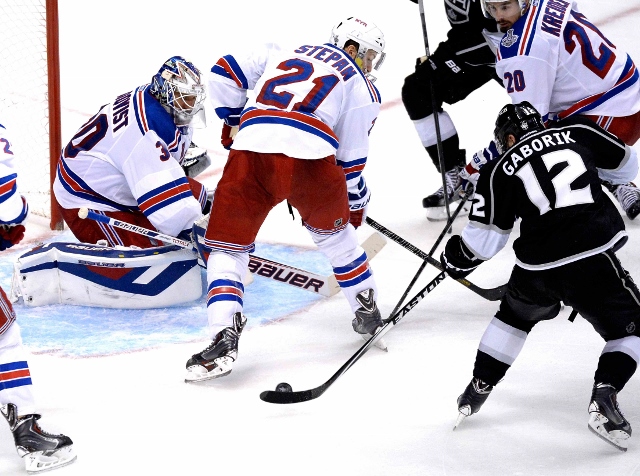 The Kings are approaching a very difficult set of circumstances for Game 3. New York has played only one fewer playoff game, but it's Los Angeles that has played three straight overtime contests and four overtime games in their last five, and they're crossing the country for the first time in two and a half months to play a road game in the Stanley Cup Final against an excellent team. The Garden will be intimidating, as championship-level games in New York always are, and the ice surface will probably be poor. By and large, the series has been even to this point, and it'll likely take a performance that exceeds the two they've exhibited thus far to come out on top. They're capable of that, of course – they're the cockroaches – but any slip in their execution won't be as forgiving as perhaps as it was to this point in the series.