It's hyperbolic to look at this playoff series as a pair of heavyweight champions locked in an epic two-week title bout, but it's not inaccurate. For all the intangible characteristics that the Kings possess – "intangible" seems to be working its way into more stories this round – the Blackhawks have also cultivated a forest of those qualities by virtue of also having reached the highest level of National Hockey League success this decade. Against a sparring partner with the same championship ideals, the same resiliency, the simple will to win, and, as the narratives have shifted over the last week, Patrick Kane, it's really not a surprise that this playoff series will go the distance. Perhaps it's easy to disagree with this given the opportunities Los Angeles had to win in Games 5 and 6, but it seems natural and expected that these two very, very good hockey teams will be playing Western Conference hockey on June 1.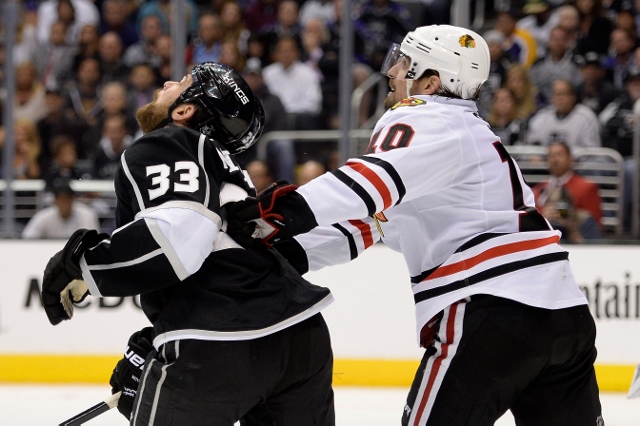 Abstract magnification aside, there were a few breakdowns in this game, and while it's easy to gravitate towards placing blame on individuals, games are won and lost by teams. The Kings were unable to protect two leads, and as frustrating as the final 10 minutes of the third period were for Kings fans, the first three minutes of the second period placed them on that course. A legitimate holding call on Anze Kopitar 20 seconds into the period was not killed, and a minute and 37 seconds after Patrick Kane's first goal, the Blackhawks entered the offensive zone cleanly and with control, and Ben Smith finished off a rush by banking the puck of Jonathan Quick's skate from behind the goal line as he continued his unsung postseason performance. Between that moment and the first two third period goals, Los Angeles responded well, dictated the pace of play for longer stretches than Chicago, out-possessed and out-attempted its opponent and ultimately tied the game and took the lead. The woulda-shoulda-coulda factor is still strong in a game in which the Kings had a poor start to the second period.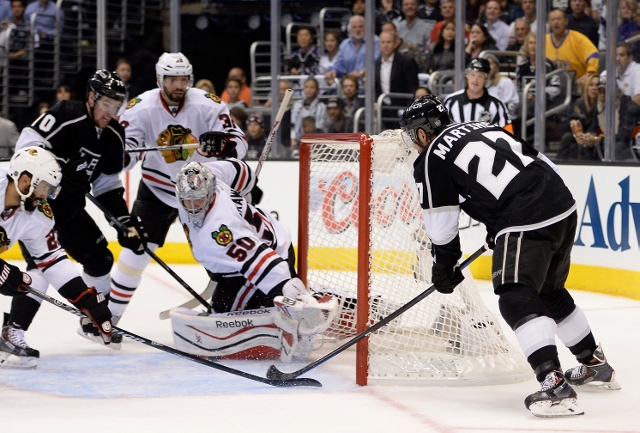 It was a game that seemed to typify Jonathan Quick's postseason campaign. Though there were the remarkable saves – hello, denial of a two-on-zero – there was also the one stop on three third period shots on goal. Look, this is a series in which tremendous players have made an impact in the midst of thoroughly compelling hockey. Patrick Kane, Jeff Carter, Jonathan Toews, Anze Kopitar, Duncan Keith and Drew Doughty all made huge impacts on their teams at the Winter Olympics. These are excellent, championship-branded players playing at their highest level, and goals are going to be scored given this series' artistry. Jonathan Quick is better than his .906 postseason save percentage, and he's going to have to summon the magic of postseasons past given that he's about to face another onslaught by a handful of gifted players. We haven't consistently seen in this series the type of Quick performances we saw in the series comeback against San Jose, or Games 1 and 2 against Anaheim. It does appear as though Los Angeles is going to need something in the realm of a 36-of-38 performance from Quick if the team is to advance. It will be up to the players working in unison in front of him to possess the puck and exit the defensive zone as cleanly as possible to reduce the frequency of the Grade-A opportunities that have flowed freely in this series.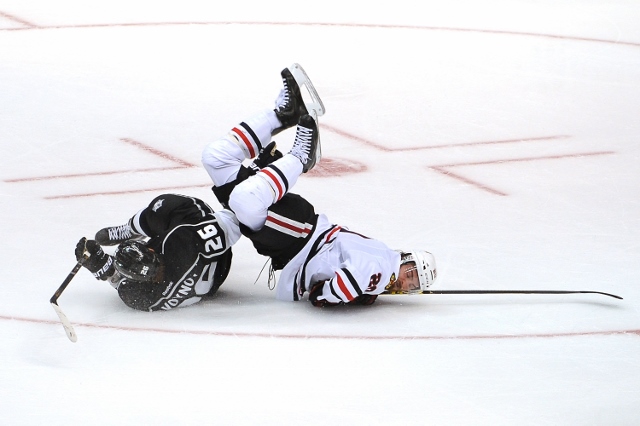 Kings fans, it's good to know Drew Doughty is on your side tomorrow. Following up his supreme Game 5 performance, he was again among the top difference makers in Game 6, though the narrative balance shifted to Patrick Kane given the dramatic third period turn. Making a strong claim as The Best Defenseman In Hockey, Doughty is obviously poised, patience and intelligent with the puck, and like so many individuals on these two teams, is trying so hard to will those around him to victory. Though he spoke about having moved past the loss when speaking with reporters last night, one can only think about how excruciating Game 5 and 6 must be on the ultracompetitive athlete. He logged 26:10 of ice time, and along with Jake Muzzin, was on the ice for 23 shot attempts directed towards Corey Crawford and only 12 shot attempts directed towards Quick.