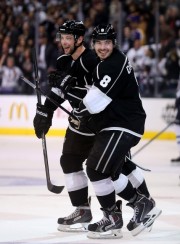 There have been the occasional potholes and rough patches in the road that Jake Muzzin has traversed in becoming a player who has averaged 23 minutes and 32 seconds of ice time per game in the second round series between the Kings and Ducks.
But before he ever merged onto the Los Angeles Kings highway, his navigation system nearly had him pointing in the opposite direction of the Freeway Faceoff rivalry.
"I had a pretty good idea other teams were involved," said Mike Futa, who was Los Angeles' Director of Amateur Scouting at the time Muzzin did not come to contract terms with the Pittsburgh Penguins, the team that had selected him in the fifth round in 2007. The defenseman continued his play with the Soo Greyhounds before Los Angeles signed him in January, 2010.
"Actually, he was leaning towards Anaheim," Futa recalled.
After skating at the Honda Center Friday morning in advance of Game 7, Muzzin acknowledged the Ducks' interest.
"There was some talk there. There were a couple teams interested, and Anaheim was one of them," he said. "I chose L.A. At the time, they had a little more interest in me, I felt, and here we are. It was a good decision."
It wasn't an easy decision, nor was it the most navigable path towards the National Hockey League.
"He looked at the defense at that time," Futa said. "Our age distribution kind of had Drew and Slava. It didn't look like an easy blue line to crack, age-wise, and with all our veterans in place, and Anaheim was a little thinner on the back end at that stage, and it was a tough one. I remember asking Ron Hextall to have a good conversation, and Hex really did a good job presenting what we had here, and I remember getting the call that we got Muzz. You always have a feeling what they're going to be like, but some guys – it was like Wayne Simmonds – sometimes when they get there quicker than you think, you're just like 'Wow.'"
Several factors weighed in Muzzin's decision to sign an entry level contract with the Kings. Hextall, the team's Assistant General Manager at the time, offered some persuasion, as did General Manager Dean Lombardi. There was also some concern on Muzzin's end that the Ducks did not have an AHL affiliate at the time. In the season prior to linking up with AHL-Syracuse in March, 2010, Anaheim spread their prospects amongst several American Hockey League teams as well as ECHL-Bakersfield.
"Manchester was there already," recalled Muzzin, who finished up his overage season with the Greyhounds in 2009-10 by winning the Max Kaminsky Trophy, awarded annually to the OHL's most outstanding defenseman, and being named to the CHL's First All-Star Team by virtue of a 64-game, 67-point campaign.
"I had a lot of really solid contacts in the O from my general manager days," said Futa, who was the Owen Sound Attack's GM from 2002-07.
"Dave Torrie at the time was the general manager up there, and I was spending a lot of time up there watching Soupy (Andrew Campbell), and they had a pretty good corps of draft-eligible kids. The Soo – it's not that people don't go, but it's a little off the beaten path, and every time that I went, Muzz was just jumping off the sheet. He was taking over games. It was early enough in the process. We've got a more set-in-stone process now, but I called Mark Yannetti and said, "Yank, it's killing me. You've got to come up.' And he's just like, 'Holy smokes. He looks good.' And I have a very good relationship with his agent, Joe Resnick, and I got a hold of Hex and said, 'We've got to try and get in here quietly.' I remember they were taking a swing through, and I asked Mike Donnelly, who was doing college free agents, and I asked 'If you don't mind taking a peek at this guy and coming through,' and everybody kind of got a quick peek in a real short period, because you don't want it to get out how much you like a kid like that, because it's not like as a draft, where you can slot him into a draft."
The Kings were in a playoff drought at the time and didn't necessarily have the same persuasive abilities that come with winning a Stanley Cup and having established a firm developmental model.
"I said it's almost like a sales pitch you can make," Futa said. "It's out there now that we've got such a good development team that people, they get excited because they know when they're drafted here there's going to be a different mix of preparation that goes into getting them the best possible chance to become Kings."
Muzzin now looks to make the most of his agreements with Los Angeles and is midway through a two-year, two-million dollar contract he signed during the 2013 off-season.
As noted, there have been hiccups along the way, but with a goal in Game 6 against the Ducks, and a 13-game, seven-point, plus-three rating this postseason in which he has increased his special teams contributions and logged heavy minutes alongside Drew Doughty against the opposition's top players, the maturation and confidence from his growing NHL experience has been one of the footnotes of the Kings' postseason quest.
"He's been playing pretty well," Doughty said. "He had a big goal last game. We're playing well defensively. We've had a couple bad breaks the last couple games for goals against, like when he fell, and just another bad break in Game 5…I think it was. I think he's been playing pretty good. He needs to keep playing well, because we're playing against Getzlaf and Perry a lot of the time. Yeah, they're still getting their points, but they're not really getting them when me and Muzz are out there."