(3) Los Angeles Kings (3-3) at (2) San Jose Sharks (3-3)
Wednesday, April 30, 2014, 7:00 p.m. PT
SAP Center, San Jose, CA
Referees: #8 Dave Jackson, #9 Dan O'Rourke
Linesmen: #93 Brian Murphy, #95 Jonny Murray
Prime Ticket, NBCSN, CBC, KEIB 1150 AM
Los Angeles Projected Starting Goaltender – Jonathan Quick
2013-14 Playoffs: 6 GP (6 GS) / 3-3 record / 3.47 GAA / .901 Sv% / 1 SHO
Career, Playoffs: 56 (56) / 32-24 / 2.17 / .926 / 8
2013-14 Playoffs, Away: 3 (3) / 1-2 / 4.51 / .878 / 1
San Jose Projected Starting Goaltender – Antti Niemi
2013-14 Playoffs: 5 GP (5 GS) / 3-2 record / 3.90 GAA / .882 Sv% / 0 SHO
Career, Playoffs: 61 (61) / 35-25 / 2.73 / 9.07 / 2
2013-14 Playoffs, Home: 3 (3) / 2-1 / 3.43 / .899 / 0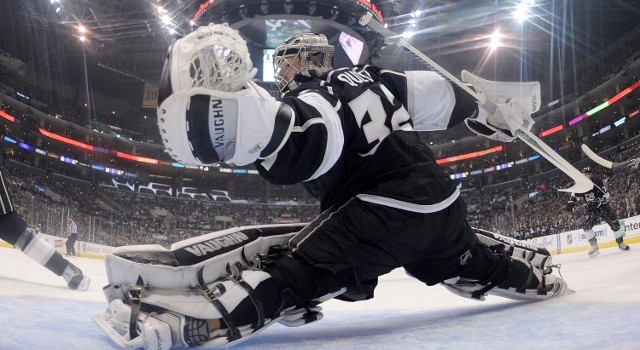 2013-14 Los Angeles Leaders
Total Points: Anze Kopitar (3-5=8)
Goals: Justin Williams (4-1=5)
Assists: Drew Doughty (0-6=6)
Plus/Minus: Jake Muzin (+4; 2-2=4)
Penalty Minutes: Kyle Clifford (37; 0-0=0)
Time On Ice: Drew Doughty (26:37; 0-6=6)
2013-14 San Jose Leaders
Total Points: Patrick Marleau (3-4=7)
Goals: Patrick Marleau (3-4=7)
Assists: Patrick Marleau (3-4=7), Joe Pavelski (2-4=6), Dan Boyle (0-4=4)
Plus/Minus: Matt Nieto (+4; 2-3=5)
Penalty Minutes: Andrew Desjardins (31; 0-2=2)
Time On Ice: Dan Boyle (22:08; 0-4=4)
Rankings and Statistics
Goals/Game: LAK – t-2 / 3.50; SJS – t-2 /3.50
Goals Against/Game: LAK – t-13 / 3.50; SJS –t-13 / 3.50
Power Play: LAK – 6/ 23.8%; SJS – t-9 / 15.4%
Penalty Kill: LAK – t-7 / 84.6%; SJS – 11 / 76.2%
Shots/Game: LAK – t-7 / 32.2; SJS – 3 / 34.7
Shots Against/Game: LAK – 14 / 34.7; SJS – t-9 / 32.2
Faceoffs: LAK – 9 / 49.2%; SJS – 8 / 50.8%
Save Percentage: LAK – t-10 / .899; SJS – 14 / .891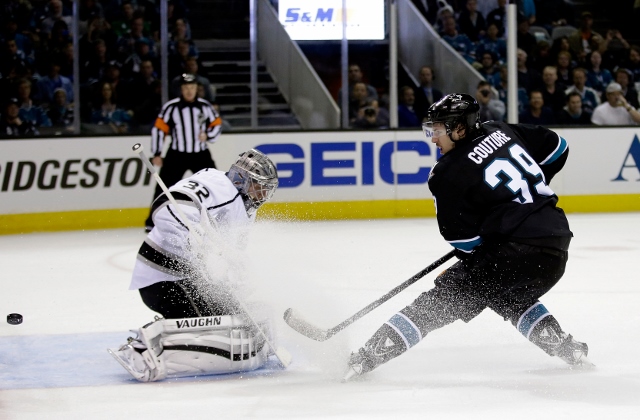 Los Angeles Projected Lineup
Marian Gaborik – Anze Kopitar – Dustin Brown
Tanner Pearson – Jeff Carter – Tyler Toffoli
Dwight King – Jarret Stoll – Justin Williams
Kyle Clifford – Mike Richards – Trevor Lewis
Jake Muzzin – Drew Doughty
Slava Voynov – Robyn Regehr
Alec Martinez – Matt Greene
Jonathan Quick
Martin Jones
Level of confidence in projected lines: A. There won't be any surprises tonight. The above lines were used during the morning skate, and while it is possible an extra player or two may take warm-ups, these are the lines and pairings expected to be used at the outset of Game 7.
Notes and milestones: Los Angeles is 9-10 all-time against San Jose in the playoffs, a mark that includes a road record of 3-6. The Kings are 97-129 all-time in the playoffs and 41-77 on the road. … Los Angeles is the ninth NHL club to force a Game 7 after trailing 0-3 in a series. Three teams have won series in which they erased a 3-0 deficit: The 1942 Toronto Maple Leafs (over Detroit in the Stanley Cup Final), the 1975 New York Islanders (over Pittsburgh in an NHL quarterfinal) and the 2010 Philadelphia Flyers (over Boston in the 2010 Eastern Conference semifinals). Mike Richards and Jeff Carter played on the 2010 Flyers, though Carter was injured and did not participate in the series. … The Kings are 4-4 all-time in Game 7s, going 2-1 at home and 2-3 on the road. The last time they played a Game 7 on the road was in the Western Conference Quarterfinals on April 29, 2002 at (0-4 L at Colorado). The last time Los Angeles won a Game 7 on the road was in the Campbell Conference Final on May 29, 1993 (5-4 W at Toronto). … Darryl Sutter is 4-3 in Game 7s. … The Kings have held the lead for 167:49 of the series, the Sharks have held the lead for 103:01 of the series, and the games have been tied for 96:25. … Los Angeles has scored in the first 8:09 in each of the last three games. … Home teams are 24-3-1 in the last 28 regular season and playoff games between the Kings and Sharks. In this series, both teams are 2-1 at home. … The teams have combined for 562 hits in the series. … Los Angeles is 5-17 (29.4%) on the power play over the last four games. … Anze Kopitar has points in seven straight playoff games (4-6=10) and eight straight games overall (7-6=13), dating back to the regular season. … Jonathan Quick has stopped 60 of 61 shots over the last 128:24 since Joe Pavelski's Game 4 power play goal. … The Kings are 6-1 in their last seven playoff series. … There will be three Game 7s on one night in the NHL for the first time since April 22, 2003. On that night, Justin Williams earned first star honors with a game-winning goal and two-assists in Philadelphia's 6-1 win over Toronto. Williams, who has five goals and nine points over four Game 7s, is the first player in NHL history to score at least once in each of his first four Game 7 appearances. He has four goals and five points (4-1=5) in the last three games and nine goals in 19 career playoff games versus San Jose.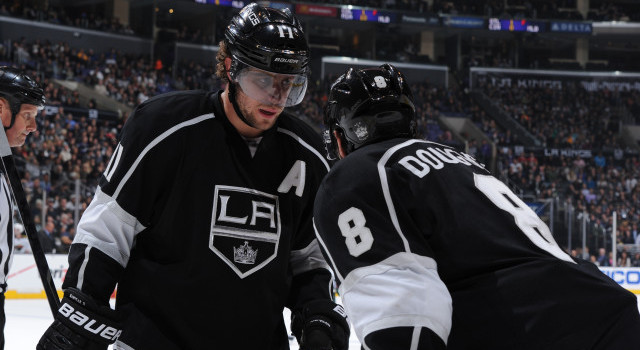 San Jose Projected Lines
Tomas Hertl – Joe Thornton – Brent Burns
Patrick Marleau – Logan Couture – Matt Nieto
Marty Havlat – Joe Pavelski – Tommy Wingels
James Sheppard – Andrew Desjardins – Raffi Torres
Matt Irwin – Dan Boyle
Brad Stuart – Justin Braun
Scott Hannan – Jason Demers
Antti Niemi
Alex Stalock
Notes and milestones: The Sharks are 5-3 all-time in Game 7s, which includes a 2-0 mark at home. … In 2011 San Jose led Detroit three games to none before losing three straight. On May 12, 2011, Antti Niemi stopped 38-of-40 shots as the Sharks relied on Devin Setoguchi, Logan Couture and Patrick Marleau goals in posting a 3-2 win over the Red Wings at home. … Today is the 20th anniversary of San Jose's 3-2 win over Detroit at Joe Louis Arena in Game 7 of the team's first ever playoff series win and the first series won by an eight seed over a one seed. The series-clinching goal was scored on Chris Osgood by forward Jamie Baker, who currently serves as the team's radio color commentator. … San Jose was outscored 17-8 in the first three games before being outscored by Los Angeles 13-4 in the last three. … Brent Burns ranks second in the postseason with 27 shots, two shots behind Marian Hossa. He has at least two shots in each game.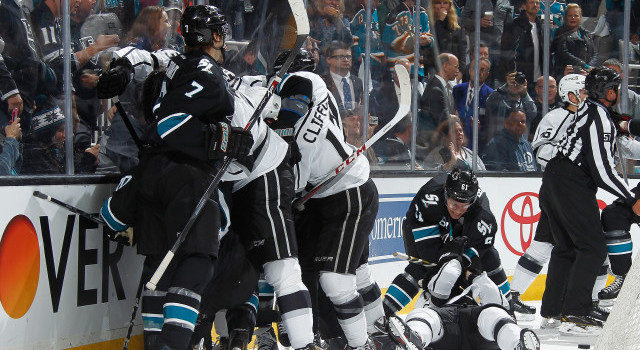 Joe Thornton, on line match-ups:
I've been going a lot against Stoll and Carter, but Kopitar as well. We've been putting Cooch against them. He's a big, strong center. He moves his feet well and he's up for the Selke. So he's a really dominant centerman.
Thornton, on his message to the team ahead of Game 7:
We've trained all year for this. We've worked hard for 82 games to get this chance to have home ice and here we are. There is no better rivalry for the Sharks than against the Kings. We'll be ready and looking forward to it.
Thornton, on what he expects in Game 7:
What do I expect? It's going to be a good, competitive game like the last six games.
Thornton, on having Game 7 experience:
We've been through a lot of Game 7's. So I think that helps, but every Game 7 is different. It's nice for it to be at home and we're looking forward to it. Against Detroit years ago, yeah it worked out in our favor. We're hoping to do the same tonight.
Thornton, on the atmosphere being different before a Game 7:
I wouldn't say. We're a confident group still, even though we've lost three in a row, we still feel like a confident group. Nemo has got some rest and he'll be ready for tonight. We're an easy going group. We feel good when we're loose. We feel that we can beat anybody. Yesterday was a good practice to get everybody upbeat again and I think we did that. Today, all the guys came in with smiles on their face and look forward to battling hard tonight.
Thornton, on his confidence in the offense:
Early on in the series, Desi's line was playing well. They were putting the puck in the net. So really we have a lot of confidence. We feel like if we can get two we can win the series tonight.
Thornton, on the San Jose top two lines having not produced much offensively in the last three games:
You want to contribute any way you can, but obviously putting the puck in the net is your job. We did that good in the first three games and not so good in the last three. Hopefully we can get back to it tonight.