Several abbreviated notes from Los Angeles' 4-3 shootout loss to Anaheim:
It is spring once again, and after a fall and winter journey through each of the 30 National Hockey League arenas, the Los Angeles Kings have returned to the surroundings that for much of 44 years appeared to be a gift or a reward, but over the past two have certainly evolved into an expectation. 82 games have been inscribed in The Book. The Kings won 46 of those games. During this Sunday recovery day, reflect on the circumstances that led to the 46 wins. When the team returns to Toyota Sports Center for meetings and workouts on Monday, the win counter will be reset to zero.
Los Angeles played Anaheim one final time on Saturday night to conclude an annual set that was among the more lopsided tallies in the teams' histories. The Kings lost four of five games to the Ducks (1-3-1), winning once in a nine-round shootout. This places the 2013-14 Freeway Faceoff amongst the 1998-99 (1-5-0), 2001-02 (4-0-1), 2003-04 (4-1-1) and 2011-12 (5-1-0) installments of Southern California's NHL rivalry.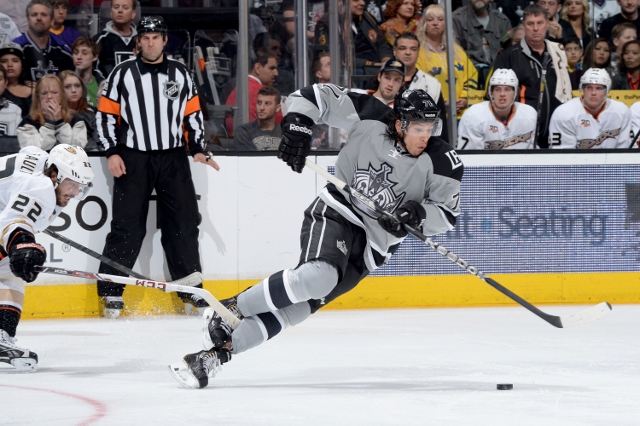 Saturday's game gradually developed an intensity that isn't usually seen in a final-weekend game between two teams already playoff-bound. The Kings and Sharks played a hands-off exhibition in Game #48 a season ago, one that actually contained playoff seeding implications. Last night's game took time to develop, but by the opening of the third period, when Anze Kopitar scored the first of his two impressive goals, and through the overtime session, when Jonathan Quick made a succession of quality saves in denying all six of the Ducks' shots on goal, the theatre had been raised beyond what would be expected with the home team playing for little more than pride and seasonal footnotes.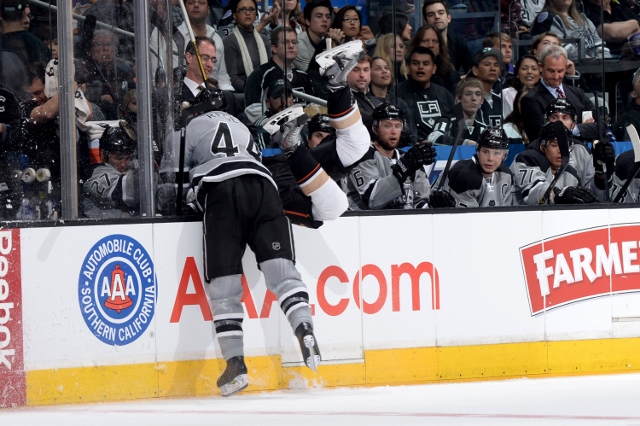 Though Kopitar had previously recorded four seasons in which he amassed 70 points, his 2013-14 campaign was the most complete of his eight-season NHL career. Rebounding honorably from his three-goal performance in 18 games of last spring's playoff campaign, Kopitar finished one-goal away from hitting the 30-goal barrier for the third time in his career. As anyone who has watched Kopitar or heard this topic addressed ad nauseum on LA Kings Insider and other blogs, the goal scoring only represents a small portion of Kopitar's value to the team. He's versatile, he's arguably the best two-way elite center in hockey and is exceptionally durable. Of the seven 82-game seasons he has played in the NHL, in five of them he played every game. He is a high reward, low maintenance player, and his late third period toe-drag around Ryan Getzlaf before beating Frederik Andersen stick-side to tie the game late in the third period was spectacular.