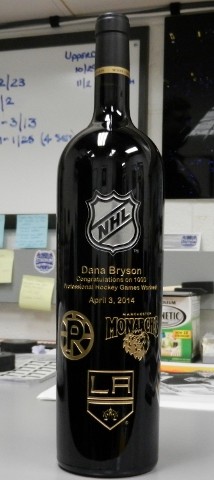 Los Angeles' 2-1 loss in San Jose was a milestone event, not only for Anze Kopitar, who played his 600th NHL game, or Mike Richards, who appeared in his 200th game with the Kings.
For assistant equipment manager Dana Bryson, who formerly worked on the equipment staffs with the Providence Bruins and Manchester Monarchs, it was the 1,000th game worked in professional hockey.
On Monday, he recalled the 2005-06 home opener, the first regular season game he worked with Los Angeles. That it got his NHL odometer rolling wasn't the game's only historical footnote.
"The first thing I remember was Wayne Gretzky was the coach for the Phoenix Coyotes. It was his first game. He forgot to put somebody on the lineup so that player couldn't play," Bryson said, recalling Frederik Sjostrom's omission from Phoenix's lineup on October 6, 2005.
With Head Equipment Manager Darren Granger winning gold with Canada's men's ice hockey team at the 2014 Winter Olympics, Bryson working his 1,000th game provided another memorable accolade from the 2013-14 season.
"It shows long commitment to what he does and it takes a lot of hours to do this job," Granger said. "So to do it for 1,000 games is a long time and a lot of late nights, early mornings, travel and stuff like that. It's good for him."
With an experienced equipment and training staff, there are rarely any high-tension moments.
"We've been pretty lucky," Bryson said. "I think spending most of our time at Staples, you learn to just roll with it and I think we've been pretty fortunate. Europe was tough, but it was fun. There are always little challenges here and there. Nothing goes exactly as planned. The best thing is working with Darren Granger. His heart rate doesn't get over 60 for pretty much anything. So if he's not upset about out it, there is no need for me to get upset about it. So just kind of go with it."
Darren Granger, on Dana Bryson and the equipment staff:
I think everybody here has their personality that they bring and that's part of what we do, I think. Everybody has to have a good attitude. Whether it's winning or losing, we always seem to stay the same way or stay the same even keel. But I think Dana brings lots to the table. He works real hard. He'd do anything for anybody. The players know that and see it, so it's great.
Dana Bryson, on whether he pays much attention to milestones:
No, our association…they have a little thing and they update it for you all the time. They actually tell you like 'Hey, you're 1,000th game is coming up,' but other than that, no.
Bryson, on the equipment staff:
It's been good. I think it's been three years where we haven't really changed very much. Grange and I have been here for eight, Kinger has been here for eight. So we've had a pretty good core group and we've kind of stuck together and it's like everything, when you win you stick together a little bit. But everyone is moving on and moving up, so it's good.
Bryson, on wanting to reach the 2,000 and 3,000 game milestones:
I think it takes about 12 years to get to 1,000. So when you start saying 2,000 or 3,000, that's a long time. I definitely want to stay in this as long as I can, until they kick me out, I guess.
Bryson, on the most challenging aspects of his job:
Travel is always tough. The playoffs, it gets a little bit more. You get more people. You get a little bit more help, you get more people, you get less days off- a lot less days off. It's a grind, but you get used to it after a while. It's tough as my kids get older, you miss more stuff at home. I guess that's the hardest part.
Bryson, on not showing emotion when shown on the videoboard at Staples Center:
Because it was only 999, they usually do it after the 1,000th so I really wasn't expecting it at all. And then I get Kinger (Head Athletic Trainer Chris Kingsley) hitting me in the leg trying to make me laugh, and then Justin Williams said 'Will you smile? You're on the jumbo, at least smile,' and then Kopi turned around and said 'Nice job Numb—-,' and that's when I finally laughed. But I honestly had no idea it was going to be up there. That's why I was kind of like, 'What?'