There were several recent standout performers – Marian Gaborik and Alec Martinez amongst them – and then there were a handful of passengers taking in Monday night's game against the Minnesota Wild in a showing that featured scant special teams time and even less neutral zone space. Skaters that comprised Los Angeles' second, third and fourth lines combined for an unsatisfactory five shots, and for the first time at home since the realignment of the lines, Tanner Pearson and Tyler Toffoli were less effective with and without the puck. It's not fair at all to single out the two rookies. The Kings were out-chanced by the Wild in a game in which Minnesota strung together the more dangerous stretches of zone time, and even though they needed a pair of early third period goals to engineer a come-from-behind victory, they were the better and more desperate team for a good portion of the 60 minutes of action, even if the Kings held a lead for 29:12 and the Wild for only 15:04. Darryl Sutter has previously alluded to only a handful of games in which he didn't like the team's overall performance. Monday's loss fit in that column.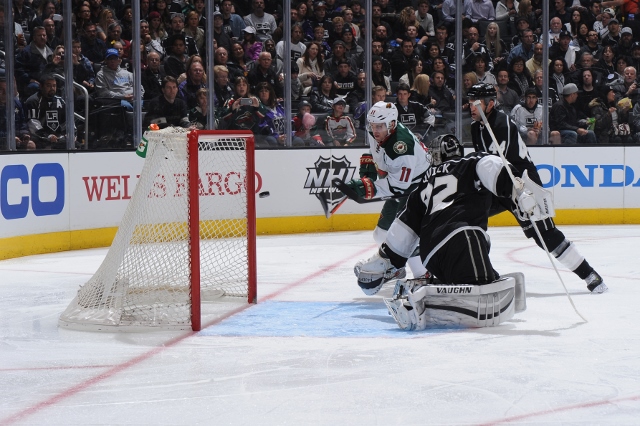 -Marian Gaborik continues to have a fine effect on his linemates. Several notes prior to Monday's game:
Hold on to your butts alert: the L.A. Kings are a 58.5% corsi team since acquiring Marian Gaborik http://t.co/nYtpVhIlhq #welp

— Thomas Drance (@ThomasDrance) March 31, 2014
@ThomasDrance yep. Gaborik was a 49% CF% (-2% rel) player with CBJ, has been 59% (even rel) with LAK

— Extra Skater (@ExtraSkater) March 31, 2014
@ExtraSkater biggest deadline impact so far, and it's not that close.

— Thomas Drance (@ThomasDrance) March 31, 2014
@ThomasDrance Even more amazing: LA is shooting almost 8% with him on the ice. 8%! @ExtraSkater

— mc79hockey (@mc79hockey) March 31, 2014
Over the last two games, the Kings have attempted 23 shots with Gaborik on the ice, scoring four times. He was on the ice for both Los Angeles goals last night despite facing the highest 5-on-5 quality of competition since his Kings debut in Winnipeg on March 6. His dish to Justin Williams on L.A.s second goal was an illustration of the respect he commands as Minnesota gravitated towards his presence in the slot, leaving Williams alone for an easy snapper past Ilya Bryzgalove off of the crisp pass. Anze Kopitar may be a Selke candidate and one of the top two-way forwards in the game, but Gaborik has been just as responsible for catalyzing the team's offense in March.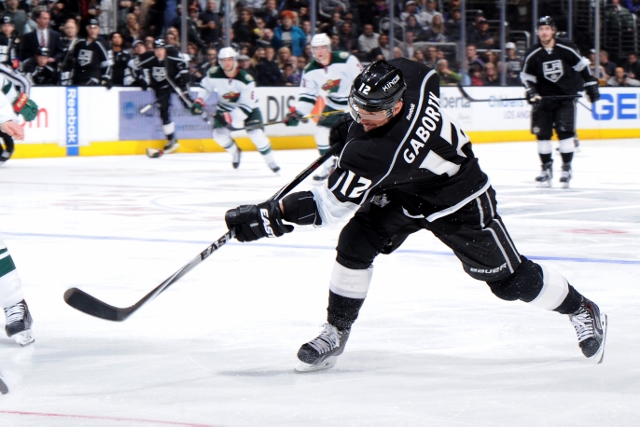 Minnesota has a fine haul of young forwards, and rookies Erik Haula, Mikael Granlund and Charlie Coyle – the latter of whom has been excellent recently – provided a productive secondary effort behind regular boldfaced names such as Mikko Koivu, Zach Parise, Matt Moulson and Jason Pominville. The Wild haven't averaged more than two and a half goals of offense per game since 2009-10, though with the continued development of several skilled young forwards – a list that also includes injured winger Jason Zucker – and the hypothetical addition of a top-six forward (Thomas Vanek, as has been rumored?), it does appear as though the offense is trending methodically in the right direction, even if there's not a surplus of high-end skill and Moulson leaves via free agency. There are barriers in their way with St. Louis and Chicago serving as divisional powers, and Colorado shaping up quite nicely with much-needed goaltending and perhaps the Western Conference's top amassment of highly skilled forwards, but with Minnesota's offense slowly trending in the right direction and a defensive identity already established, they're a challenging team to play on any night. The Kings finished 9-10-2 against the very good Central Division and failed to beat the Wild in regulation.