Western Canadian Spring Break 2014 kicks off with an early game tonight against the Winnipeg Jets at the MTS Centre, a building the Kings are still looking for their first win in, having lost in overtime in 2012 and in regulation in the second game of the season last October. It's a bizarre starting time tonight – 6:00 p.m. – which should create a traffic snarl downtown. Lady Antebellum performed at the arena last night, which clogged downtown streets as the team bussed between the airport and the hotel, located at the famous intersection of Portage and Main. You can't get any more Winnipeg than that; in the previous Good Morning, Winnipeg, I embedded a Neil Young and Randy Bachman song about this very intersection.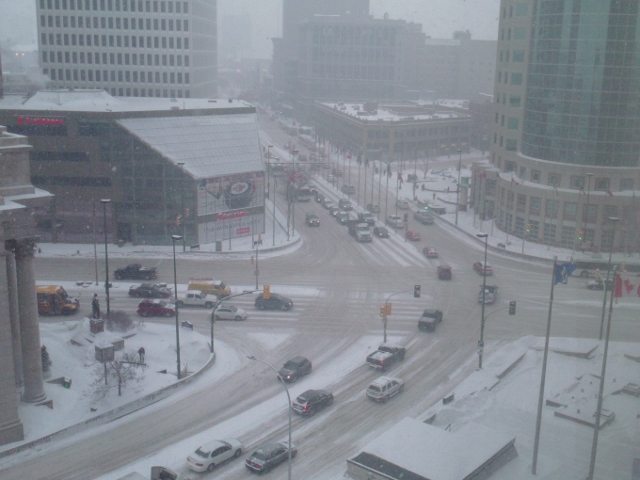 I really like Neil Young! Randy Bachman, you're a'ight. Instead of using the Highlighted Local Artist on the Crash Test Dummies, I went right back to Young, because Neil Young is so much cooler than the Crash Test Dummies. Here's Cinnamon Girl being performed at Madison Square Garden.
Who would've thought that Winnipeg would have provided a variety of choices for the Highlighted Local Artists? Not this guy.
So, for something slightly more predictable – it is cold and snowy. The temperatures shouldn't plummet for this trip, relatively speaking, but we should probably avoid making plans to visit our rustic cottage on Lake Winnipeg.
It was snowing yesterday as well. Descending into YWG, it became clear that we were basically flying over the crime scene from Fargo.
Because of the 6:00 start time this evening, the morning skate has been pushed up by an hour, to 10:30 a.m. I'll chat with Marian Gaborik, who is expected to join his new team for the morning skate today. I'll also begin to provide excerpts from yesterday's conference call with Dean Lombardi, and will post the general game day what-have-you throughout the afternoon. More to come from wintry Winnipeg.