The Kings announced on Wednesday that Patrik Bartosak has been signed to a three-year, entry level contract. Bartosak, 20, was selected in the fifth round of the 2013 NHL Draft. He is the reigning CHL Goaltender of the Year.
Bartosak is 29-24-1-4 with a 2.84 goals-against average and .923 save percentage in his third and final year with the Red Deer Rebels, a team owned by Brent Sutter. In recent years Red Deer has developed into one of junior hockey's premier goaltending institutions, having played a hand in the development of Cam Ward, James Reimer and Darcy Kuemper.
Bartosak was brilliant in a rookie game victory over Anaheim in September, stopping 25 of 26 shots and besting top Ducks goaltending prospect, John Gibson.
"It's been my dream since I started playing hockey to wear an NHL jersey and get a chance to play for an NHL organization, and now playing for the Kings is an honor for me," he said after earning the win on September 9. "It was a great feeling, for sure."
Bartosak, who has already set the Rebels' record for shots faced and saves in a single season, recently spoke to Greg Meachem of the Red Deer Advocate about his record-breaking campaign.
"I like seeing lots of shots much rather than getting three or four shots a period. I like this kind of hockey and I'm enjoying it for sure," Bartosak told Meachem. "It's my job. I don't really think about rather I'm too busy or not. My job is to be there and stop the puck whenever it comes my way. If it comes there 45 times a night then I'll have to be there 45 times. If it comes five times, I'll be there five times."
With a contract signed, Bartosak will spend next season in the Kings' minor league system, most likely in either Manchester or Ontario.
LAKings.com columnist John Hoven of Mayor's Manor recently wrote a feature on Bartosak, and it's a good read: Kings Goaltending Factory Readies The Next Prospect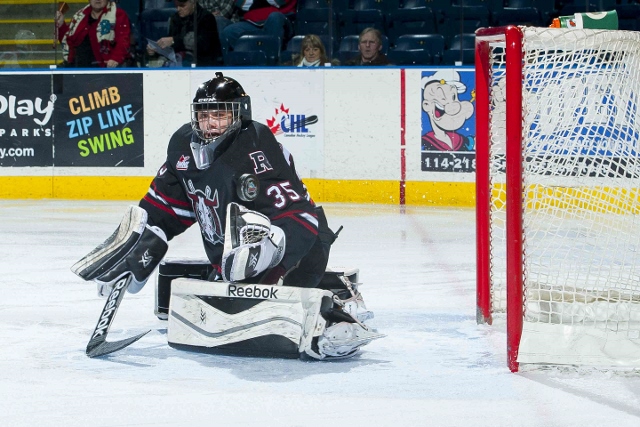 -Marissa Baecker / Getty Images Sport