With Jonathan Quick in Sochi and Martin Jones in Manchester, the two goaltenders on the ice at the Kings' first on-ice session since February 6 were J.F. Berube and Jamie Storr.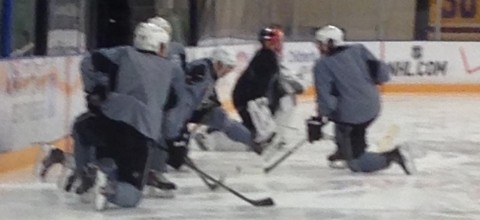 Berube, the team's fourth round pick in 2009, has appeared in 34 games with the Manchester Monarchs this season. Storr, on the other hand, hadn't put on goalie pads since substituting for Jonathan Quick during a similar Olympics-affected practice in 2010. Selected seventh overall in 1994, Storr appeared in 205 games with Los Angeles between 1994 and 2003.
"I've found as you get older, you don't want to move too much because we don't work out at all anymore. When you stop training, you find that you get hurt a lot easier," Storr said. "You go out there with the kids and play and kind of mess around, but I find putting on the pads, there's so many things that by the end of my career I retired because of that it's got to be a unique circumstance. Once every four years seems to be OK."
Assistant General Manager Rob Blake made the request for Storr to join the team for practice.
"Blakey asked me – he said, 'Please, will you promise me you won't have a heart attack?' And I said 'Listen, if I have a heart attack, I'll probably die, so you won't have to worry about it,'" Storr said.
Blake wasn't the only ex-teammate ribbing the former Kings goalie.
"Well, Storrsy – we go way back," goaltending coach Bill Ranford said. "The first time I saw Storrsy was at the World Championships. He was our number three goalie. And he's a better goalie today than he was then."
Storr actually followed Ranford's suit. Last March 27, with Jonathan Bernier unavailable due to personal reasons, Ranford filled in during a Kings practice at the Scottrade Center in St. Louis.
"I said to Billy, 'How did you do this?'" Storr asked. "…And he said, 'I felt the same.' I was happy. It's like I said – just to get through it, the guys are awesome, and you really realize how great the players are. It's funny – Johnny Stevens was my coach one of my last years, and he was still giving it to me to work hard out there."
"It was something that was neat, and you can get back into it. I was just trying to see if I'd be able to get through the first hour, and I figured if the first hour works, I'll try the second hour, and then by the third day – and that's it – then I'll be able to hang 'em up again."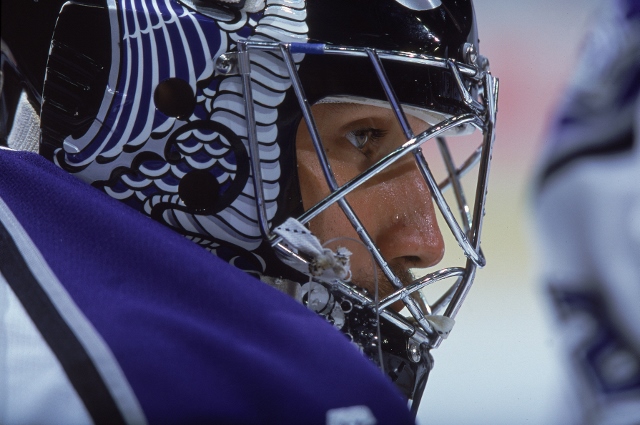 -Robert Laberge / Getty Images Sport