After a 60-minute process of gelling and finding comfort with new teammates resulted in a 3-1 win over Norway in Canada's Olympic opener on Thursday, a much more assertive Canadian team banked on three goals from Jeff Carter and one from Drew Doughty in a commanding 6-0 win over Austria on Friday at the Bolshoy Ice Dome.
Carter's hat trick – Canada's first Olympic natural hat trick since Paul Knox scored three goals against Austria at the 1956 Games in Cortina d'Ampezzo, Italy – was scored in the second period as part of a team-low eight mintutes and 64 seconds of ice time.
All three of Carter's goals were scored from close range. He took advantage of Austrian turnovers for his first two goals, burying the rebound of a Patrick Marleau shot that had hit the left post during an odd-man rush, and scoring on a wraparound after goaltender Bernhard Starkbaum misplayed the puck behind his own net. To complete the hat trick, he gave Canada a 5-0 lead when he picked up a loose puck outside a scrum in front of the Austrian net before drifting to his left and beating Starkbaum above his right pad.
"He was just finding the right spots, and it didn't matter who was out there," Canada alternate captain Jonathan Toews said to Pierre McGuire of NBC during a postgame television interview. "Patty Marleau was making some good plays, Sid made a nice play on the one, and like I said, we were just feeing off each other. As long as someone's banging 'em home, it doesn't matter, so it's nice to see a few go in as a line tonight."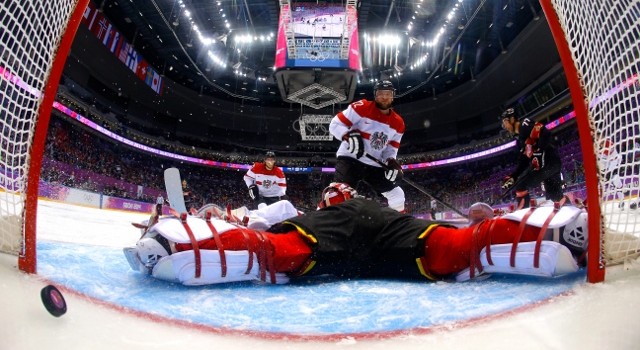 The three goals were scored during an 11:54 span in the second period. After skating to the right of Sidney Crosby in Game 1, Martin St. Louis slotted alongside the Pittsburgh Penguins star on Friday. Carter dropped to Jonathan Toews' line, seeing the majority of his shifts opposite Patrick Marleau or Rick Nash.
Carter generated a plus-five rating and was on the ice for Doughty's game-winning goal, which gave Canada a 1-0 lead 5:24 into the first period. After Toews won a faceoff back to the right point, Doughty took a stride to his left and scored five-hole on Starkbaum with a long wrist shot through traffic.
Roberto Luongo stopped all 23 shots to earn his first Olympic win since the 2010 gold medal game against the United States.
Because Finland padded its goal differential with a 6-1 win over Norway, Canada remained in second place in the Group B standings. Finland and Canada meet in their group play finale on Sunday at 9:00 a.m. PT.
The full Olympic schedule, and recent Olympic news can also be found on the team's Sochi page.