Los Angeles Kings (30-22-6) vs. Columbus Blue Jackets (29-23-4)
Thursday, February 6, 2014, 7:30 p.m. PT
STAPLES Center, Los Angeles, CA
Referees: #9 Dan O'Rourke, #22 Ghislain Hebert
Linesmen: #57 Jay Sharrers, #95 Jonny Murray
Fox Sports West, NHL Network, KEIB 1150 AM
Kings Weekly to follow tonight's game
Los Angeles Projected Starting Goaltender – Jonathan Quick
2013-14 Season: 31 GP (31 GS) / 15-13-2 record / 2.22 GAA / .909 Sv% / 3 SHO
Career vs Columbus: 15 (15) / 10-5-0 / 2.00 / .915 / 2
Last Game vs Columbus: 4/18/13 / 60 MP / 20-21 shots / 2-1 W
2013-14, Home: 19 (19) / 10-8-1 / 2.34 / .899 / 2
Columbus Projected Starting Goaltender – Sergei Bobrovsky
2013-14 Season: 35 GP (35 GS) / 20-13-2 record / 2.53 GAA / .917 Sv% / 2 SHO
Career vs Los Angeles: 4 (4) / 1-3-0 / 2.03 / .919 / 0
Last Game vs Los Angeles: 1/21/14 / 60 MP / 26-29 shots / 5-3 W
2013-14, Away: 17 (17) / 8-7-2 / 2.84 / .910 / 1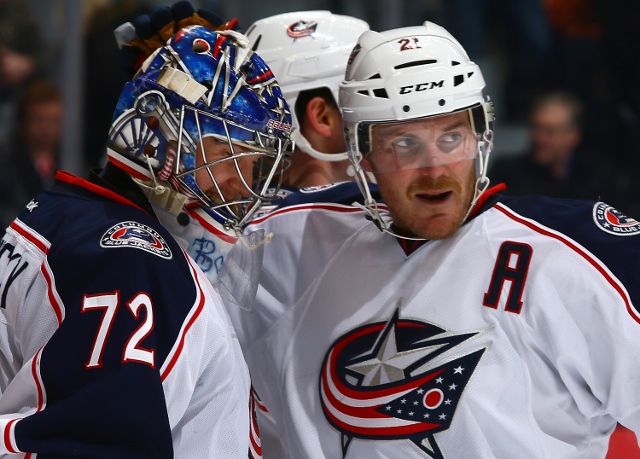 2013-14 Los Angeles Leaders
Total Points: Anze Kopitar (17-29=46)
Goals: Jeff Carter (20-16=36)
Assists: Anze Kopitar (17-29=46)
Plus/Minus: Anze Kopitar (+21; 17-29=46)
Penalty Minutes: Kyle Clifford (63; 3-2=5)
Time On Ice: Drew Doughty (25:58; 8-21=29)
2013-14 Columbus Leaders
Total Points: Ryan Johansen (23-20=43)
Goals: Ryan Johansen (23-20=43)
Assists: James Wisniewski (5-29=34)
Plus/Minus: Corey Tropp (+11; 2-7=9)
Penalty Minutes: Brandon Dubnisky (82; 12-24=36)
Time On Ice: Jack Johnson (23:51; 3-17=20)
Rankings and Statistics
Goals/Game: LAK – 29 / 2.26; CBJ – 7 / 2.91
Goals Against/Game: LAK – 1 / 2.12; CBJ – 17 / 2.77
Power Play: LAK – 28 / 14.0%; CBJ – 14 / 19.0%
Penalty Kill: LAK – t-8 / 83.3%; CBJ – 16 / 81.2%
Shots/Game: LAK – 9 / 31.3; CBJ – 23 / 28.9
Shots Against/Game: LAK – 3 / 26.8; CBJ – 22 / 30.7
Faceoffs: LAK – 1 / 53.5%; CBJ – 10 / 51.3%
Save Percentage: LAK – t-2 / .921; CBJ – t-16 / .910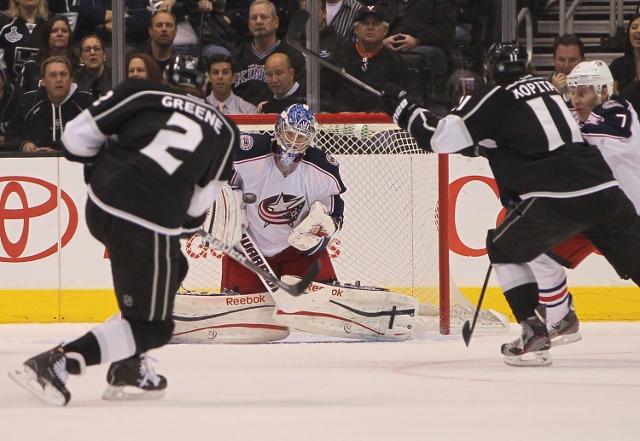 Los Angeles Projected Lines
Tyler Toffoli – Anze Kopitar – Jeff Carter
Dustin Brown – Mike Richards – Justin Williams
Dwight King – Jarret Stoll – Trevor Lewis
Kyle Clifford – Colin Fraser – Matt Frattin
Willie Mitchell – Drew Doughty
Robyn Regehr – Slava Voynov
Jake Muzzin – Matt Greene
Jonathan Quick
Martin Jones
Level of confidence in projected lines: B+. Jonathan Quick left the ice first, so he's tonight's projected starter. Though Alec Martinez has made good progress from his hyperextended elbow, he remained on the ice for extra work with Martin Jones and will almost certainly miss another game. The only question is whether Jordan Nolan will return to the lineup, presumably for Matt Frattin. Nolan could also enter the lineup for Kyle Clifford, with either Frattin or Nolan sliding to the left side.
Notes and milestones: The Kings are 26-18-4 all-time against the Blue Jackets, a record that includes a mark of 15-8-1 at Staples Center. Los Angeles has won the last three home meetings between the teams. The last Columbus win in Los Angeles was a 1-0 shutout by Curtis Sanford on January 7, 2012. … Los Angeles is one of three NHL teams to finish the pre-Olympic schedule tonight (Minnesota, Buffalo). … The Blackhawks' five goals on Monday marked the sixth time the Kings have allowed a season-high five goals. Los Angeles and Carolina are the only NHL teams that haven't allowed more than five goals in a game this season. … With 190 career goals, Anze Kopitar ranks 10th on the Kings' all-time list. Dustin Brown, who has 191 career goals, ranks 9th. Mike Murphy ranks 8th with 194 career goals as a King. … Jeff Carter has been held without a goal over the last seven games. His last goal came in the second period of the Blue Jackets' 5-3 win at Nationwide Arena on January 21. 10 of Carter's 20 goals have come in the third period. Only Sidney Crosby (12) and Taylor Hall (11) have more in that frame. He has 198 career assists. … With 332 career assists, Anze Kopitar ranks one assist behind Rob Blake for seventh place on the team's all-time list. Kopitar is Los Angeles' all-time leader in points against Columbus with 27 points (13-14-27) in 26 games. … Tyler Toffoli has nine shots in the last two games. … Over the last 11 games, Brown has no points, a minus-8 rating, and has taken 14 shots. He will play his 699th career game tonight.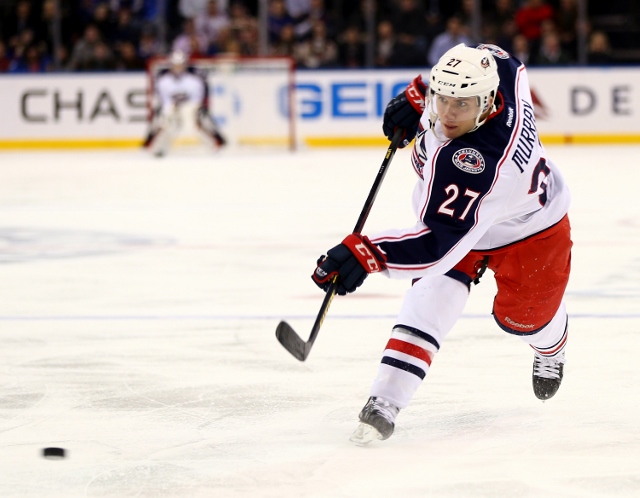 Columbus Projected Roster
Boone Jenner – Ryan Johansen – Nathan Horton
Nick Foligno – Artem Anisimov – RJ Umberger
Matt Calvert – Brandon Dubinsky – Cam Atkinson
Derek MacKenzie – Mark Letestu – Corey Tropp
Fedor Tyutin – Jack Johnson
Ryan Murray – James Wisniewski
Nikita Nikitin – David Savard
Sergei Bobrovsky
Curtis McElhinney
Notes and milestones: Lines via NHL.com correspondent Curtis Zupke. … Marian Gaborik is out with a broken collarbone that will force him to miss the Olympics. During his time in Columbus, Gaborik has played in 30 games and missed 38, according to Aaron Portzline of the Columbus Dispatch. … The Blue Jackets are 12-4-0 in 2014. During their current three-game winning streak, they've outscored their opponents 13-5 and have killed off all 12 power play chances. After defeating Anaheim 4-2 on Monday, the Blue Jackets are 7-3-0 in their last 10 road games. … Since December 1, Sergei Bobrovsky is 11-2-0 with a 1.97 goals-against average and .935 save percentage. … Ryan Johansen has four goals in his last three games and is on pace to score 33 times, which would make him the third player in franchise history to score at least 30 goals in a season. Rick Nash (seven times) and Geoff Sanderson (two times) also scored at least 30 goals for the Blue Jackets. … R.J. Umberger is on pace for his fifth 20-goal season with Columbus. Of his 15 goals, a team-leading seven have come on the power play. … James Wisniewski is on pace to net a career-high 52 points (8-44=52). … Fedor Tyutin and Dustin Brown were teammates with the OHL's Guelph Storm in 2001-02.