The Dodger Stadium ice was tested for the first time this evening, and after an open skate for team and media types, a media/celebrity pick-up game was held. We weren't really keeping score, but I'm pretty sure the Kings team jumped out to a 5-0 lead and surrendered five goals, and the game ended in a five-five tie.
The ice was fine. It was warm on the bench, but it shouldn't be anything either team should be too concerned with come game time. I've been on the field many times at Dodger Stadium, and I've skated in a pick-up game at Joe Louis Arena but this was a completely different feeling – it was an incredible, once-in-a-lifetime experience to look up and see the decks of seats we've all seen so many times, and to sit on an NHL caliber bench while imagining the entire facility filled with people.
Here's what it looked like from ice level:
A few tweets from those who took part in the skate and pick-up game:
You guys have no idea how awesome this is. pic.twitter.com/KbdNKa9qbw

— The Royal Half (@theroyalhalf) January 23, 2014
There's always somebody trying to photo bomb us … @davejosephla @westcoasthky pic.twitter.com/r47GFrvyfR

— The Mayor John Hoven (@mayorNHL) January 23, 2014
The stats are out on the ice at dodger stadium 2nite. Hollywood celebs + former players playing shinny here pic.twitter.com/LvddrDzBqA

— Shawn Roarke (@sroarke_nhl) January 23, 2014
Incredible. Surreal. @nhl #StadiumSeries http://t.co/64LJNOFfVZ

— Ken Baker (@kenbakernow) January 23, 2014
What an awesome opportunity to skate at Dodger Stadium tonight. So so cool!!!! http://t.co/AeQDVRK6Q9

— Rob McPherson (@Fired_Up_Rob) January 23, 2014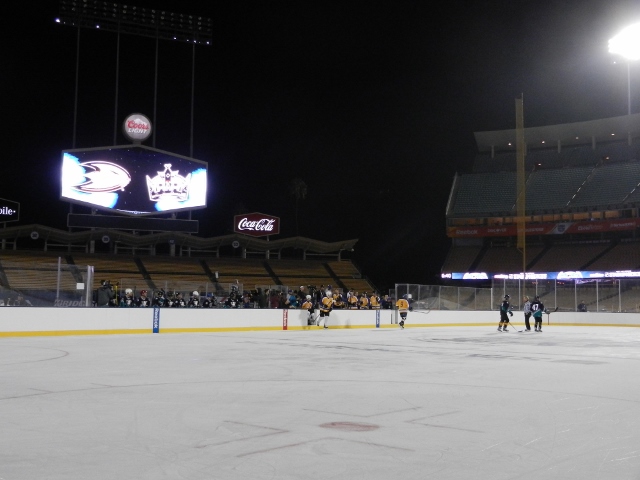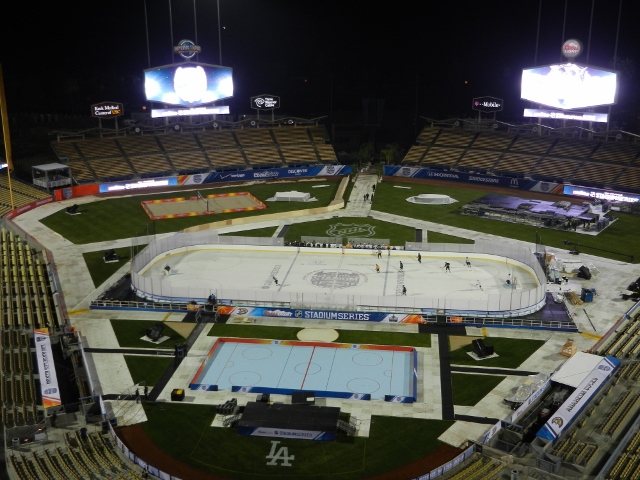 I'll have more photos and video from tonight's skate tomorrow morning.