Los Angeles Kings (25-11-4) at Dallas Stars (19-12-7)
Tuesday, December 31, 2013, 7:00 p.m. CT
American Airlines Center, Dallas, TX
Referees: #32 Tom Kowal, #37 Kyle Rehman
Linesmen: #75 Derek Arnell, #90 Andy McElman
FOX Sports West, KTLK 1150 AM
Los Angeles Projected Starting Goaltender – Martin Jones
2013-14 Season: 10 GP (10 GS) / 8-2-0 record / 1.28 GAA / .955 Sv% / 3 SHO
Career vs Dallas: 1 (1) / 0-1-0 / 4.05 / .826 / 0
Last Game vs Dallas: 12/23/13 / 59 MP / 19-23 shots / 2-5 L
2013-14, Away: 5 (5) / 4-1-0 / 1.19 / .964 / 1
Dallas Projected Starting Goaltender – Kari Lehtonen
2013-14 Season: 30 GP (30 GS) / 15-8-7 record / 2.48 GAA / .921 Sv% / 1 SHO
Career vs Los Angeles: 18 (18) / 9-7-1 / 2.58 / .913 / 1
Last Game vs Los Angeles: 12/23/13 / 60 MP / 30-32 shots / 5-2 W
2013-14, Home: 13 (13) / 4-4-5 / 2.19 / .926 / 0
2013-14 Los Angeles Leaders
Total Points: Anze Kopitar (12-21=33)
Goals: Justin Williams (13-12=25)
Assists: Mike Richards (6-21=27)
Plus/Minus: Anze Kopitar (+21; 12-21=33)
Penalty Minutes: Daniel Carcillo (57; 1-1=2)
Time On Ice: Drew Doughty (25:41; 6-15=21)
2013-14 Dallas Leaders
Total Points: Tyler Seguin (19-18=37)
Goals: Tyler Seguin (19-18=37)
Assists: Jamie Benn (13-21=34)
Plus/Minus: Tyler Seguin (+12; 19-18=37)
Penalty Minutes: Antoine Roussel (94; 8-7=15)
Time On Ice: Alex Goligoski (23:36; 2-11=13)
Rankings and Statistics
Goals/Game: LAK – 18 / 2.55; DAL – 8 / 2.87
Goals Against/Game: LAK – 1 / 1.95; DAL – 19 / 2.82
Power Play: LAK – 21 / 15.8%; DAL – 29 / 11.7%
Penalty Kill: LAK – 6 / 85.3%; DAL – t-18 / 81.2%
Shots/Game: LAK – 10 / 31.0; DAL – t-6 / 31.8
Shots Against/Game: LAK – t-5 / 27.4; DAL – 25 / 32.4
Faceoffs: LAK – 2 / 53.8%; DAL – t-10 / 51.4%
Save Percentage: LAK – 2 / .929; DAL – t-12 / .913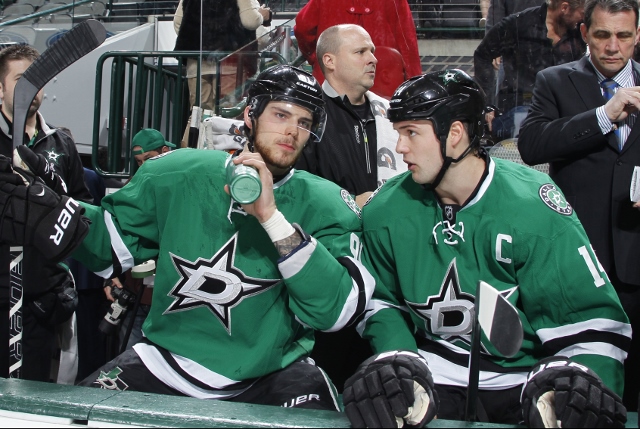 Los Angeles Projected Lines
Dwight King – Anze Kopitar – Jeff Carter
Dustin Brown – Mike Richards – Justin Williams
Trevor Lewis – Jarret Stoll – Tyler Toffoli
Kyle Clifford – Colin Fraser – Jordan Nolan
Robyn Regehr – Drew Doughty
Willie Mitchell – Slava Voynov
Jake Muzzin – Matt Greene
Martin Jones
Ben Scrivens
Level of confidence in projected lines: C+. There was no morning skate today, so the projection above is an educated assessment. Expect Martin Jones to start for the second consecutive night after a terrific performance in Chicago. The other time he started both games of a back-to-back set, he stopped 69-of-70 shots while beating Montreal and Toronto on December 10 and 11. After three-and-a-half American Hockey League seasons, he's certainly capable of weathering two consecutive starts with travel in between. There was some mixing and matching defensively yesterday, and the above pairings represent the most frequent tandems.
Notes and milestones: The Kings are 83-98-40 all-time against the Stars, which includes a record of 33-59-18 in Dallas. After the teams split a pair of 5-2 decisions at STAPLES Center in the first half, tonight's game will conclude the regular season series. … The Kings are 11-2-2 in their last 15 visits to the American Airlines Center, dating back to March 22, 2008. … The Kings are 5-6-1 against the Central Division and 20-5-3 against all other teams. … The Kings have lost three consecutive games in regulation for the first time since losing five straight in regulation from December 3-13, 2011. … The last game in which Los Angeles earned more power plays than their opponent was on December 7, a 3-0 win over the New York Islanders. … Martin Jones has allowed zero or one goals in six of his 10 starts. … In 19 career games against Dallas, Mike Richards has 19 points (4-15=19) and a plus-5 rating. … In 45 career games against Dallas, Anze Kopitar has 43 points (12-31=43) and a minus-5 rating. … Jeff Carter has 10 points (5-5=10) in his last nine games. … Justin Williams has five points (3-2=5) in two games against Dallas this season.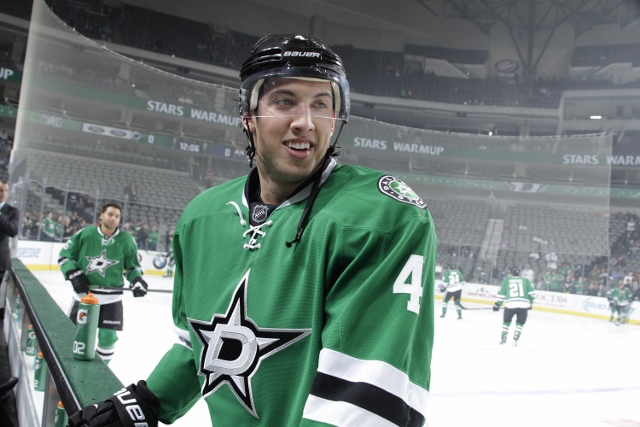 Dallas Projected Lines
Jamie Benn – Tyler Seguin – Valeri Nichushkin
Antoine Roussel – Cody Eakin – Ryan Garbutt
Erik Cole – Rich Peverley – Alex Chiasson
Shawn Horcoff – Vernon Fiddler – Ray Whitney
Alex Goligoski – Brenden Dillon
Aaron Rome – Jordie Benn
Kevin Connauton – Cameron Gaunce
Kari Lehtonen
Dan Ellis
Notes and milestones: Ray Whitney was ill and did not participate in today's morning skate. He is a game-time decision. Should he be unable to play, Dustin Jeffrey would take his place in the lineup. … Dallas is without injred defensemen Trevor Daley (ankle), Sergei Gonchar (concussion symptoms) and Stephane Robidas (leg). The only defenseman to have played in all 38 games this season is Brenden Dillon. … The Stars have points in six consecutive games, going 4-0-2. … The Stars' power play ranks 30th in the league at home, having converted on three of 63 opportunities (4.8%). … Rich Peverley is 3-for-4 in shootouts this season. All other Dallas skaters combined are 3-for-27. … 16 of Tyler Seguin's 19 goals have come at even strength. … Jamie Benn has five points (1-4=5) in two games against Los Angeles this season. … Jamie Benn (4-2=6) and Erik Cole (3-3=6) have six points in the last six games. … The Stars are 17-12-3 all-time on New Year's Eve and 9-4-2 since moving to Dallas. … Erik Cole played NCAA hockey at Clarkson University with Willie Mitchell.