Los Angeles Kings forward prospect Hudson Fasching (2013 / fourth round) scored a goal in the United States' 5-1 win over the Czech Republic in the teams' Preliminary Round opener at the World Junior Championships in Malmo, Sweden on Thursday by doing one of the things he does best – crashing the net and using his hands to bury a rebound.
By several accounts, the line of Stefan Matteau (2012 / 1st / NJD), Andrew Copp (2013 / 4th / WPG) and Fasching – USA's third line – was excellent throughout, and Matteau's selection as USA's Player of the Game on a day in which he didn't record a point appears representative of the collective work the line put in.
From Chris Peters of United States of Hockey:
I'll touch on these guys more, but Team USA's listed "third line" of Stefan Matteau and Hudson Fasching flanking Andrew Copp was sensational from the drop of the puck. This is Team USA's de facto grind line, but it's one that can generate a lot of offense as well. They started every period for the U.S. and were just too powerful and too fast for the Czechs for much of the game. They set the tone early and maintained it throughout.
Grind line? Ability to generate offense? Sounds like Fasching is fitting in. The 6-foot-2, 207 pound 18-year-old has put up six goals and 14 points through 16 games at the University of Minnesota and has furthered his reputation as a power forward who has soft hands and excels in close proximity to the net. His goal on Thursday put the United States up 3-0 in the second period and and came when he crashed the net to bury a Copp rebound shortly after USA had killed a penalty to preserve a two-goal lead.
On his performance Thursday, Peters wrote:
Fasching got the only goal his line scored and it was a great effort to drive the net and finish a play after Copp's shot was stopped. Fasching once again showed how good he can be in close to the net with a few plays early. He drew a first-period penalty just by being strong on the puck and keeping his feet moving. His physical game is taking a step forward and his skating has grown tremendously in the last year. Fasching was a force out there for a lot of the contest.
The United States will return to tournament action against Slovakia at 4:30 a.m. PT on Saturday. Canada and Germany fill out Group A, while Russia, Finland, Sweden, Switzerland and Norway populate Group B. More tournament information can be found on the IIHF's site.
Kings prospect Valentin Zykov (2nd / 2013) participated in Russia's 11-0 thrashing of Norway yesterday, though he was not on the ice for any Russian goals. He recorded two penalty minutes in a limited role.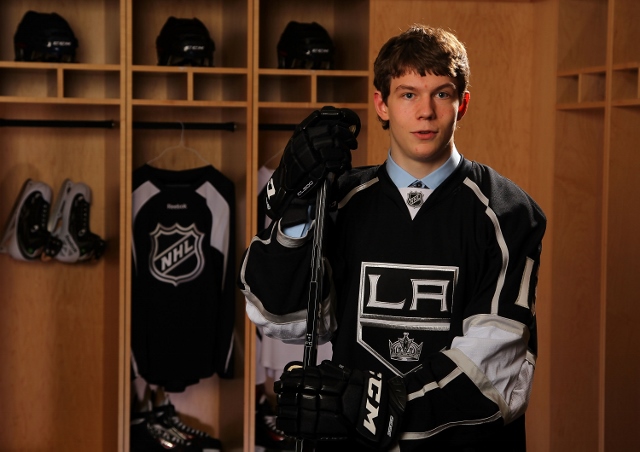 United States – Czech Republic highlights:
What they're saying:
Michigan's Copp, Minnesota's Fasching and Providence's Gillies among the standouts in Team USA's World Jr. opening 5-1 win

— College Hockey News (@chnews) December 26, 2013
Stefan Matteau named Team USA's player of the game. Interesting choice, but his line with Andrew Copp, Hudson Fasching was fantastic.

— Chris Peters (@chrismpeters) December 26, 2013
U.S. coach Don Lucia opens 3rd period w/ the energy line again. Good shift by Matteau-Copp-Fasching. #wjc

— Mike Morreale (@mikemorrealeNHL) December 26, 2013
Hudson Fasching? More like, Handsome and Smashing! http://t.co/9BxYtZ6Xq0

— PumperNicholl (@PumperNicholl) December 26, 2013
More WJC coverage:
NHL.com: Skjei, Fasching familiar with U.S. coach Lucia
USA Today: USA looks to make it two in a row at world juniors
The Globe and Mail: Mantha's hat trick leads Canada in rout of Germany at world juniors
Puck Daddy: Puck Daddy's 6 things you need to know about 2014 World Junior Championship