WiFi is the lifeblood that sustains Waking Up with the Kings, and I was without it while writing today's segment. Here are several abbreviated notes and thoughts from the Los Angeles Kings' 5-2 home loss to the Dallas Stars:
-In multiple games during his winning streak, Martin Jones was at his best in the first 20 minutes as he allowed Los Angeles ample time to find some early-game legs. Wins over Montreal and the New York Islanders spring to mind as games in which Jones produced his most important saves in the first period. There was no such storyline on Monday, as Dallas capitalized on their first two shots. The Kings struggled to contain Tyler Seguin and Jamie Benn, and after Seguin scored on an impressive top-shelf snipe on the visitors' first shot, Jamie Benn scored on a quickly released backhand during a high speed rush down the right wing that illustrated many of the young forward's abilities working in concert with one another. It appeared to be a stoppable shot that snuck into a small space between Jones' left shoulder, the near post and the crossbar, though I'm not sure the rookie goalie saw shots of that caliber coming from that particular spot on the ice from a player able to generate that type of speed down the wing while he was tending goal in Manchester.
-Los Angeles faced a decimated Dallas defensive corps and was unable to take advantage. Brenden Dillon and Alex Goligoski were bound to log heavy minutes with Sergei Gonchar, Trevor Daley, Stephane Robidas and Aaron Rome unavailable, and they certainly did – Dillon led all skaters with 25:32 of ice time, while Goligoski drew 23:53. The less experienced Cameron Gaunce, Maxime Fortunus and Kevin Connauton, and Jordie Benn, who is generally a third-pairing defenseman, were effective in their "teen-minutes" and aided a defensive effort that didn't allow a glut of quality Los Angeles chances to get through. Of the Kings' 68 total shot attempts, 36 were blocked or missed the net. Los Angeles has been assessed 169 minor penalties, the third highest total in the league.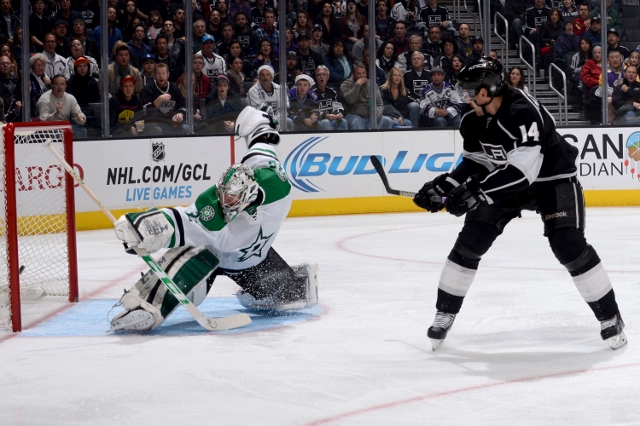 -The Kings generated some stretches of fine offensive zone time and sustained pressure, though they were done in by a second period that was among the more forgettable periods of December. Taking three minor penalties – one of which Dallas capitalized on by virtue of a Tyler Seguin feed to Valeri Nichushkin for a power play goal – Los Angeles was unable to build any consistent momentum and was outshot 14-9.
-Benn and Seguin combined for five points, while Mike Richards, Anze Kopitar, Justin Williams and Jeff Carter combined for three points. In a game in which the Stars won the special teams and goaltending battle, they also won the battle between the teams' top offensive producers.
-A very Merry Christmas to you all, Insiders. It's break time for the blog. As I'll be traveling and occupied for much of the next three days, only major breaking news will be covered – and with the holiday-imposed roster freeze, it's unlikely that we'll see anything of that sort. I may post a video or two over the next 48-to-72 hours to drive a little bit of conversation – and I'll check in sporadically to answer a question or two in the comments – but there won't be consistent Kings content until the team arrives in Tennessee on Friday. The team is scheduled to hold its first post-Christmas practice in Nashville at 4:00 p.m. CT on the 27th. Until then, Merry Christmas, and a happy holiday season to you and yours!