Los Angeles Kings (25-8-4) vs Dallas Stars (17-12-6)
Monday, December 23, 2013, 7:30 p.m. PT
STAPLES Center, Los Angeles, CA
Referees: #3 Mike Leggo, #23 Brad Watson
Linesmen: #55 Shane Heyer, #73 Vaughan Rody
FOX Sports West, KTLK 1150 AM
Los Angeles Projected Starting Goaltender – Martin Jones
2013-14 Season: 8 GP (8 GS) / 8-0-0 record / 0.98 GAA / .966 Sv% / 3 SHO
Career vs Dallas: First appearance
Last Game vs Dallas: First appearance
2013-14, Home: 4 (4) / 4-0-0 / 0.74 / .969 / 2
Dallas Projected Starting Goaltender – Kari Lehtonen
2013-14 Season: 27 GP (27 GS) / 13-8-6 record / 2.54 GAA / .920 Sv% / 1 SHO
Career vs Los Angeles: 17 (17) / 8-7-1 / 2.61 / .911 / 1
Last Game vs Los Angeles: 4/21/13 / 64 MP / 27-31 shots / 3-4 OTL
2013-14, Away: 16 (16) / 10-4-2 / 2.24 / .916 / 1
2013-14 Los Angeles Leaders
Total Points: Anze Kopitar (11-19=30)
Goals: Justin Williams (12-11=23)
Assists: Mike Richards (6-21=27)
Plus/Minus: Anze Kopitar (+19; 11-19=30)
Penalty Minutes: Daniel Carcillo (57; 1-1=2)
Time On Ice: Drew Doughty (25:41; 6-13=19)
2013-14 Dallas Leaders
Total Points: Tyler Seguin (18-17=35)
Goals: Tyler Seguin (18-17=35)
Assists: Jamie Benn (10-19=29)
Plus/Minus: Valeri Nichushkin (+12; 6-12=18)
Penalty Minutes: Antoine Roussel (94; 8-7=15)
Time On Ice: Alex Goligoski (23:18; 2-9=11)
Rankings and Statistics
Goals/Game: LAK – 14 / 2.65; DAL – 9 / 2.80
Goals Against/Game: LAK – 1 / 1.86; DAL – t-22 / 2.89
Power Play: LAK – 22 / 15.8%; DAL – 29 / 11.2%
Penalty Kill: LAK – 7 / 85.4%; DAL – 17 / 81.8%
Shots/Game: LAK – 9 / 31.2; DAL – 5 / 32.0
Shots Against/Game: LAK – 6 / 27.4; DAL – 25 / 32.7
Faceoffs: LAK – 2 / 54.4%; DAL – 12 / 51.3%
Save Percentage: LAK – 1 / .932; DAL – 15 / .912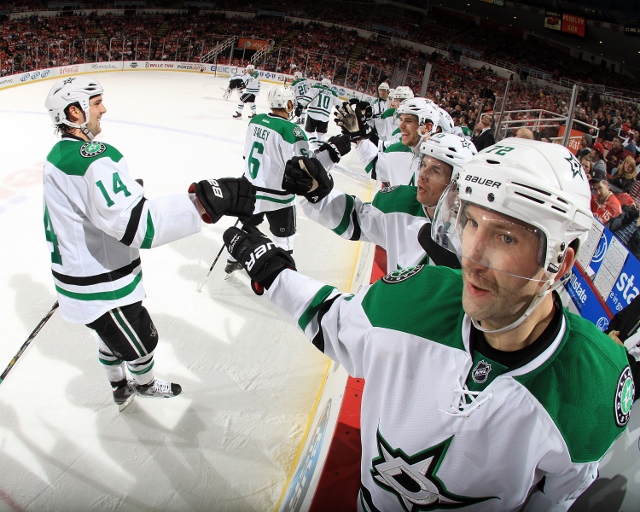 Los Angeles Projected Lines
Dwight King – Anze Kopitar – Jeff Carter
Dustin Brown – Jarret Stoll – Justin Williams
Trevor Lewis – Mike Richards – Tyler Toffoli
Kyle Clifford – Colin Fraser – Jordan Nolan
Jake Muzzin – Drew Doughty
Robyn Regehr – Slava Voynov
Alec Martinez – Matt Greene
Martin Jones
Ben Scrivens
Level of confidence in projected lines: C+. There were no line rushes at the morning skate, and Darryl Sutter left the facility before meeting with reporters. The above projections reflect the lineup that was used against San Jose and Colorado. The safest bet? Martin Jones will start in net.
Notes and milestones: Los Angeles is 83-97-40 all-time against the Dallas franchise, which includes a home record of 50-38-22. With a win tonight, Los Angeles will finish with a winning record at home against Dallas for the first time since 2010-11. The two teams will conclude their season series at the American Airlines Center on December 31. … Martin Jones' 8-0-0 start ties him with Bob Froese (Philadelphia, 1982-83) for the NHL record of consecutive winning games to begin an NHL career. With a win tonight, he will surpass Froese and tie Ray Emery (Ottawa, 2002-03 – 2005-06) for the record for most consecutive winning decisions to begin an NHL career. … The Kings' record for the longest winning streak by a goalie is held by Jonathan Quick, who won nine games in a row from January 21 to February 6, 2010. The Kings' record for longest unbeaten streak by a goalie is 13, set by Gary Edwards with a 7-0-6 record from December 18, 1974 to March 13, 1975. … Jones is the first goalie to start and allow two or fewer goals in each of his first eight games since 1938-39, when Boston's Frank Brimsek recorded a 12-game streak. … The Kings have outscored their opponents 32-13 in their last 10 games, posting a 9-1-0 record over that span. They are 16-2-4 in their last 18 games. … The Kings' 25-8-4 record (54 points) is the best record after 37 games in club history. … The Kings have recorded seven shutouts (Scrivens 3, Jones 3, Quick 1), four shy of the club record of 11, set in 2011-12. … The Kings' home penalty killing percentage of 82.9% (58-for-70) ranks 17th in the NHL. … The Kings average 12.0 penalty minutes per game, the eighth highest average in the league. … Dustin Brown has gone 25 games without recording a point on the power play.… Jeff Carter has nine points (4-5=9) in the last six games. … Dwight King has six points (3-3=6) in the last five games. … Mike Richards has 19 points (4-15=19) in 18 career games against Dallas. … Dwight King skated on a line with Dallas forward Colton Sceviour with WHL-Lethbridge. … Willie Mitchell was teammates with Erik Cole at ECAC-Clarkson from 1997-99. … In 2005-06, Justin Williams and Cole were teammates the Stanley Cup-winning Carolina Hurricanes.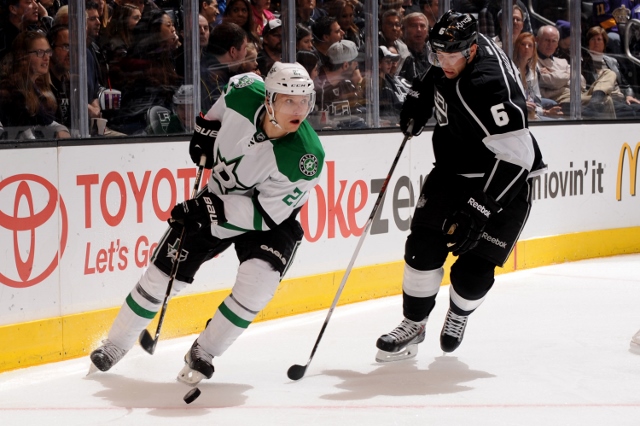 Dallas Projected Lines
Jamie Benn – Tyler Seguin – Valeri Nichushkin
Antoine Roussel – Cody Eakin – Ryan Garbutt
Erik Cole – Rich Peverley – Colton Sceviour
Shawn Horcoff – Vern Fiddler – Ray Whitney
Alex Goligoski – Brenden Dillon
Jordie Benn – Maxime Fortunus
Kevin Connauton – Cameron Gaunce
Kari Lehtonen
Dan Ellis
Notes and milestones: Lines via Mike Heika of the Dallas Morning News. … Defensemen Aaron Rome (lower body), Trevor Daley (lower body), Stephane Robidas (leg) and Sergei Gonchar (concussion-like symptoms), and forward Alex Chiasson (flu) are out for Dallas. … The Stars have earned a point in 19 of their last 24 visits to STAPLES Center, going 12-5-7 since the start of the 2006-07 season. … The Stars are 8-3-2 in their last 13 road games. … Tyler Seguin is tied for second in the NHL with 24 road points (12-12=24). … Defenseman Alex Goligoski has 16 points (3-13=16) in 15 career games against Los Angeles. … 18-year-old rookie forward Valeri Nichushkin has 10 points (4-6=10) in his last 10 games. … Ray Whitney has points in six of his last seven games against Los Angeles.