In a divisional game against another large team that plays a heavy game and relies upon possession, the Los Angeles Kings were better through all three periods and relied on their own quality possession efforts – and superior goaltending – in sending the suddenly scuffling San Jose Sharks to their sixth loss in eight games. Though the total attempts towards the net reflects a slight 59-57 advantage for Los Angeles, it was the Kings that were able to implement their own possession-heavy, cycling style of play to greater benefit, and after the first five or six shifts of the game proved that the best defense is often a good offense. Though Martin Jones was solid when he needed to be – and summoned the black arts in somehow keeping the puck out of his net in the second period – the Sharks didn't consistently sustain any real pressure in the Kings' end, save for a dangerous sequence late in the second period. The puck was on L.A.'s sticks for the majority of Thursday's game.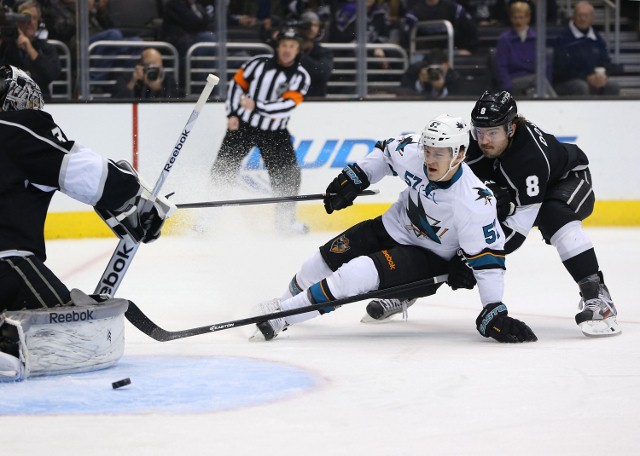 Dustin Brown is a player that has inched his toes right up to the line of allowable hitting while very seldom crossing it. And when Brown has crossed that line – which he has done once – it isn't a clear cut leap past the blurry, spotted, zigzagged barrier between what is and what is not allowable physical play. It's physicality that has at one point, crossed that line by a small-to-moderate margin. No matter what members of the 2012 Phoenix Coyotes think, Brown has effectively stayed within the boundaries of the nebulous assessment of what is a legal hockey hit as determined by the Department of Player Safety – though he has stepped firmly towards the difficult-to-define precipice. Thursday's knee-on-knee hit of Tomas Hertl, which unfortunately injured the dynamic Sharks rookie, should at most have been a two-minute minor, and a case could be made for no discipline to have been assessed on the play.
From the NHL's Official Rules, here is Rule 50, Kneeing:
50.1 Kneeing – Kneeing is the act of a player leading with his knee and in some cases extending his leg outwards to make contact with his opponent.
50.2 Minor Penalty – The Referee, at his discretion, may assess a minor penalty, based on the severity of the infraction, to a player guilty of kneeing an opponent.
50.3 Major Penalty – The Referee, at his discretion, may assess a major penalty, based on the severity of the infraction, to a player guilty of kneeing an opponent (see 50.5).
50.4 Match Penalty – The Referee, at his discretion, may assess a match penalty if, in his judgment, the player attempted to or deliberately injured his opponent by kneeing.
50.5 Game Misconduct Penalty – When a player has been assessed a major penalty for kneeing he shall also be assessed a Game Misconduct.
By the definition of the rule, this Brown's hit was a borderline penalty. He did not lead with his knee – it was his back leg that made contact with Hertl's – nor did he extend his leg outward to make contact with the opponent. Kyle Clifford's October 27 hit of Ryan Nugent-Hopkins in October was a more dangerous knee-on-knee collision, and Clifford was assessed a fine from the league without being issued a penalty. More importantly than debating the ejection of Brown from last night's game or the precedents set by the Department of Player Safety is the acknowledgement that Tomas Hertl is a blossoming young star in the league, and that hockey fans should hope he isn't badly injured or adversely affected by last night's collision.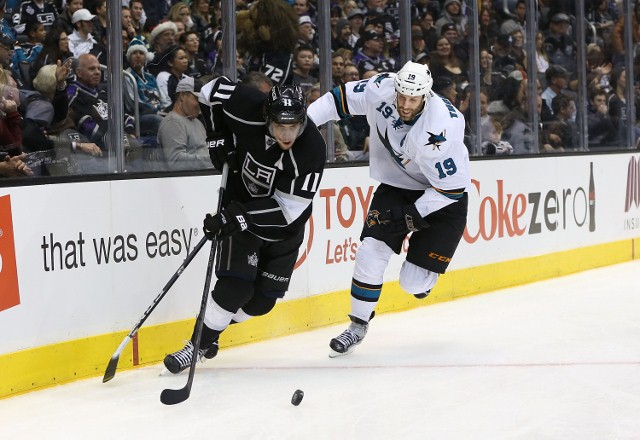 Though they haven't produced numbers that leap off a stats page, the King-Kopitar-Carter line has created difficult match-ups for the opposition recently, with the first period of the Ottawa game serving as a fine example. The Kings have averaged 3.33 non-shootout goals per game in December, a spike in production due both to an unsustainably low shooting percentage early in the season as well as spread out scoring throughout a lineup that has become more balanced since Darryl Sutter rearranged his forward alignments prior to the December 2 game against St. Louis. Since then, the 6-foot-4, 6-foot-3 and 6-foot-4 forwards have combined for 11 goals and 20 points in nine games. King is on pace for a 23 goal season, while Carter has been a point-a-game player since the adjustment.