To prepare yourself for this evening's Legends Night, here's your required listening. It's an excellent King Kronicles podcast put together by Nick Nickson that includes interviews and highlights depicting Hall of Famer Larry Murphy's tenure in the National Hockey League and his limited time as a King.
Though Murphy's offensive characteristics rightfully draw the most attention, Jim Fox characterized his hockey intelligence, positioning and size in the defensive zone as overlooked aspects of the defenseman's game.
Physically, Larry was way bigger than anyone gave him credit for because he wasn't as physical as far as taking the body, going out and hitting guys, going after guys, seeking the hit. That wasn't his game. But try to move him once he got to a position, it was very, very difficult. And, in a subtle kind of way, defensively in front of his own net, he'd lock up your stick, he'd have his stick over top of yours. He was so strong that you could not get away from him, so maybe that's the underrated part of his game. But I think it just all comes back to the way he saw the game, he read the play, he had the offensive mindset, and he wanted to follow it up. He wanted to be that secondary wave of attack, and if he wasn't right up there with the forwards, he was right behind them.
-Jim Fox, Kings Kronicles Podcast, November 28, 2012
Considering the challenges of repeating as Stanley Cup champions in the modern era, it's remarkable to think of Murphy's ability to win back-to-back Stanley Cups twice, as a member of the Pittsburgh Penguins in 1991 and 1992, and a member of the Red Wings in 1997 and 1998.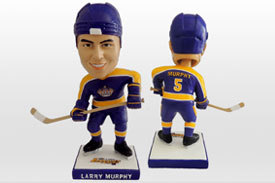 Of course, Murphy played in only 242 of his 1,615 career NHL regular season games as a King. He was dealt to the Washington Capitals early in the 1983-84 season due to a salary arbitration process that "was a mess," and one that was slanted towards the league, according to Murphy's recollection in the podcast. After arbitration figures were proposed by both the player and the team, the arbitrator selected a figure that was actually lower than the team's proposal, which led to an impasse between Murphy and then-GM George Maguire, and very shortly thereafter, a trade to Washington. The October, 1983 trade netted Los Angeles Brian Engblom and Ken Houston and is widely depicted as among the worst trades in franchise history, as Houston appeared in 33 games with the Kings, and Engblom, though useful in his 202 games with the Kings, was not a future Hall of Famer and did not record 1,216 points as a defenseman. Jesse Cohen has an excellent write-up of the impact of the trade in an article put together by The Royal Half.
Tonight's ceremony will allow Kings fans to offer their congratulations in person to one of the greatest offensive defensemen of the 1980's and 1990's, and someone whose achievements were rooted in the early success he found in the Los Angeles organization. Still, that "what-if" factor will always exist when bringing up his name in the same sentence as the team that drafted him fourth overall in 1980. Though winning a Stanley Cup in 2012 certainly reduces the sting of such ill-begotten personnel decisions associated with the growing pains of the team's adolescence, it's only natural to listen to Murphy speak at STAPLES Center tonight and think of how much the earlier on-ice fortune of the organization would have improved had Murphy played more than 242 games in Forum Blue and Gold.