A pair of North Dakota alums took the ice at the Toyota Sports Center following the Kings' practice Friday morning as injured reserve-designated skaters Matt Greene (upper-body) and Matt Frattin (lower-body) took a step forward in rehabilitating their injuries.
Though Frattin used the term "day-to-day" in describing his timetable, Darryl Sutter wasn't ready to use such terminology, saying that both players were "still on IR."
"They're not day-to-day because they're not practicing with the team," he said.
It wasn't the first time that either player had taken the ice. Sutter said that it was Frattin's third day of skating, while Greene had also returned to the ice in a limited capacity while the team was on the recent two-game road trip.
Both players were put through a rigorous conditioning skate by assistant coach Davis Payne.
Matt Frattin, on the bag skate:
It makes me want to play that much more. It's what we need to get back in shape. Definitely me and Greener are both trying to get back as quick as we can. Injuries are something that takes time, and you've just got to keep working at it.
Frattin, on a realistic timetable:
A couple days. I'm day-to-day right now, for sure. I feel pretty good on the ice, and something you want to get back is your lungs and your cardio. Taking a week off, not skating at all, that's something that takes a couple days. [Reporter: It's amazing how fast it'll disappear.] Oh my God. When I was off skating for a five days, and I've been on the ice for three days now, definitely the muscles tighten up, not using them.
Frattin, on who he skated with while the team was away:
Just me and [Sterngth and Conditioning Coach] Ryan [Van Asten]. I think Ryan was here. Me and him and Greener. It was just us three.
Frattin, on how he watches the games when the team is out of town:
You just watch the team. Hopefully they're playing well, and you've got to also look at the…opposition, how they're playing, because we'll be playing a lot of games against San Jose and Vancouver. They're both good teams, and that was a good three points for two games for us.
Frattin, on his injury:
It was kind of a freak accident. It happened in the third period. I played a couple more shifts, and after that Kinger the therapist checked me out and that was a lower-body injury.
Frattin, on the possibility of wearing Fighting Sioux jerseys during rehabilitation:
We should. Send a message, maybe. They're kind of having a tough year this year…I think they're like .500 right now. The last time I checked, they were one game below, I believe. Top-15, though. They've always got a tough schedule.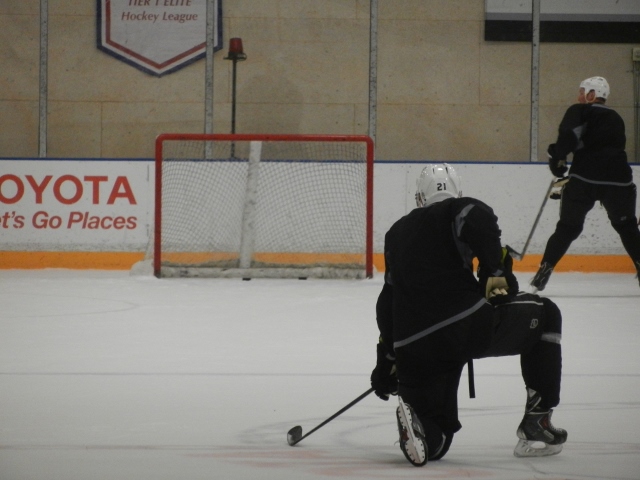 Matt Greene, on whether he's feeling better, day by day:
Yeah. Just trying to get my legs under me. Trying to get back in shape.
Greene, on the bag skate:
There's no easy way to get back in shape. So the mind was jump right into it and get going.
Greene, on rehabilitation:
Just try to keep yourself going with everything that you can work on. Work on that, and make sure that doesn't lag behind, and then just be ready when you're called upon.
Greene, on conditioning during rehabilitation:
Yeah. You've got to get your lungs going. That supports everything else. That 'll give you strength. So this is good out here. Just making sure that you're working hard and getting your stamina back.
Greene, on the team's play while battling injuries:
It's awesome. It shows good depth. Quick goes down, Scrivvy comes in and plays really well. Toffoli, Vey and Pearson – when they get the chance, they produce and played well and played big minutes for us. Then you get other guys getting a little more ice time and providing that energy. Cliffy gets out of the lineup, you get Noley, who steps right in there and plays extremely well. Noley gets banged up, you get Pears come in and provide that energy, and Daniel came in and played really well for us and provided some big sparks for our team. It's great to see that depth, because that's what you're going to need over the course of the season. Injuries happen. It's a matter of how you respond.
Greene, on Dwight King:
Yeah, Kinger's playing really well. I think…he really plays a real steady game, no matter what line he's on. It just shows how he can adapt. That's the true definition of a guy who can play bottom-six, top-six and produce in either role, be an energy guy or a skill guy, and he's been doing that over the season, actually. He's just been doing that. He's been playing really well with whoever he's getting a chance with. It's good to see him get some points and be rewarded by you guys.
Greene, on whether he has any sort of timetable:
No, I think it's just a matter of getting into shape. I think after today's skate, it's completely apparent that I'm not in shape. It's just a matter of just keep working on that, get a few of these skates in, and see what happens, see what they want to do.
Greene, on when he first resumed skating:
Yesterday was really the first…real day…That would've been Thursday. I was on the ice Wednesday for about five minutes, and yesterday with the coaches. I was out on Wddnesday just to kind of see how I felt. There's really not a lot you can do by yourself. [I thought] I could just get the feel of having your gear again one time. I was out with the coaches yesterday for 30 minutes, and then today for about 45.
Greene, on whether last year's injury has prepared him for missing games this season:
You never want to miss games. It's bad whenever you're not playing or watching your team play…That's the worst thing. The worst thing in sports is to be hurt and watching your team play. It's definitely motivation to get back in the lineup, and there's never a lack of that when you see guys having fun. When you're separated or away from the group – playing the games is a fun part, and being around the guys is a fun part, and being a part of a team. When you're hurt, you don't get to do that. That's why you try to get yourself going and healthy as soon as possible so you can join back in on that fun.