Tickets to the Stadium Series game between the Los Angeles Kings and Anaheim Ducks at Dodger Stadium on January 25 will go on sale to the public via Ticketmaster.com and Ticketmaster.ca at 10:00 a.m. PT on Tuesday, November 19.
The Kings' first outdoor game since a September 27,1991 exhibition game against the New York Rangers was held in a temporary rink in the Caesar's Palace parking lot in Las Vegas, it is one of six outdoor games taking place between January 1 and March 1.
Mike Richards spoke with NHL.com's Dan Rosen about the event from New Jersey yesterday.
"It's going to be similar atmosphere-wise [to the Winter Classic in Boston], with the crowd and stuff, but visually it's going to be completely different," Richard said. "Having palm trees and sand like a beach as we're walking out, it's going to be pretty cool.

"I'm excited to see how they set everything up, because in Boston, they had snow piles and ice, and at some point in the beginning of the game or the end of the game, there was snow falling, but it's going to be different in L.A. It's going to be a different scene from every Winter Classic game I've seen."
The NHL also released a set of chrome logos for each of the teams taking part in the Winter Classic, the Heritage Classic, and the Stadium Series.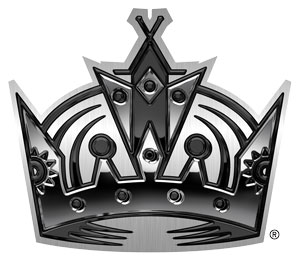 Kings and Ducks jerseys unique for the Dodger Stadium game will be released in the coming weeks.