Good morning, Long Island, and good morning Nassau Coliseum.
Though the above photograph doesn't exactly depict Yosemite Valley following a snowfall, the team was treated to a charming, crisp sunset in the colors of the local team upon its arrival on Long Island yesterday.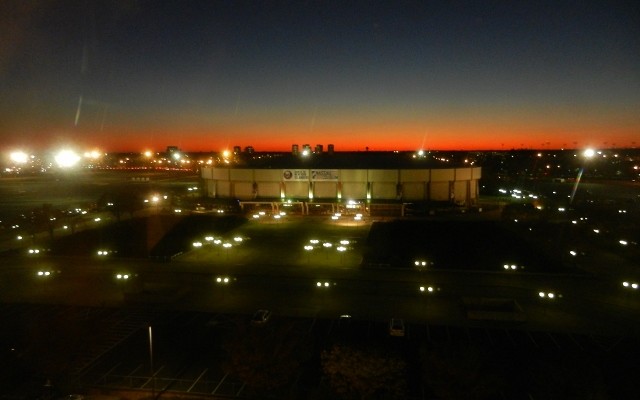 I often joke about the riveting videos of uneventful landings during road trips, but yesterday's approach into Republic Airport was actually quite scenic.
During the descent, those of us on the left side of the aircraft were treated first to a broad panorama of Northern New Jersey, Westchester County and the five boroughs, and eventually this filtered view of Long Island Sound:
That's Westchester County and Connecticut on the left, and the Long Island towns of Kings Point, Port Washington and Glen Cove on the right.
Enough of the geography lesson. The Kings will take the ice at 11:30 a.m. local time in advance of tonight's game. I'm hoping to catch up with Thomas Hickey after the Islanders skate and will make sure to post updates on how the team plans to use Jarret Stoll and Tanner Pearson – if at all – for tonight's game. I'd venture to say both will be in. Stay tuned.