-While closing up shop in the Bob Miller Press Box Wednesday evening, I was chatting with one of the San Jose writers before he stepped into the elevator. I don't recall his words verbatim, but they were to the extent of "I wouldn't mind having a few more of these this year." Amen. It's impossible to recreate the drama and heightened stakes of playoff hockey in late October, but for an early season divisional game against an in-state rival, last night's 4-3 overtime win by the Los Angeles Kings elicited the excitement and volatile momentum swings more closely associated with spring hockey. The game was more of a quiz than a test – with a Stanley Cup and the experience of having taken part in 38 playoff games over two seasons, the Kings clearly know that the weightier "tests" take place six months from now – and with three visits to the Shark Tank looming, the team will certainly be faced with a midterm exam on November 27. Really, this game was perfectly placed, a narrative I may have hit over the head a few too many times in the 24-hour lead-up. To be able to quickly return to action buoyed with the adrenaline of facing an NHL-leading team that they had dispatched in a gripping seven-game series some five months prior negated much of the mental and physical strain of playing on consecutive nights and allowed the team to quickly sublimate any negative intangibles conjured up by the loss to Phoenix the night before.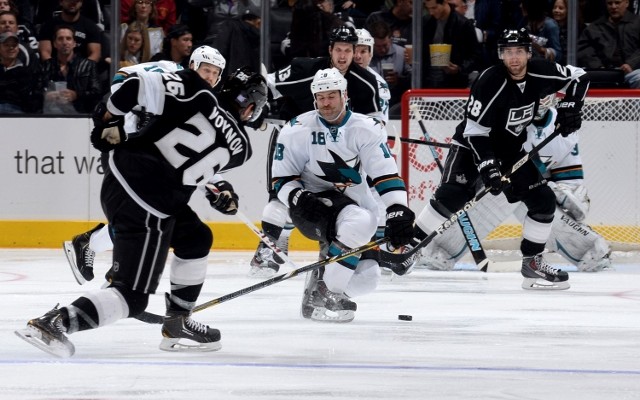 -If you can forgive his offensive zone penalty that led to a go-ahead power play goal by Logan Couture (kind of a big "if"!), Kyle Clifford was very good for the second consecutive game. The good thing is that unlike the Phoenix game, when he was arguably the Kings' best forward on the ice, there were a variety of top-six forwards that also stepped up with fine efforts in the win over San Jose. Anze Kopitar registered the game-winning goal and a game-tying assist and registered four shots without being credited with a giveaway in 23:24 of ice time. Mike Richards was mostly good in all areas of the ice and finished with two assists in 22:48 of ice time, his highest regular season total in almost two years. Credit is also due for Jarret Stoll, who has snapped out of his scoring schneid with goals in back-to-back game to provide some valuable scoring depth.
-Generally amongst the most disciplined teams in the league, the Sharks afforded the Kings six power plays, and Los Angeles took advantage twice. While the Kings were only whistled for five total penalties – one of which was a Clifford fighting major – three of their four shorthanded situations came as the result of an offensive zone penalty. Whether or not Daniel Carcillo's take-out of Logan Couture along the boards should have warranted a penalty, Darryl Sutter does have a valid point that Carcillo has a reputation amongst league referees, and should he put himself in the position in which a questionable hit is made, the verdicts generally won't return in his favor.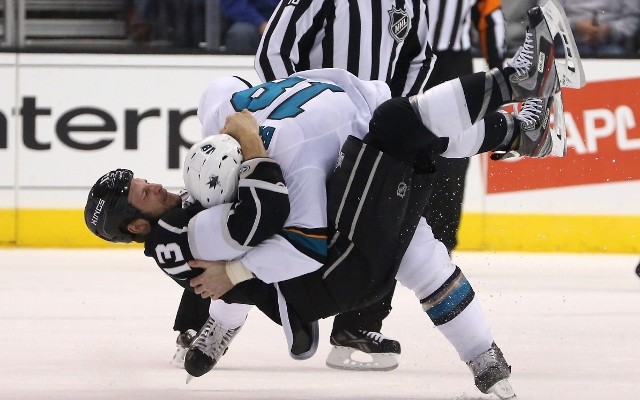 -Credit San Jose for directing shots away from Antti Niemi. Though Los Angeles registered 23 shots on goal, 17 attempts were blocked and the Kings were credited with a bizarrely high 23 missed shots.
-The Kings have outshot their opponents 13-3 through six overtimes this season. Even before their power play, the Kings were generating heavy pressure. Dustin Brown hit the crossbar and Mike Richards was denied with a Niemi glove save from a high-quality scoring area before Jeff Carter found a loose seam and was ultimately hooked by Justin Braun. Other than a Nashville power play that hemmed Los Angeles in its own zone on October 17, the Kings have dominated the extra five minutes this season.
-Why do I even attempt to provide line pairings in game previews? It is a futile and sad endeavor.
From Robert P. of Jewels from the Crown: