-While addressing the media following Tuesday's morning skate, Darryl Sutter stated that one of his "pet peeves" was offensive zone penalties. Through the first two periods of the 3-1 loss to the Phoenix Coyotes, the Los Angeles Kings were assessed two penalties in the offensive zone and spent a disproportionate amount of first period action with the penalty kill on the ice. These penalties provided some early momentum and home comfort for a team that is yet to lose a home game in regulation, and though Phoenix didn't score until late in the second period – and against the run of play at the time – the penalties kept the Kings from settling into much of a rhythm and limited their opportunities to work in the offensive zone late in the first period. Los Angeles is now tied with Winnipeg for the most minor penalties in the NHL, an uncharacteristic development for a team that has rightly prided itself on having established very good team discipline in recent years.
-Similar to last Thursday's win over Phoenix, Tuesday's game featured several substantial momentum swings. After having weathered the Coyotes' early power play time, the Kings engineered an excellent stretch of extended possession and cycling in the offensive zone through much of the second half of the second period. A pair of skate deflections later, Los Angeles trailed 1-0 after a sneaky puck sent towards the net by Derek Morris greased itself past Ben Scrivens and the goal line by several inches. On the ensuing shift, Justin Williams was whistled for an offensive zone penalty, one deemed "marginal" by Sutter after the game. At that point, "how many" kills becomes secondary to "when" penalties are killed, and Shane Doan's deft deflection of Oliver Ekman-Larsson's shot put the Kings behind 2-0 with six seconds remaining in the second period.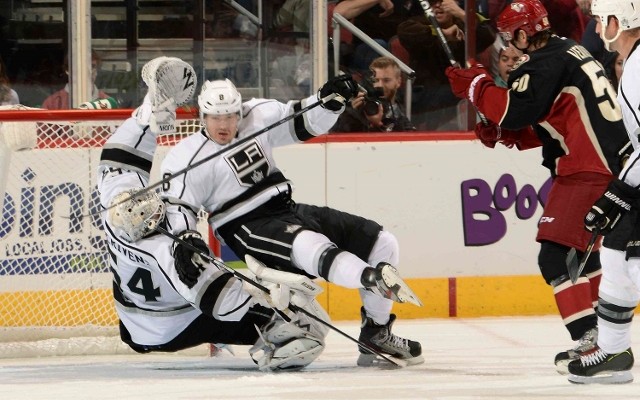 -A tough divisional road game, followed 24 hours later by a visit from the NHL-leading San Jose Sharks? Game on. Tonight's game isn't a "test" – teams that play 38 playoff games over two seasons have already passed the meaningful "tests" – but it will be an excellent early season gut check against an emotional San Jose team making its first trip to STAPLES Center since dropping a narrow Game 7 to Los Angeles last spring. There will be excellent theater and adrenaline in the building tonight, which has the capacity to make up for any weariness associated with playing two games in two nights. The Kings are going to need a well-rested Jonathan Quick to be at his best against a team that enters tonight's game averaging 37.8 shots per game, a mark that bests the second most prolific team by 2.8 shots. Quick's performance against the Sharks last spring might have been his signature seven-game NHL presentation, and with a dynamite Antti Niemi at the other end of the ice, be prepared to witness heightened stakes more representative of springtime hockey than those associated with late October play. FOX Sports West will drop the puck with the Kings Live pre-game show at 7:00 p.m.