Los Angeles Kings (8-5-0) vs San Jose Sharks (10-1-1)
Wednesday, October 30, 2013, 7:30 p.m. PT
STAPLES Center
Referees: #17 Frederick L'Ecuyer, #40 Steve Kozari
Linesmen: #88 Mike Cvik, #70 Derek Nansen
FOX Sports West, KTLK 1150 AM
Los Angeles Projected Starting Goaltender – Jonathan Quick
2013-14 Season: 11 GP (11 GS) / 7-4-0 record / 2.53 GAA / .907 Sv% / 0 SHO
Career vs San Jose: 19 (19) / 9-4-5 / 2.55 / .910 / 2
Last Game vs San Jose: 4/27/13 / 60 MP / 23-25 shots / 3-2 W
2013-14, Home: 6 (6) / 4-2-0 / 2.64 / .895 / 0
San Jose Projected Starting Goaltender – Antti Niemi
2013-14 Season: 11 GP (11 GS) / 9-1-1 record / 1.53 GAA / .933 Sv% / 2 SHO
Career vs Los Angeles: 18 (18) / 10-5-2 / 2.39 / .923 / 2
Last Game vs Los Angeles: 4/27/13 / 59 MP / 24-27 shots / 2-3 L
2013-14, Away: 6 (6) / 4-1-1 / 1.30 / .946 / 2
2013-14 Los Angeles Leaders
Total Points: Anze Kopitar (1-10=11)
Goals: Jeff Carter (5-4=9)
Assists: Anze Kopitar (1-10=11)
Plus/Minus: Matt Greene (+5; 2-1=3)
Penalty Minutes: Kyle Clifford (23; 1-0=1)
Time On Ice: Drew Doughty (25:37; 3-2=5)
2013-14 San Jose Leaders
Total Points: Patrick Marleau (8-6=14), Logan Couture (6-8=14)
Goals: Patrick Marleau (8-6=14), Tomas Hertl (8-3=11)
Assists: Joe Thornton (1-12=13)
Plus/Minus: Marc-Edouard Vlasic (+11; 2-7=9), Justin Braun (+11; 2-1=3)
Penalty Minutes: Andrew Desjardins (21; 1-3=4), Mike Brown (21; 0-0=0)
Time On Ice: Justin Braun (21:35; 2-1=3)
Rankings and Statistics
Goals/Game: LAK – 20 / 2.46; SJS – 1 / 3.92
Goals Against/Game: LAK – t-9 / 2.54; SJS – 2 / 1.58
Power Play: LAK – 18 / 18.8%; SJS – 10 / 21.8%
Penalty Kill: LAK – 14 / 82.1%; SJS – 3 / 88.2%
Shots/Game: LAK – 4 / 33.3; SJS – 1 / 37.8
Shots Against/Game: LAK – 7 / 27.4; SJS – 2 / 24.5
Faceoffs: LAK – 3 / 55.4%; SJS – 10 / 52.2%
Save Percentage: LAK – 19 / .907; SJS – t-4 / .935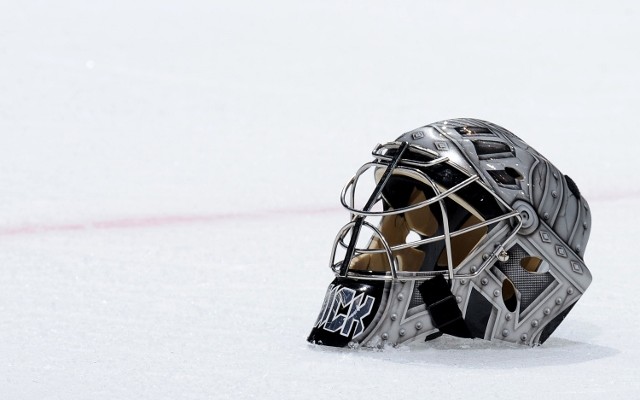 Los Angeles Projected Lines
Dwight King – Anze Kopitar – Justin Williams
Mike Richards – Jeff Carter – Matt Frattin
Dustin Brown – Jarret Stoll – Trevor Lewis
Kyle Clifford – Colin Fraser – Jordan Nolan
Robyn Regehr – Drew Doughty
Willie Mitchell – Slava Voynov
Jake Muzzin – Matt Greene
Jonathan Quick
Ben Scrivens
Level of confidence in projected lines: D. The team didn't skate this morning, and the above lines are based on the projection that Colin Fraser will return to Los Angeles' lineup. Darryl Sutter mixed up several lines at the outset of yesterday's game, placing Dustin Brown as a right wing opposite Kyle Clifford on a line centered by Jarret Stoll with a defensive pairing of Willie Mitchell and Matt Greene. Later in the game, Brown was to the left of familiar partners Anze Kopitar and Justin Williams. Jake Muzzin also saw several shifts with Drew Doughty late in the game. In other words, lines are fluid and subject to constant change.
Notes and milestones: Los Angeles is 54-54-18 all-time against San Jose, which includes a record of 34-22-7 at home. Including the playoffs, the Kings are 10-0-1 in the last 11 meetings between the teams at STAPLES Center. L.A. is also 6-0-1 in the last seven regular season home meetings between the teams. … After tonight, the teams will meet on November 27 at SAP Center, December 19 at STAPLES Center, and on January 27 and April 3 at SAP Center. … The Kings have won more faceoffs than their opponent for five consecutive games and are 192-for-336 (57.1%) over that span. Overall, the team ranks third in the league with a 55.4% success rate. … Since killing off 14 consecutive power plays, the Kings' penalty kill has allowed at least one goal in each of its last four games, going 13-for-19 over that span. Kings opponents have had at least four power plays in each of the last six games. … Los Angeles has been assessed 63 minor penalties this season, which ties them with Winnipeg for the most in the league.… Anze Kopitar has six points in the last five games (1-5=6). … Justin Williams has six points in the last five games (2-4=6). … With four goals, Dwight King is one goal away from matching his regular season high, set in 2011-12. … The Kings are undefeated when any player produces a multi-point game. … Los Angeles has out-shot its opponent in 11 of 13 games this season. … The Kings are 5-0-0 in overtimes and shootouts. … Dustin Brown's 183 career goals place him three goals behind Jim Fox for ninth place overall in club history. … Drew Doughty's 52 goals are the sixth most overall by a defenseman in club history and one goal behind Mark Hardy's 53 goals as a King. Doughty's 25 power play goals place him one PPG behind Hardy's fourth-ranked 26 power play goals amongst defensemen. … Anze Kopitar is tied for sixth place in club history with nine shorthanded goals and trails Ziggy Palffy by one SHG for fifth place. … With 156 career wins, Jonathan Quick is 15 wins behind Rogie Vachon for the most wins by a goaltender in Kings history.
San Jose Projected Lines
Tomas Hertl – Joe Thornton – James Sheppard
Patrick Marleau– Logan Couture – Tyler Kennedy
Marty Havlat – Joe Pavelski – Tommy Wingels
John McCarthy – Andrew Desjardins – Mike Brown
Marc-Edouard Vlasic – Justin Braun
Matt Irwin – Brad Stuart
Scott Hannan – Jason Demers
Antti Niemi
Alex Stalock
Notes and milestones: Lines via Kevin Kurz of CSNBayArea.com. … Marty Havlat will make his 2013-14 debut after undergoing off-season groin surgery. Dan Boyle, who left the ice on a stretcher following a hit along the boards at St. Louis on October 15, is not expected to play. Brent Burns (upper body) and Long Beach native Matt Nieto (hand) are out as well. … San Jose's last regular season regulation win at STAPLES Center game on January 1, 2011 when Antti Niemi stopped all 29 shots in a 1-0 shutout. … Joe Thornton has 60 points (12-48=60) in 60 career games against the Kings. … The Sharks have scored goals in the game's first minute four times this season: 10/5 vs PHX – 0:46 / Tomas Hertl, 10/12 vs Ottawa – 0:12 / Tomas Hertl, 10/17 at DAL – 0:09 / Tyler Kennedy and 10/19 vs CGY – 0:59 / Brent Burns. … The Sharks are the first team in NHL history to start consecutive seasons 6-0 or better.