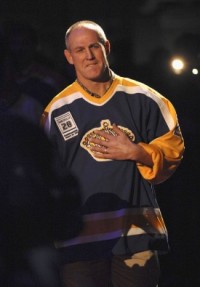 The Kings will hold the first Legends Night of the season and will honor Jay Wells in an on-ice ceremony prior to Sunday evening's game against the Edmonton Oilers. All fans in attendance will receive a Wells "bobble-fist," shown above.
Selected 16th overall by Los Angeles at the 1979 NHL Entry Draft, Wells appeared in 604 games as a King, the 10th highest total in club history. His 1,446 penalty minutes rank third all-time in the club's registry, while his 177 career points rank seventh amongst defensemen.
His NHL playing career spanned from 1979 to 1997, and of his three goals in 114 career playoff games, one particular goal kick started the greatest comeback in Stanley Cup Playoffs history.
Daryl Evans punctuated the Miracle on Manchester with an overtime goal against Grant Fuhr and the Oilers – a goal that Wells was on the ice for – and recalled the goal scored 2:46 into the third period that helped catalyze the Kings' comeback.
"Going in, trailing by five goals, we just wanted to simplify things," Evans said. "I think that was the message, was to try to win the final 20 minutes and build a little momentum for the following game. Jay, again, I think a play that really was just characteristic of him – a simple play from back at the blue line, a little traffic in front. He shot it, the puck found its way into the net, and the next thing you know, we were on the board and we had a little bit going. Jay Wells – he kicked it off."
Goal scoring was not how Wells earned his NHL keep. A rugged defenseman often referred to as "honest," he was a shutdown defenseman with a rugged streak eager to defend his teammates and stood toe-to-toe with some of the well-known enforcers of the 1980's.
Daryl Evans, on Jay Wells:
Jay was the ultimate teammate. He was one of those guys that stuck up for his teammates. He was fortunate enough to have the gift of being able to throw the fists back in an era where you really had to do so. I think he was a well-respected guy not only by his teammates, but also by his peers. Known as a hard-nosed player. Always played the game clean, but if anything had to be handled on the ice, he was the first one to jump for it. He was a great teammate, and he had an impact on our team back in the '80s.
Evans, on Wells' defensive attributes:
Well, I think when you look at him, he was known for the big hip check. He was one of those guys, again, if you didn't have your head up, he'd make you pay the price – but in an honest way. Simple game in the defensive zone. He was one of those guys, first pass, get it up to the forwards, and let them do their work in the offensive zone. Just again, simplifying it, putting pucks at the net. But as a player, again, a guy who showed up every night. He was one of those guys that you couldn't say 'didn't give it his all' every night. I think when you look at his statistics, one of those guys that goes unnoticed a lot for the things that he did on the ice. He was known for being a physical player, and a real hard player to play against.
Evans, on where Wells placed amongst the better fighters in the league:
I saw him fight a few of the heavyweights in that time – Dave Semenko, and things like that. With the reputation that Semenko had at that time, Jay definitely could hold his own at that level. He was a guy that could hold his own. He'd hit hard when he threw a punch, and he had the ability to be able to defend with the strength that he had. He had great balance on the ice. I think that's one of the keys for those guys that are able to fight, especially for the guys who throw the heavy punch. Sometimes you throw that big punch and you lose your balance, but he was able to be able to stand in there, and I think that's one of the things that probably I noticed about when he got involved in his fights, was his ability to be able to hold that balance. I'd put him up there, and he was definitely in the top echelon, for sure.
KingsCast caught up with Wells at Hockey Fest in 2010 and put together this feature:

Wells' statistics:

The Kings will be wearing Forum Blue and gold jerseys with the iconic crown insignia for all Legends Nights games. Here's goaltender Ben Scrivens in his Legends Night mask: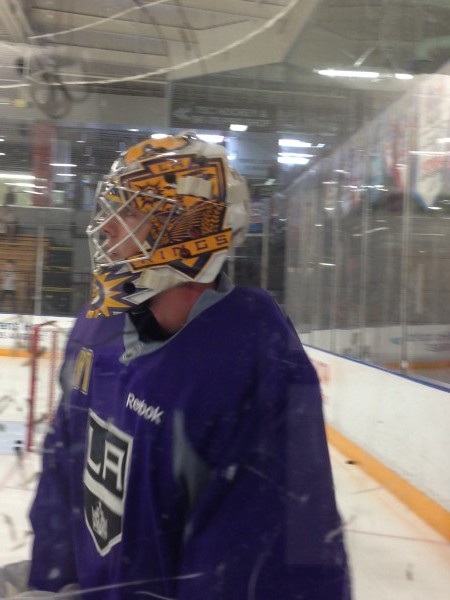 Future 2013-14 Legends Nights will honor Larry Murphy on December 7 prior to a game against the New York Islanders, and Jim Fox on March 13 when the Toronto Maple Leafs visit.
Mike Kalinowski put together a Wells feature for LAKings.com: Jay Wells – A Closer Look
Previous Legends Nights:
2012-13: Ian Laperriere, Kelly Hrudey
2011-12: Daryl Evans, Bernie Nicholls, Charlie Simmer
2010-11: Rogie Vachon, Bob Berry, Bob Pulford