-Were the Kings motivated by an off-night against the Calgary Flames on Monday? As judged by their start, it certainly appeared that way as they shot out of the gate Thursday night, scoring 42 seconds into an eventual 7-4 victory over the Phoenix Coyotes. After drawing a penalty in their own zone, Los Angeles produced a pair of high quality scoring opportunities before Anze Kopitar wristed the puck past a vulnerable Mike Smith for his first regular season goal since March 25. They were up 2-0 less than four minutes later and led 4-0 after 20 minutes, courtesy of the strongest period of hockey they've played in the young season. There was a heavy forecheck, a high compete level and superb puck support in the first period. Whenever Los Angeles caused a loose puck to skirt to open spots of the ice in the opening 20 minutes, it was a King, not a Coyote, that was the first to gain possession. Keeping a quality opponent like Phoenix down for a full 60 minutes is not generally possible, and though the Coyotes scored twice in the second period, it was their ability to turn a 4-2 game into a 4-4 game in the first 2:50 of the third period that was the most disconcerting. After a timeout – and a Kings penalty – Mike Richards provided the game's pivotal moment when he stripped Radim Vrbata of the puck on a Phoenix power play breakout and cut across the low slot before out-waiting Thomas Greiss and depositing the puck past his outstretched left pad. In two minutes the game's cadence shifted from Why Oh Why Is This Happening towards Let's See If Dwight King Can Get A Hat Trick.
-Dwight King. I avoid rooting for specific players, teams or outcomes, but quality story lines? I can definitely get behind those. King's contributions aren't always the easiest to define sharply, though they do help the team win hockey games. He generally does a good job of boosting the quality of team's possession metrics in the offensive zone, and he frees some space for teammates near him while on the attack. King also enjoyed a very strong preseason, and his assignment to play at even strength with Anze Kopitar and Justin Williams is a fair reward for the often unheralded work he puts in. On Thursday, he capitalized on his scoring opportunities with tallies on all three of his shots on goal, with his second goal standing out as the most attractive. His back was towards the net when he redirected Robyn Regehr's hard, low shot past Mike Smith with his stick between his legs. Both Regehr's placement of the shot and King's ability to track the shot and get just the right amount of stick on it showed beautiful fundamentals. It was sort of like watching a perfect bunt down the third base line.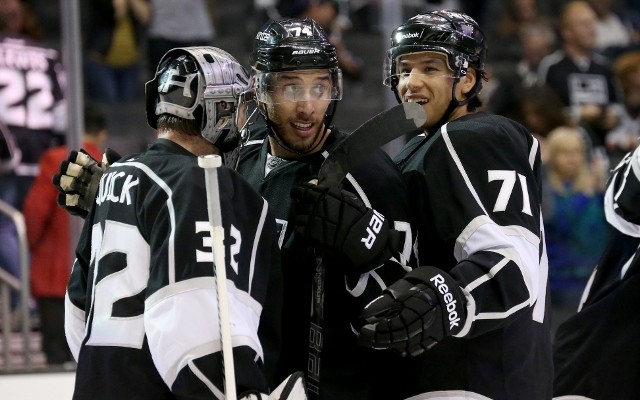 -Anze Kopitar scored, which means that the "When will Kopi score a regular season goal?" discussion has finally been tabled. With a goal and two assists, he now has 11 points in 11 games and is tied for second in the NHL with 10 assists. As referenced above, he could have had scored even earlier on the first power play after executing a high speed give-and-go with Justin Williams, which came off an excellent, unimpeded zone entry and finished with Mike Smith angrily slamming the ice with his stick. Like many of the other 10 games the team has played this season, he was the best forward on the ice for either team.
-The Pacific Division is top-heavy and bottom-full when it comes to faceoffs. There's San Jose, Phoenix and Los Angeles, three of the league's premier faceoff teams, and then there's Edmonton, Calgary and Anaheim, three teams that have not had as much faceoff success in recent years. The Kings won 57% of the draws Thursday night and limited Antoine Vermette, who entered the game with more faceoff wins than any other player in the league, to a 7-of-17 performance. Kopitar, who was 15-of-26 and saw most of his draws against Vermette and Martin Hanzal, added another wrinkle to his fine performance last night.