Los Angeles Kings (6-4-0) vs Phoenix Coyotes (6-2-2)
Thursday, October 24, 2013, 7:30 p.m. PT
STAPLES Center
Referees: #27 Eric Furlatt, #12 Justin St. Pierre
Linesmen: #66 Darren Gibbs, #55 Shane Heyer
FOX Sports West, KTLK 1150 AM
Kings Weekly to follow tonight's game
Los Angeles Projected Starting Goaltender – Jonathan Quick
2013-14 Season: 9 GP (9 GS) / 5-4-0 record / 2.56 GAA / .909 Sv% / 0 SHO
Career vs Phoenix: 26 (26) / 12-11-3 / 2.56 / .908 / 4
Last Game vs Phoenix: 4/2/13 / 59 MP / 28-31 shots / 1-3 L
2013-14, Home: 4 (4) / 2-2-0 / 2.76 / .897 / 0
Phoenix Projected Starting Goaltender – Mike Smith
2013-14 Season: 9 GP (9 GS) / 5-2-2 record / 2.74 GAA / .916 Sv% / 0 SHO
Career vs Los Angeles: 14 (14) / 9-4-1 / 1.95 / .931 / 2
Last Game vs Los Angeles: 3/19/13 / 59 MP / 26-29 shots / 2-3 L
2013-14, Away: 5 (5) / 2-2-1 / 3.17 / .913 / 0
2013-14 Los Angeles Leaders
Total Points: Anze Kopitar (0-8=8)
Goals: Jeff Carter (5-2=7)
Assists: Anze Kopitar (0-8=8)
Plus/Minus: Matt Greene (+4; 2-1=3)
Penalty Minutes: Kyle Clifford (18; 1-0=1)
Time On Ice: Drew Doughty (25:16; 3-1=4)
2013-14 Phoenix Leaders
Total Points: Mike Ribeiro (5-4=9)
Goals: Mike Ribeiro (5-4=9), Radim Vrbata (5-2=7)
Assists: Martin Hanzal (2-6=8), Mikkel Boedker (2-6=8)
Plus/Minus: Rob Klinkhammer (+8; 4-2=6)
Penalty Minutes: Martin Hanzal (17; 2-6=8), Chris Brown (17; 0-0=0)
Time On Ice: Oliver Ekman-Larsson (25:07; 2-4=6)
Rankings and Statistics
Goals/Game: LAK – 22 / 2.30; PHX – 12 / 3.10
Goals Against/Game: LAK – 10 / 2.50; PHX – 18 / 2.70
Power Play: LAK – 15 / 20.0%; PHX – 19 / 17.1%
Penalty Kill: LAK – 9 / 83.7%; PHX – t-12 / 82.9%
Shots/Game: LAK – t-15 / 30.5; PHX – 7 / 32.5
Shots Against/Game: LAK – 8 / 27.7; PHX – 24 / 33.2
Faceoffs: LAK – 4 / 55.0%; PHX – t-2 / 55.4%
Save Percentage: LAK – 17 / .910; PHX – t-9 / .919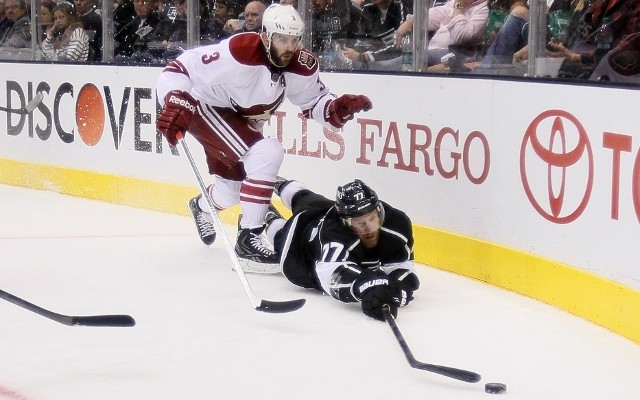 Los Angeles Projected Lines
Dwight King – Anze Kopitar – Justin Williams
Mike Richards – Jeff Carter – Matt Frattin
Dustin Brown – Jarret Stoll – Trevor Lewis
Kyle Clifford – Colin Fraser – Jordan Nolan
Robyn Regehr – Drew Doughty
Willie Mitchell – Slava Voynov
Jake Muzzin – Matt Greene
Jonathan Quick
Ben Scrivens
Level of confidence in projected lines: C. The most certain projection is that Alec Martinez and Keaton Ellerby will be out of the lineup tonight, as both defensemen stayed on with Ben Scrivens for extra work. All forwards left the ice at the same time, so it wasn't possible to confirm whether Kyle Clifford, Colin Fraser, Daniel Carcillo or Jordan Nolan would be the one forward scratched tonight. The above lines were the lines that took line rushes at the start of the morning skate, with Carcillo skating along with Clifford, Fraser and Nolan. Once again, here's your reminder that lines are recalibrated throughout the game based on performance, special teams time, and opposing looks.
Notes and milestones: Los Angeles has an all-time record of 78-93-32 (W-L-T/OTL) against the Phoenix franchise, which includes a record of 43-41-16 at home. Last year the Kings were 3-2-0 overall against the Coyotes and 2-0-0 at STAPLES Center. Los Angeles has won six of the last seven meetings against Phoenix at STAPLES Center, dating back to March 3, 2011. The teams will meet again on October 29 (at Phoenix), January 28 (at Phoenix), March 17 (vs Phoenix) and April 2 (vs Phoenix). … The Kings have out-shot their opponents 222-187 in the last seven games. They've taken at least 30 shots in seven of 10 games this season. … Dustin Brown's 183 career goals are three goals behind Jim Fox for ninth place overall in club history. … Drew Doughty's 52 goals are the sixth most overall by a defenseman in club history and one goal behind Mark Hardy's 53 goals as a King. Doughty's 25 power play goals place him one PPG behind Hardy's fourth-ranked 26 power play goals amongst defensemen. … Anze Kopitar is tied for sixth place in club history with nine shorthanded goals and trails Ziggy Palffy by one SHG for fifth place. … Kopitar's last regular season goal came in a 5-4 win at Chicago on March 25, 2013. He has been held without a goal in 26 consecutive regular season games.
Phoenix Projected Lines
Mikkel Boedker – Mike Ribeiro – David Moss
Kyle Chipchura – Martin Hanzal – Radim Vrbata
Rob Klinkhammer – Antoine Vermette – Shane Doan
Paul Bissonnette – Jeff Halpern – Brandon Yip
Oliver Ekman-Larsson – Zbynek Michalek
Keith Yandle – Derek Morris
Rostislav Klesla – David Schlemko
Mike Smith
Thomas Greiss
Notes and milestones: Lines via Sarah McLellan of the Arizona Republic. … Shane Doan is a game-time decision due to a lower body injury, and Lauri Korpikoski is day-to-day with an upper-body injury. … Phoenix has earned points in seven consecutive games (5-0-2). With 14 points through 10 games, the Coyotes have are off to their best start since 2000-01, when they began the season with 16 points through their first 10 games. … Mike Ribeiro enters tonight's game with a seven-game point streak (5-4=9). … Phoenix leads the NHL with 14 third period goals. … The Coyotes are 119-13-20 when scoring first since the start of the 2009-10 season. … Radim Vrbata ranks fifth in the league amongst active players with 31 career shootout goals. … Traditionally a strong faceoff team, Phoenix has been led at the dots by Antoine Vermette, who ranks second in the NHL with a 61.5% faceoff percentage (147/239). His 147 faceoff wins are the most in the league. … Zbynek Michalek ranks third in the league with 26 blocked shots. … Vermette (321 consecutive games played) and Keith Yandle (313 consecutive games played) rank fifth and sixth amongst active players in consecutive games played. Jay Bouwmeester of St. Louis leads the league with 642 consecutive games played. … Doan is one power play goal shy of 100 PPG in his career.
James Nicholson was at Phoenix's skate this morning. Quotes from the Coyotes' locker room can be found here.