Los Angeles Kings (0-0-0) at Minnesota Wild (0-0-0)
Thursday, October 3, 2013, 7:00 p.m.
Xcel Energy Center, St. Paul, Minnesota
Referees: #6 Francis Charron, #23 Brad Watson
Linesmen: #54 Greg Devorski, #92 Mark Schewchyk
Los Angeles Projected Starting Goaltender – Jonathan Quick
2012-13 Season: 37 GP (36 GS) / 18-13-4 record / 2.45 GAA / .902 Sv% / 1 SHO
Career vs Minnesota: 12 (12) / 7-3-2 / 2.62 / .892 / 0
Last Game vs Minnesota: 3/30/13 / 65 MP / 25-28 + 0/3 shots / 3-4 SOL
2012-13, Away: 19 (19) / 5-9-3 / 3.11 / .891 / 0
Minnesota Projected Starting Goaltender – Niklas Backstrom
2012-13 Season: 42 GP (41 GS) / 24-15-3 record / 2.48 GAA / .909 Sv% / 2 SHO
Career vs Los Angeles: 19 (18) / 8-6-3 / 2.45 / 913 / 2
Last Game vs Los Angeles: 4/23/13 / 60 MP / 22-23 / 2-1 W
2012-13, Home: 22 (21) / 12-8-2 / 2.21 / .912 / 1
2012-13 Los Angeles Leaders
Total Points: Anze Kopitar (10-32=42)
Goals: Jeff Carter (26-7=33)
Assists: Anze Kopitar (10-32=42)
Plus/Minus: Jake Muzzin (+16; 7-9=16)
Penalty Minutes: Keaton Ellerby (52*; 0-3=3)
*36 of Ellerby's penalty minutes came as a member of the Florida Panthers. Kyle Clifford (51 PIM; 7-7=14) recorded the most penalty minutes as a Los Angeles King.
2012-13 Minnesota Leaders
Total Points: Zach Parise (18-20=38)
Goals: Zach Parise (18-20=38)
Assists: Ryan Suter (4-28=32)
Plus/Minus: Matt Cullen (+7*; 7-20=27)
Penalty Minutes: Zenon Konopka (117; 0-0=0)
*Matt Cullen is now on Nashville. Amongst players currently on Minnesota's roster, Nate Prosser (+4; 0-0=0) produced the highest 2012-13 plus/minus.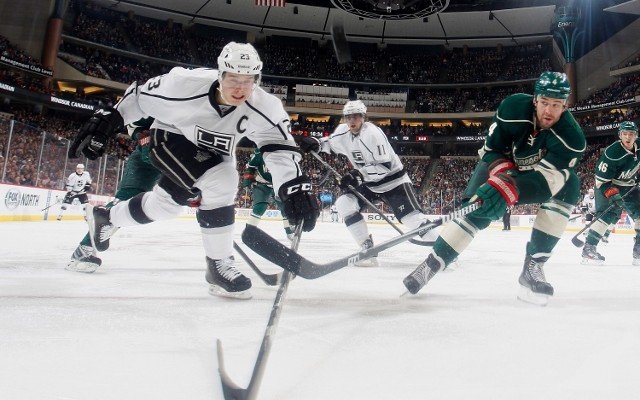 Los Angeles Projected Lines
Dwight King – Anze Kopitar – Justin Williams
Matt Frattin – Mike Richards – Jeff Carter
Dustin Brown – Jarret Stoll – Trevor Lewis
Kyle Clifford – Colin Fraser – Jordan Nolan
Robyn Regehr – Drew Doughty
Willie Mitchell – Slava Voynov
Jake Muzzin – Matt Greene
Jonathan Quick
Ben Scrivens
Level of confidence in projected lines: A. There shouldn't be any surprises on opening night.
Notes: The Kings finished 3-3-1 in the preseason, which marked the 23rd consecutive preseason they finished with a .500 record or better. Matt Frattin (1-5=6) led the Kings in preseason scoring. … Jonathan Quick was 3-0-0 with a 0.75 GAA and .968 Sv% in the preseason. … Los Angeles is 21-14-12 all-time against Minnesota, including a record of 10-7-7 at the Xcel Energy Center. The Kings have recorded points in eight of their last 10 visits to St. Paul (5-2-3), though they are winless in their last three trips (0-1-2). … Anze Kopitar has 24 points (8-16=24) in 27 games against Minnesota. … Justin Williams has 16 points (7-9=16) in 19 games against Minnesota. … Williams has played in 130 consecutive games (dating back to 10/7/11) to lead the team. With 498 career points, he is two points shy of having recorded 500 points in his career.
-Willie Mitchell will play his first regular season game since the end of the 2011-12 season. After missing all 64 regular season and playoff games last season, he returned to the lineup for the team's preseason game at Colorado on September 20 and was encouraged by his performance.
He was less enthusiastic about his second game, a win over Anaheim on September 24.
"My legs were good, but I sucked with the puck," he said. "You're pissed off because you're competitive, but then I was also quite happy, because the one thing that everyone was questioning was 'How's his knee? How [are] his legs going to be?,' and that was all good. I kind of knew the rest would come with repetition and time. We've all played the game, and you just don't lose it that quick. My strength is not Gaborik, you know, flying down there. Mine's more just reads."
Mitchell has not been wearing a brace since returning from two knee surgeries last season.
"I tried it for a bit, and I was more trying it not for any support, because I don't need the support. All my ligaments are good, and stuff. It was more like it could get hit," he said. "I just found it actually made my knee get sore, because it almost makes you track in a way that's unnatural. The body always finds a way to do what's easiest. That's just how the body works. So to push it out in an area that it's not normally in, actually I found it to irritate my knee. So I don't wear one, and to be honest with you, I just don't need one."
Mitchell also returns to the familiar confines of St. Paul to make his regular season NHL return. He met his wife while playing for the Minnesota Wild from 2000-06.
"It's pretty cool. All my family is here, my in-laws, right? Lots of good friends. Minnesota's always home away from home for me. Had some good years here. A lot of fun. A lot of my friends work in management for the team now," he said with a laugh. "[I'm] dating myself."
-Darryl Sutter is expecting big things from Anze Kopitar this season and noted that the star center put together a strong September and took the initiative in shooting the puck more often.
"He did it all training camp. He did awesome. That's all you want him to do," Sutter said. "His numbers show that he's a 25-45 guy. He'll be that. I have no doubts about it. He'll be better than that."
He was quick to brush off any allusions to the three goals Kopitar scored scored between his final 32 regular season and playoff games.
"I think there's been lots made about last year about Kopitar, but Kopitar is our best player by a significant margin in the 200-foot game, and you expect him to be that again," Sutter said.
"He actually set a career high in assists [pace]. Maybe some other guys have got to score when he passes them the puck."
-Dustin Brown returns to Minnesota for the first time since April 23, when he caught Wild forward Jason Pominville in the head with an errant elbow, eliciting a suspension for the final two games of the regular season.
The incident is clearly in Brown's rearview mirror.
"It happened in the first period of the last game we were here, so there was plenty of time for it to be settled in that game, and nothing really came of it," the captain said. "The only time I ever think about it now is when you guys bring it up as media. It is what it is. I talked to Pommer after that game, and it's just one of those things that kind of happened, and I just move on now."
-Darryl Sutter was aware of the Bruce Boudreau – Patrick Roy incident Wednesday night in Denver.
"I saw the highlights. It wasn't as good as Philadelphia-Pittsburgh two years ago," Sutter said, referencing the Peter Laviolette – Dan Bylsma exchange from the 2012 postseason.
Don't expect a similar episode when Los Angeles travels to Denver this season.
"I think I know Patrick well enough," Sutter said.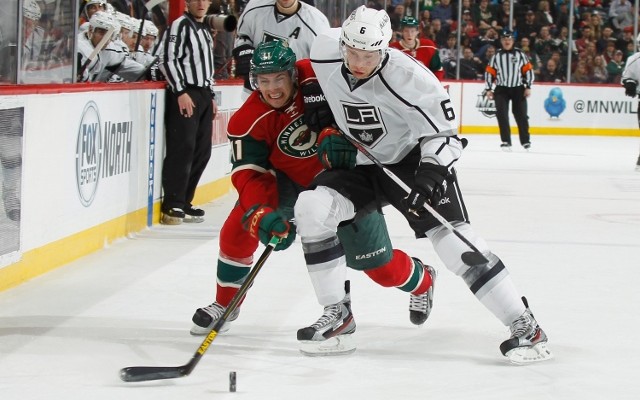 Minnesota Wild Projected Lineup
Zach Parise – Mikko Koivu – Jason Pominville
Nino Niederreiter – Charlie Coyle – Dany Heatley
Matt Cooke – Kyle Brodziak – Mikael Granlund
Justin Fontaine – Zenon Konopka – Torrey Mitchell
Ryan Suter – Jonas Brodin
Marco Scandella – Jared Spurgeon
Keith Ballard – Clayton Stoner
Niklas Backstrom
Josh Harding
Notes: Minnesota lines via the Minneapolis Star-Tribune. … The Wild have never lost a home opener at Xcel Energy Center, going 11-0-1, including 11 consecutive victories. The "1" was a 3-3 tie against the Philadelphia Flyers in the franchise's first ever regulation home game on 10/11/00. Overall, Minnesota is 7-4-1 in season openers. … Mikko Koivu has 22 points (4-18=22) in 25 career games against the Kings. He is two points shy of 400 career points (119-279=398). … Mike Rupp is out with a lower body injury.
-Jason Pominville signed a 5-year, 28-million dollar extension with the Wild on the eve of the season. The players were unaware of the agreement when taking the ice this morning; coach Mike Yeo announced it, and the team gave Pominville a warm stick tap on the ice at the start of the skate. "We were all pretty surprised and excited," captain Zach Parise said. "That's big for our organization. It's awesome…Now that it's finally done, he can relax and play. From our organization's standpoint, it's a big signing for us."
Pominville will open the season as a right wing opposite Zach Parise on a line centered by Mikko Koivu.
"We did OK in the preseason," Parise said of the grouping. "I think we still have to get better, so tonight will be the first challenge for us. As a line, we have to keep improving."
-A playoff team a season ago, Minnesota fell in five games to the Chicago Blackhawks in the first round last spring. There was a modest step forward in Yeo's sophomore season, though more will be expected from a talented core and emerging youth in 2013-14. Younger players such as Jonas Brodin, Charlie Coyle and Mikael Granlund attract much of the attention, but one newcomer that has flown a bit under the radar since joining the wild is Matt Cooke, who has done an effective job in getting under the skin of opposing players.
He's not exactly one of the most popular players in opposing locker rooms, and I spoke with ex-Maple Leaf Matt Frattin to get a sense of what it's like to play against one of the league's prime pests.