-Good afternoon from the 14th floor of the MGM Grand. At 7:30 p.m. tonight, the Los Angeles Kings take the ice at the MGM Grand Garden Arena against the New York Rangers in their penultimate preseason game and first game against an Eastern Conference opponent since June 11, 2012. Tonight's game will be carried locally on KCOP 13 and nationally on the NHL Network, with the pre-game show beginning at 7:00. The radio broadcast will be carried by KTLK 1150 AM and I Heart Radio.
-The referees for tonights game will be Dennis LaRue and Rob Martell. The linesmen will be Don Henderson and Shane Heyer.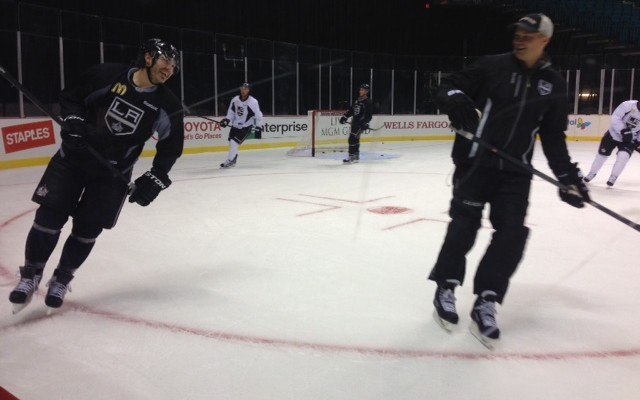 -Los Angeles' projected lineup:
Dwight King – Anze Kopitar – Justin Williams
Matt Frattin – Mike Richards – Jeff Carter
Kyle Clifford – Jarret Stoll – Trevor Lewis
Tanner Pearson – Linden Vey – Jordan Nolan
Robyn Regehr – Drew Doughty
Willie Mitchell – Slava Voynov
Alec Martinez – Matt Greene
Jonathan Quick
Mathieu Garon
-Jonathan Quick will "probably" go the distance, according to Darryl Sutter.
"Approaching it like a regular game now. He wants more game stuff, so see how it goes and how much work he gets," Sutter said.
-Dustin Brown is expected to join the team later today following the birth of his daughter and is out tonight. A judgment of whether he'll play Saturday night against the Colorado Avalanche – he resumed skating on Monday after injuring his hamstring on the first day of training camp – will be made on Saturday.
-Jake Muzzin is wearing a knee brace that he claims does not limit him or cause any discomfort. He is also a candidate to play tomorrow after being put through a rigorous skate – "some aerobic work," as Sutter described it – after tonight's skaters left the ice.
"The knee felt good. It felt good. Just got to get used to this brace a little bit, but other than that, the knee felt good," Muzzin said.
"We'll see how it feels throughout the rest of the day. It was a pretty tough skate, so if it flares up or anything. But I should be all right."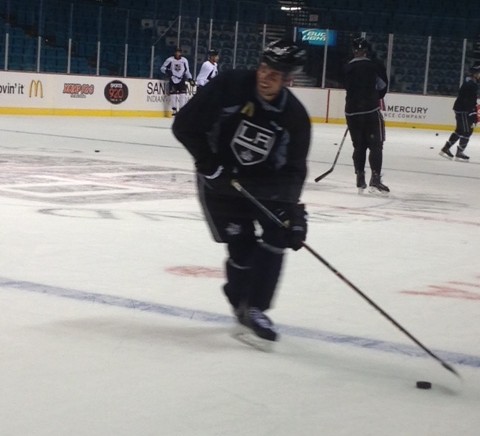 -Tyler Toffoli is out of the lineup tonight, though Darryl Sutter has been complimentary of the young players remaining in camp, as well as center Nick Shore, who was loaned to the Manchester Monarchs earlier in the week.
"I think it started slow and has been getting better every day," Toffoli said. "It's obviously an adjustment going from the rookie camp to this camp. [It] just has been a little adjustment but I feel pretty good right now."
The slow start Toffoli referenced was in regards to "the speed [and] the tempo," which was has been raised following his participation in development camp and the rookie games against Anaheim.
"Obviously the practices are a lot harder than they were at rookie camp," he said.
"I've said it from day one…those kids have all played really well for us," Sutter said. "Even the Shore boy that we sent down – the only reason we sent him down was because he hasn't had the experience of those guys. He's right there with them."
Linden Vey responded to some of the encouragement provided by Sutter and members of the team's hockey operations, and what he'd like to continue to exhibit in the remaining exhibition games.
"I think it's just the first couple games you play, you're just trying to find your way out there. I think you feel more and more comfortable every game you play, and stuff like that. The biggest thing for us is we've got to play our game to the best. Obviously we've got to take care of all three zones, especially myself being the centerman. But like I said before, we just want to stick to our game and just keep working and take it day by day."
He also spoke about his characteristics as a "distributor"…

…and about using his offensive smarts in the defensive zone.

-For a veteran's account of where the team is at with less than one week before the start of the season, Jarret Stoll shared his thoughts.
"I think our last two games, the game in Anaheim we played I thought really well, and the game at home we maybe had a slow start a little bit and came on as the game progressed," Stoll said.
"I think there's some areas – our PK needs to get better. Our power play needs to be more simple. Shoot more, get more pucks to the net. A lot of things obviously happen because of that. So yeah, just special teams. Just bearing down."
There's still some room for fine tuning over the next five days, according to Dwight King.
"I mean, obviously, through the games you go through the process of sharpening up little things," King said. Obviously the most things are when you're tired, your decision making – the more you go through that repetition, it gets better. That's…one big thing we're all going through."
As for his placement once Dustin Brown returns to the lineup, King said it hasn't been determined who he'll play with as the team looks to continue to raise the production out of the left wings.
"Obviously Brownie's an elite forward in this league. There's no denying that. I'm just playing where he puts for now, and just try to continue to play well so when Brownie comes back, I can easily transfer into a situation and play."
-Andrew Bodnarchuk cleared waivers and was loaned to Manchester.
-New York will ice a mixed lineup that contains some high-end names as well as many younger players battling for roster spots. The Rangers fell to 1-4-0 in the preseason following last night's loss in Vancouver, a game in which Henrik Lundqvist played two periods and allowed five goals on 17 shots.
The projected New York lineup, courtesy of Andrew Gross of the Bergen County Record:
Benoit Pouilot – Brad Richards – Rick Nash
J.T. Miller – Oscar Lindberg – Marek Hrivik
Chris Kreider – Brian Boyle – Jesper Fast
Brandon Mashinter – Darroll Powe – Arron Asham
John Moore – Anton Stralman
Michael Del Zotto – Stu Bickel
Justin Falk – Conor Allen
Henrik Lundqvist
Marty Biron
According to Gross, Lundqvist was "expected" to go the full 60 minutes last night, so at the moment it is unclear who will spend the majority of the time in net tonight; I'd be surprised to see Henrik start the game. Biron spelled Lundqvist and stopped the three shots he faced in Vancouver. Rick Nash (0-0=0, -5) and Brad Richards (0-0=0, -3) have been held scoreless in the three preseason games they've played.
-Adrian Dater of the Denver Post reports that Vegas will be getting Jiggy Saturday night.
J.S. Giguere will start the Avs' preseason finale in Las Vegas tomorrow

— adater (@adater) September 27, 2013
Darryl Sutter, on his training camp impressions of Linden Vey and Tanner Pearson:
They've had good camps. Obviously they are comfortable with the coaches, comfortable with the team, and we made it pretty seamless for 'em.
Linden Vey, on whether it's a good reinforcement to know that those in hockey operations have been complementary of the young players:
Yeah, it is, and I think just playing together makes things so much easier, especially because we get along so good and our playing styles, I guess, match so well together that it just makes things so much easier when you're going up a level and you're kind of competing for spots and you've got guys on your line that you've already played with. It makes it a lot easier on the ice.
Tyler Toffoli, on what he plans on focusing on as the preseason winds down:
Just trying to work my hardest and do what I did last year and try and start the season here and just trying to earn my way on the roster.