Matt Greene, Jeff Carter and Dan Carcillo threw out the first pitch for Tuesday's Dodgers game against the Arizona Diamondbacks.
Greene and Carter went the traditional route by throwing straight heat, though Carcillo opted for a different approach. After streaking out to the mound, he worked from the stretch, faked to first base – a balk, but who's keeping score? – and launched his ball into the crowd.
The players were interviewed by Alex Curry of FOX Sports West, met with reliever Brian Wilson and exchanged a few laughs shortly before the team took the field.
Greene, on the type of pitch he planned to throw:
"I don't know, man. I don't have a lot of confidence in my curveball right now. Right before camp, too. I don't know if I can nurse an elbow injury back."
Greene, on whether he played baseball growing up:
I did. Not very well. But just like any kid growing up in America, you play baseball.
Greene, on the best baseball player on the Kings:
On the team? I don't know. I think Davis Drewiske was. Now we're going to have to give it to somebody else. [Reporter: Trevor Lewis, right?] Trevor Lewis, did he play ball? [Reporter: He says he's good.] Yeah, Trevor says a lot of things.
Greene, on whether Drew Doughty is good at baseball, given his softball tournament:
He could be. I haven't seen evidence yet. I've never seen him swing a bat yet. A lot of guys have glorious tales of them playing in high school, in middle school, and when push comes to shove it doesn't look too good. So I'll just put this out right away that I was not a star player.
Greene, on Diamondbacks manager Kirk Gibson, a fellow Michigander:
Michigan State. Little known fact, he only played baseball his senior year. He was a tight end of the football team. He made a decision. He's a big time hero where we're from. Pretty cool seeing him out here.
Greene, on his Dodger fandom:
Yeah. I came out here, got traded out here and saw them playing against the Phillies in the playoffs right away. I was hooked, and it was fun to be able to root for a hometown team, support L.A.
Greene, on whether he was a Tigers fan growing up:
Yeah, growing up, yeah, absolutely.
Daniel Carcillo, on whether he played baseball growing up:
You know what? I didn't. That's the one sport I didn't play. I was a hockey and soccer guy in the summer.
Carcillo, on whether he grew up with any quality baseball players:
No, I mean, my best buddy and his family played all the time. They were good, but no, no one came out of our small time, no.
Carcillo, on how he planned to throw out the first pitch:
You know, if I don;t like what I see for the first two, I might wave them off. Check first, and we'll see what happens.
Carcillo, on whether he made it out to Wrigley Field when he played in Chicago:
You know what? I didn't I went once or twice, but that's about it. It was right in my neighborhood. I passed it a lot.
Carcillo, on whether he is a baseball fan:
I mean, I'm a fan of sports. I respect what they can do, and their hand-eye is unbelievable. The athleticism in the outfield that sometimes you see, and the shortstops, it's pretty cool to see. From that regard, yeah, I'm definitely a fan.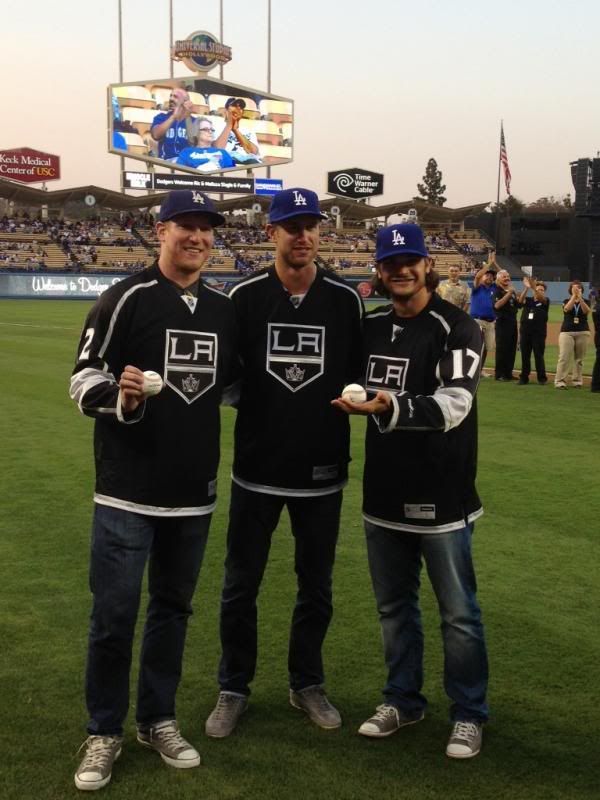 Jeff Carter, on whether he was a baseball player growing up:
No. I played a little bit, but never really liked it. My parents just kind of made me do it. I wasn't a huge fan of baseball. I watched the Blue Jays a little bit. I think when I went to Philly I became more of a fan just because the Phillies were rolling at that time and winning and going back to the World Series and whatnot. So I've watched a little more of it in the last few years, for sure.
Carter, on whether he ever pitched:
No. No, I was a first baseman when I played.
Carter, on the 162-game Major League Baseball schedule:
Yeah, it's something else. We play 82, and we're complaining about that. It's pretty impressive they can get through it. It's literally like every day. You get a break here and there, but it's pretty wild.
Carter, on whether he ever goes to Dodger games on off-nights or over the summer:
We went during the lockout. I think we went to two games. But I don't spend my summers here.
Carter, on the biggest baseball fan on the team:
On the team? Probably Greener. He's got season tickets in the summer, and it seems like he's always here, going to a game or something.
To cap off the evening, Scott Van Slyke, to whom Greene threw his first pitch, hit a two-run, walk-off homerun in the bottom of the 11th inning to send the Dodgers home with a 5-3 victory.