-Patrik Bartosak will get two periods in net tonight, with Mathias Niederberger receiving one period of action. This means that Bartosak, Niederberger and J.F. Berube will each receive two periods of play in the Los Angeles-Anaheim rookie games. Bartosak, the reigning CHL Goaltender of the Year, was a fifth round draft pick of the Kings in 2013. The 20-year-old was 33-14-5 with a 2.26 GAA and .935 Sv% with WHL-Red Deer last season. Niederberger stopped all the shots he faced in Saturday's 6-1 win after spelling Berube in the third period.
-J.F. Berube, Kurtis MacDermid, Linden Vey, Tanner Pearson, Tyler Toffoli, Justin Auger and Nicolas Deslauriers stayed on for extra work after the morning skate. These are your scratches for tonight.
-Brandon Kozun, who did not participate in Saturday's game, is slated to play tonight.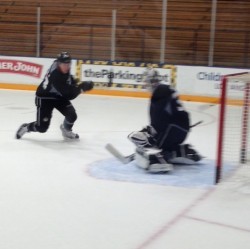 -"Pace" and "competition" were two words that were used when discussing rookie camp and Saturday's rookie game with assistant general manager Rob Blake and Manchester head coach Mark Morris. Morris, who will again serve as the coach of the rookie game, described the push to "incorporate pace in practice," a challenge for younger players out of junior hockey who have seen a step up in the cadence of play this past week. It can be difficult, given that teaching and development is key.
-The team scored a power play goal in Saturday's win and was perfect on the penalty kill. Morris has been implementing power play systems by having the rookies move the puck without resistance before running the same puck movement with a penalty kill countering. It allows the players to find success before being heavily challenged.
-One younger player who drew praise from Blake was 2013 sixth round pick Zachary Leslie. Leslie was commended for his competitiveness, with Blake saying that he was "mean" with his stick and engaged throughout the game. The competitive defenseman will be back in the lineup tonight.
-Jordan Weal, who tallied 33 points (15-18=33) in his first full season in Manchester a year ago, also drew praise. The elusive playmaker with plus speed was heavily involved throughout the game and was among the better forwards in the first period on Saturday (my opinion) before the rest of the team caught up. A former linemate of Jordan Eberle's at WHL-Regina, Weal, a third round pick in 2010, was quoted heavily in my Development Camp feature in July. He'll be back in the lineup tonight.