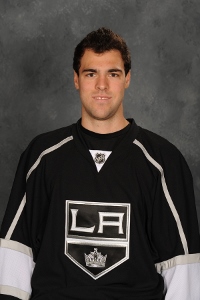 Though goaltending coach Bill Ranford will determine the minutes allotted to J.F. Berube, Mathias Niederberger and Patrik Bartosak in rookie games against the Anaheim Ducks Saturday and Monday, Manchester Monarchs coach Mark Morris hinted that Berube, who has appeared in 61 career regular season ECHL games and five AHL games will draw the "lion's share" of time in net.
The 6'1, 174 pound Berube, a fourth round pick in 2009, was 15-6-1-1 with a 2.24 goals against average and .910 save percentage last season with the Ontario Reign as he split time nearly evenly with former Winnipeg goaltending prospect Chris Carrozzi.
Because established Manchester starter Martin Jones remains unsigned as a restricted free agent, Berube has an opportunity to continue to showcase his progress in games at Honda Center on Saturday and at Toyota Sports Center on Monday. On Friday, he spoke on what he'll be looking to accomplish as he prepares for the upcoming season.
On what he's looking to show as he competes for playing time:
Yeah, I just want to show that I've improved in my game, and I came a long way since my surgery. Right now, I'm 100% and I'm ready to take the next step. [ED: Berube had hip surgery in 2011]
On Martin Jones' contract holdout:
It's his own thing, and I'm doing own thing, so I'm just trying to, like I said, take the next step, and we'll see what happens with Jonesy. But I'm ready to face adversity. I know it won't be easy, but I worked hard all summer, and I'm ready for it.
On the challenge of getting into a rhythm in Ontario as minutes were divided:
It was a hard situation there, being two goalies signed with the team, so we both wanted to play. Like you said, when you played good, you want to stay in the net. It was a coach's decision to go alternate. I would have loved to see more ice time, but at the end of the day, coach is taking decision, and what's best for the team. I just wanted to make sure that whenever I was in net or not, I just wanted to get prepared like I was playing. It helped me a lot to prepare for the next game, even though I was on the bench the night before.
On the lack of playing time when backing up Jones in Manchester stints:
I don't think it affected me at all. I mean, I was working hard in practices, and I knew I would be on the bench for a long time, so I just told myself that I needed to work hard in practices, maybe do extra stuff, and that's what I did. Right when I had the net, I was ready to go and I was fresh. It was hard, like you said, but mentally I was ready.
On vying to earn the number one job in Manchester should Jones remain unsigned:
You know, if it happens, it happens, and I'll be ready to take the role. I've matured a lot since then. I think I'm ready to be there. But right now, it's still early in camp, so I'm sure good things are going to happen for Jones, and for me, I just want to concentrate on my game, and I'll be ready if it happens.
On how he has developed:
It's just learning how to become a pro, like just maturity, reading the games and preparing for games. I think it came a long way, and that made a huge difference in my game, and I think that's really the biggest thing for me. I know how to stop pucks. Right now, it's just about how I'm going to mature, how I'm going to read plays, and just getting stronger physically and mentally. I feel really good this year, and I feel like I'm on top of my game right now.