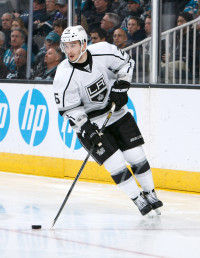 SLAVA VOYNOV
This season: 48 games played, 6 goals, 19 assists, 25 points, 14 penalty minutes, plus-5 rating
The good: Where to begin? Slava Voynov experienced the NHL breakthrough that many had predicted. Showing poise and the innate knack of finding soft spots on the ice to generate offense, the positionally-sound puck moverwith a pinpoint-accurate shot followed his consistent regular season performance by finishing tied with Jeff Carter for the team lead in postseason scoring with 13 points (6-7=13) in 18 games. Though he'll never be categorized as a stay-at-home type, he improved considerably in his own end and performed admirably well in the core aspects of his defensive responsibilities. He showed a good stick and a long reach in his own zone, he usually battled well along the wall while admirably containing larger bodies and finished second on the team with 48 blocked shots.
That "Is Slava Voynov undersized?" idea was shot down by Darryl Sutter on June 5:
I think there's a lot of talk made about size, you know, big teams and all that. Quite honest, it's a bunch of bull. When you look at the actual stats part of it, I think everybody's team average is 6'1″ and about 204. That's what our team is, that's what their team is. Some guys are just under it, some just over it. Is there a big stature difference? I don't think so. We try and have [Voynov] so he's not always on the ice against Hossa, Bickell, so he's more into his skill set, so he can maximize his skill set, not put the square peg in the round hole.
He finished second on the team with an ice time average of 22:18 per night, which was over three and a half minutes more than his nightly usage in 2011-12.
He scored four game-winning playoff goals, including a pair that weren't exactly Zdeno Chara blasts:

–courtesy KingsVision
He has also never done anything that would put his needs in front of the team's or stunt his development. Though tempted with lucrative offers to return to Russia during the lockout, he opted to play a half-season in Manchester, which clearly served him well. Contract negotiations were a breeze, and when considering other similar contracts, it's apparent that Los Angeles has an ideal agreement in place for the player who turns 24 in January.
The bad: As noted in Sutter's comment, Voynov wasn't always drawing the most difficult assignments. Expectations should also be tempered slightly due to Voynov's lack of experience at the NHL level. Though he has been a part of Los Angeles' last two playoff runs, he hasn't appeared in a full, 82-game NHL season – in fact, he has only 102 regular season games to his credit.
On June 5 Sutter described the progress Voynov has made since he began coaching the Kings:
I think we put him in a position to succeed, not to fail. He's a young player. He has so little experience, you think about it, game experience at this level. Quite honest, he's probably got as much playoff experience as regular season experience. I bet it's close now. There's been highs and lows in this season. There's been highs and lows in this playoffs, that's for sure.
Through those 102 games, Voynov has a shooting percentage of 8.5%, which is somewhat high for a defenseman. Considering teams are more aware of Voynov now that at any part of his brief career, it is possible that the opposition may drop more players closer to the net in an effort to position for more blocked shots. It's similar to the adjustments made against Drew Doughty, whose shooting percentage and goals scored have declined every year since tallying 16 goals in 2009-10 by virtue of an 11.3 shooting percentage. That's not to say Voynov will tread an identical path, though over 82 games it's incredibly unlikely he'll be able to maintain his torrid postseason production rate.
Going forward: Having signed a six-year, 25-million dollar contract in June, Voynov is under contract through 2019 – the same year Drew Doughty's contract comes off the books. It's a fitting agreement that rewards him well for his patience and emerging package of skills while not breaking the team's bank. Though his defensive partner Rob Scuderi is no longer a King, Willie Mitchell has made progress in his NHL return, and if all goes as hoped – which always happens, right? – Voynov should feel comfortable slotting back alongside the partner with whom he had cultivated such strong chemistry in 2011-12. Listed by John Kreiser of NHL.com as one of seven breakout candidates around the league in 2013-14, Voynov is clearly using the NHL to showcase his broad, offensively minded skill set, and by supplanting his arc of progression with continued experience, it's not out of the question to think Voynov could emerge as a 40-plus point defenseman. It wouldn't be that enormous of a stretch considering he has averaged .44 points per game in the regular season and .42 points per game in the playoffs; in any event, the young, west coast-based Russian won't be flying under the radar in 2013-14.
2013 Player Evaluations
Jonathan Bernier, Dustin Brown, Jeff Carter, Kyle Clifford, Drew Doughty, Keaton Ellerby, Colin Fraser, Matt Greene, Dwight King, Anze Kopitar, Trevor Lewis, Alec Martinez, Jake Muzzin, Jordan Nolan, Dustin Penner, Jonathan Quick, Robyn Regehr, Mike Richards, Brad Richardson, Rob Scuderi, Jarret Stoll, Tyler Toffoli