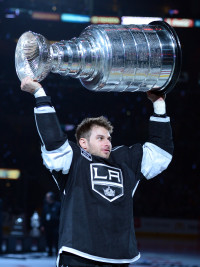 BRAD RICHARDSON
This season: 16 games played, 1 goal, 5 assists, 6 points, 10 penalty minutes, +2 rating
The good: Brad Richardson was a valued and loyal asset to this Los Angeles Kings team for five years, which included 255 regular season and 36 playoff games. His 2012-13 role was not an easy one, as he played his third game of the season in the team's 35th game. That night, he scored the go-ahead goal early in the third period en route to becoming the game's third star in a 3-2 win at Dallas.

–courtesy KingsVision
It was his only goal of the year.
Down the stretch, Richardson was a reliable and versatile option that earned his ice time, appearing in all 13 of the team's April games and 11 of 18 playoff games. A natural center, he was used in all three forward positions in 2012-13 and once again offered his tried-and-true puck-hounding tenacity laced with offensive smarts and underrated possession and playmaking value. He doesn't have top-six type offensive potential, though he's a valuable, useful option in the event of injury and is capable of chipping in with points in a depth role. As Jewels from the Crown noted, his possession numbers were quite strong, he drew penalties, and his scoring rate at even strength was second-best on the team. He skated well and used his speed to his advantage in forechecking and puck pursuit. He also ably stepped in and played an important role in the San Jose series when Jarret Stoll suffered a concussion on the hit from Raffi Torres in Game 1.
In Game 2, he contributed with a beauty of an assist:
Richardson creates a small opening of space around the boards and offers an attractive backhanded saucer pass with an effortless flick of the wrist. One of the more impressive assists of the season set the Kings up for a win, courtesy of some late Dustin Brown and Trevor Lewis heroics.
Despite the infrequent usage through a large portion of the season, Richardson's work ethic and attitude never faltered, and he remained a well-respected player within the dressing room.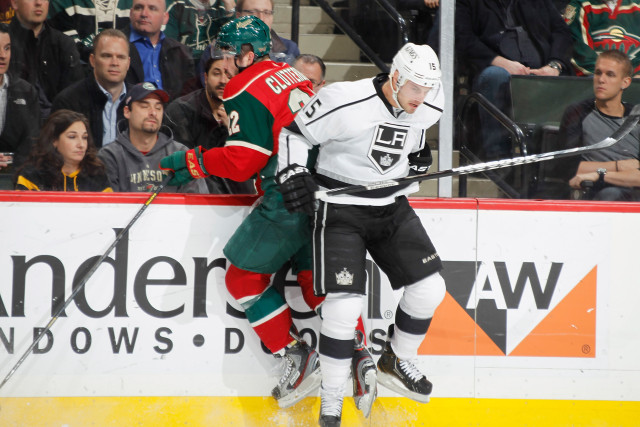 The bad: Richardson averaged only 33 seconds of special teams time per game, his lowest average since 2008-09, his first year in Los Angeles. His games played total (and scoring percentage) has dropped for three consecutive years, though his points-per-game average increased between 2011-12 and 2012-13. He had one goal between his 16 regular season and 11 playoff games. It's a bit tough to search for negative aspects of a player who committed to the Kings during the rebuild and grew alongside a core of players that experienced a pair of postseason disappointments before having their names etched on the Stanley Cup.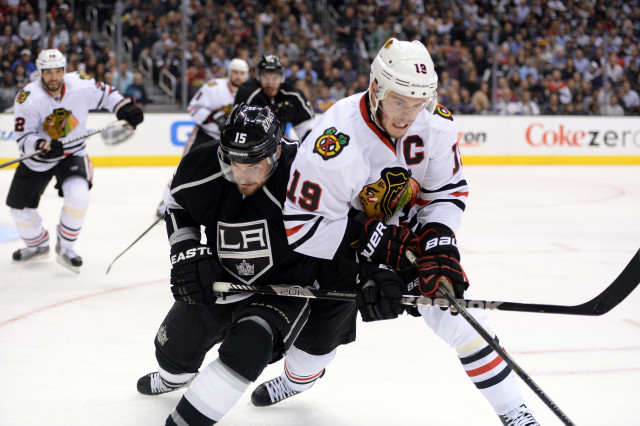 Going forward: He is a Canuck now, and his sandpaper-type of play will certainly have an impact on Kings-Canucks games in the newly-aligned Pacific Division. Though he's not a reliable offensive performer – nor is he expected to be one – there's still plenty that he can offer Vancouver as a versatile 28-year-old who hustles, contributes defensively and will likely slot in his preferred position of center. For the Kings, Richardson never complained publicly about his diminishing role, and was plenty useful in the minutes he provided.
2012 Richardson evaluation
2011 Richardson evaluation
2010 Richardson evaluation
2009 Richardson evaluation
2013 Player Evaluations
Jonathan Bernier
Dustin Brown
Jeff Carter
Kyle Clifford
Drew Doughty
Keaton Ellerby
Colin Fraser
Matt Greene
Dwight King
Anze Kopitar
Trevor Lewis
Alec Martinez
Jake Muzzin
Jordan Nolan
Dustin Penner
Jonathan Quick
Robyn Regehr
Mike Richards
Jarret Stoll