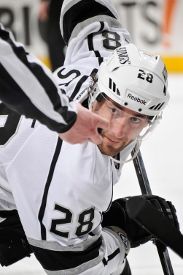 JARRET STOLL
This season: 7 goals, 11 assists, 18 points, 28 penalty minutes, plus-1 rating
The good: Jarret Stoll embodies much of what teams search for in a third line center. He plays a rugged, two-way role that often begins with faceoffs in his defensive end against high-quality opponents. To call him a "shut-down" center is misleading; his seven goals and 18 points project to roughly 12 goals and 31 points over 82 games, a more-than-respectable calculation considering his usage and defensive-minded linemates. He's not afraid to hit, he battles in difficult areas, and his level of fitness is a model for younger players to follow – so much so that it was referenced by Dean Lombardi when asked about what he hoped prospects at development camp would soak in during their week at Toyota Sports Center:
…there's the hour and a half where Matt Greene, Dustin Brown, Jarret Stoll are working in the weight room, and you see how hard those guys work, and that these guys are Stanley Cup Champions or whatever, you know what? No words of wisdom are worth as much as that. That's the thing – I talk about culture and the whole thing when you have that, how that can translate, and I don't have to say anything. There's Jarret Stoll. Look at that. See? Figure it out.
The value of continuity and identity – and the building of a team culture – has roots in the lengths to which Jarret Stoll prepares himself for each NHL season. He won a remarkable 56% of his faceoffs, while his shorthanded time on ice average of 2:04 per game was the most amongst L.A. forwards. His 16:31 average time on ice was more than that of Mike Richards and roughly half a minute less than Justin Williams, though it was his personal low since the 2004-05 lockout. He has missed only 21 regular season games over five seasons with the Kings and still has a deadly wristshot.

–courtesy KingsVision
The bad: Stoll's point production spiked in March. After recording 10 points (4-6=10) between March 4 and 28, he was held without a goal and tallied four assists in his final 28 games of the season, including the playoffs. This is a difficult stat to include considering the effects brought on by a concussion he suffered on a high hit by Raffi Torres in Game 1 of the San Jose series. There have been complaints in the comments section of this blog and elsewhere over the number of minor penalties Stoll takes; more often than not, I dismiss these observations because of the set of circumstances that sets Stoll up as one who will be whistled for his share of minors: he's a physical player and a defensive forward often assigned to shut down the other team's top offensive players. Because of his style of play, the penalties are practically inevitable. Still, for what it's worth, he led all Kings forwards with 14 minor penalties. On July 3, Stoll suffered a seizure at his Hermosa Beach home.
Going forward: Brain injuries are frightening. More than anything that's written here, it's important that Stoll is able to remain healthy, safe and comfortable in his personal, day-to-day life. In terms of his on-ice projections, Stoll's contributions in 2013-14 are likely to appear similar to his contributions in 2012-13, though there's a chance he could see a rise in his production under the right circumstances (I'll get to that shortly). As a shutdown center capable of chipping in with secondary scoring, it's a bit of a reach to expect him to revert to levels of his consistent 40-plus-point efforts from his first three seasons with the Kings, when he received more ice time, offensive zone time and power play time. He projects as a low-to-mid-teens goal scorer whose value to a team gravitates more towards the intangible than the point totals he puts up. Still, there's the potential for a rise in his scoring output – especially in the assist department – considering there's the possibility he may see time alongside offensively intriguing young wingers in Tyler Toffoli and/or Matt Frattin. Entering the second year of a three-year, 9.75-million dollar contract signed an offseason ago, the Kings are compensating Stoll quite well for his role. The durable 31-year-old center with a knack for winning draws who serves as a dependable puckhound capable of making life difficult for opposing forwards is the type of player that, like Mike Richards and Trevor Lewis, has high value far beyond whatever point total is listed alongside his name.
2012 Stoll evaluation
2011 Stoll evaluation
2010 Stoll evaluation
2009 Stoll evaluation
2013 Player Evaluations
Jonathan Bernier
Dustin Brown
Jeff Carter
Kyle Clifford
Drew Doughty
Keaton Ellerby
Colin Fraser
Matt Greene
Dwight King
Anze Kopitar
Trevor Lewis
Alec Martinez
Jake Muzzin
Jordan Nolan
Dustin Penner
Jonathan Quick
Robyn Regehr
Mike Richards