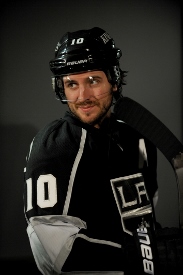 MIKE RICHARDS
This season: 48 games, 12 goals, 20 assists, 32 points, 42 penalty minutes, minus-8 rating
The good: For a player whose value is not often contained in the statistics he produces, Mike Richards ended up having a pretty strong season statistically and another typically sound performance when vague intangibles such as grit, confidence and competitiveness are considered. He certainly benefited from his chemistry with Jeff Carter, as 14 of his 20 assists came on Carter goals. The two provided valuable interchangeability for the second consecutive season, with each player lining up for faceoffs on their strong side. Though Richards clocked in at 49.0% on draws, Carter finished at 52.6%, and their versatility lifted the Kings to 52.0%, the fourth-best success rate in the league. He was versatile and valuable on the power play, where his 15 points (6-9=15) ranked second on the team. By mid-season, Richards often manned one of the points on the power play and was capable of slotting in nearly anywhere with the man advantage. He contributed the team's highest points-per-game pace in the postseason as he lead the team with nine assists and finished third overall with 12 points despite suffering a concussion in the Chicago series due to Dave Bolland's unpenalized hit behind the Blackhawks' net late in Game 1 that caused him to miss three games. All of these statistics avoid Richards' greatest gift to the Kings – his ability to commit himself to on-ice fundamentals and positioning that may not show up on the boxscore but help teams win hockey games, and his unwavering gravitation to intelligent and dedicated two-way play. With wins over St. Louis and San Jose, Richards has now won 22 playoff series in his career between junior and professional hockey.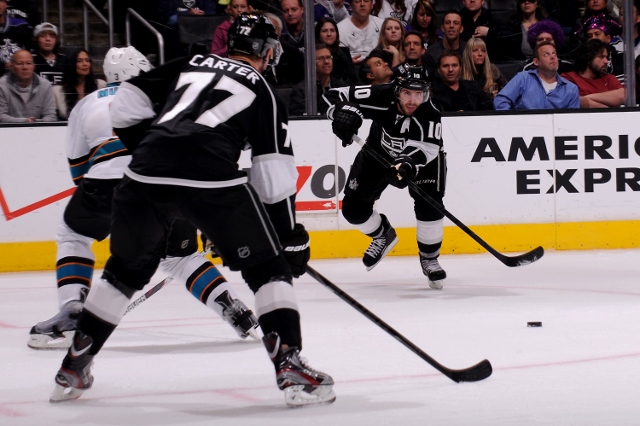 The bad: There were questions of Richards' readiness to open the season after the lockout.
Darryl Sutter's evaluation of Mike Richards on February 16:
"We're trying to watch ice time with these guys. Some of these guys, quite honest, didn't do what they should've done in the summer. We've had to scale minutes back, and less is more."
Three weeks into the season, Richards was centering the team's third line as Sutter wanted to spread minutes around and get him back up to the level he deemed appropriate. There was a noticeable drop-off in minutes from the previous year: Richards: 16:21 TOI was the lowest average since his rookie year and over two and a half minutes lower from his first season in Los Angeles. Richards' shots per game also dropped for the third consecutive season. His 82 shots (in 48 games) ranked seventh on the team and stretch out to 140 shots over 82 games – which would represent the lowest shots-per-game average of his career. Part of this is due to deferring to Jeff Carter, who more than adequately supplied his line's goals, though a few extra shots wouldn't have hurt: Richards' 14.6% shooting percentage was easily the highest of his career. Despite averaging 5.1 shorthanded points per season through 2012, Richards did not record any shorthanded points and for the first season in his career was held without a shorthanded goal. This is due both in part to the compacted season and his decreased usage while shorthanded. Richards averaged 3:17 shorthanded TOI per game between 2006 and 2009 while with Philadelphia – he led the league with nine shorthanded points in 2008-09 – yet between his first two seasons in Los Angeles, his penalty kill time on ice per game dropped from 2:02 in 2011-12 to 1:17 in 2012-13.

–courtesy KingsVision
Going forward: Richards is a exhaustively competitive center driven to succeed who is able to raise his game in key situations. His 27 points (7-20=27) in 35 postseason games with Los Angeles over two years is part of a larger demonstration that has seen him raise his production from .74 points per game (425 points / 575 games) in the regular season to .79 points per game (77 points / 98 games) in the playoffs. As noted before, Richards' offensive numbers almost seem like a bonus when his full package is considered. He'll be 28 when the season starts in under two months, and should be considered in the prime window of his career. Still, his concussion history is a concern, as he suffered one in each of his first two seasons with the Kings. Because Los Angeles and Philadelphia deploy vastly different styles of hockey, it would be a stretch to expect Richards to replicate his 2007-08 and 2008-09 seasons when he posted 75 and 80 points; a 50-to-60-point season is a more likely base that can be built upon. Should Matt Frattin, Tyler Toffoli or PLAYER C settle in alongside Richards and Carter – assuming Richards and Carter remain on the same line next year – and provide greater consistency than other left wings were able to etch out on that line over the last two regular seasons, there will be a raised ceiling for Los Angeles' offensive potential and for Richards' numbers. Of course, "Richards' numbers" don't tell the whole story of a valuable player who practically wills teams to win hockey games.
2013 Player Evaluations
Jonathan Bernier
Dustin Brown
Jeff Carter
Kyle Clifford
Drew Doughty
Keaton Ellerby
Colin Fraser
Matt Greene
Dwight King
Anze Kopitar
Trevor Lewis
Alec Martinez
Jake Muzzin
Jordan Nolan
Dustin Penner
Jonathan Quick
Robyn Regehr