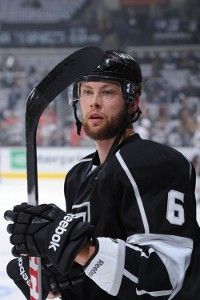 JAKE MUZZIN
This season: 45 games played, 7 goals, 9 assists, 16 points, 35 penalty minutes, plus-16
The good: Though the quality of his minutes later in his season declined from his exceptionally productive March, make no doubt about it: Jake Muzzin took an enormous step forward in his development and his attempt to cement himself as a versatile National Hockey League regular in 2013. Despite appearing in only 11 NHL games prior to the start of the season, Muzzin was a mainstay in the lineup from early February through Game 2 of the Chicago series and recorded 11 points (5-6=11) during a 13-game span from February 25 through March 19. He was named March's Rookie of the Month and finished in eighth place in Calder Trophy voting, generating two second place votes. He tied for third place in scoring amongst rookie defensemen; his plus-16 rating led all rookie D and finished tied for eighth amongst all defensemen league-wide. Armed with a crisp, accurate wristshot and a potent, heavy slapshot, Muzzin was effective on the power play while also possessing a strong first pass on the breakout. Considering the injuries that depleted the blue line early in the season, Muzzin's ability to step in and take advantage of his opportunity was among the most positive story lines of the 2012-13 season. He averaged 17 minutes and 53 seconds of ice time in the regular season, fifth amongst Kings defensemen.

-courtesy KingsVision
The bad: Once Robyn Regehr joined the team and was paired primarily with Drew Doughty, Muzzin's production decreased. Though he gradually improved as the playoffs progressed, he struggled throughout much of the St. Louis series and experienced a hiccup or two against Chicago. He was sheltered at times during the season and was not at his most effective when seeing time against the opposition's top players. There was the "road apples" evaluation of his play in a game in Anaheim in early February. Confidence appears to be a significant pillar of Muzzin's overall game when he is at his best, and late in the season, there may have been bouts of trying to recapture it.
Said Darryl Sutter in mid-March:
"He's got to be a great defender to play in the NHL. End of the day, bottom line. There are tendencies that other teams have in terms of their forecheck, and top players, and he'll get it with experience and with better training and better preparation. But he's got to listen. Otherwise, he won't."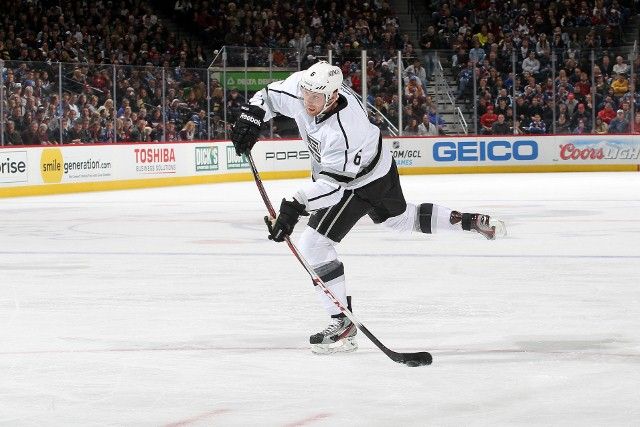 Going forward: Muzzin stands 6-foot-3 and 215 pounds. Considering the offensive attributes he exhibited in the lockout-shortened season, he could end up developing a fairly complete package if he's able to soften out some defensive zone rough edges. There is a significant ceiling to his game, even if it will be a challenge to improve on the 82-game pace of his seven goals, which came alongside a 9.1 shooting percentage – the highest amongst Kings defensemen. He signed for two years and two million dollars earlier in July; if he's able to build off his encouraging rookie season, there could be some major value in his contract. Of course, this is based on the projected improvements from his own zone, which will need to be the centerpiece of his focus heading into the 2013-14 season.
2013 Player Evaluations
Jonathan Bernier
Dustin Brown
Jeff Carter
Kyle Clifford
Drew Doughty
Keaton Ellerby
Colin Fraser
Matt Greene
Dwight King
Anze Kopitar
Trevor Lewis
Alec Martinez