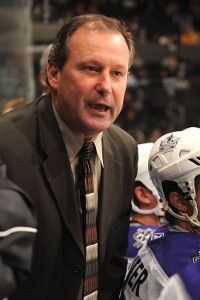 Mark Morris will return as the head coach of the Manchester Monarchs, Los Angeles' top farm club. Per the Monarchs, the contract extension is for one season.
Dean Lombardi was quoted in the Monarchs' release:
"We are very pleased with the job Mark has done with our prospects in Manchester over the last seven seasons," Lombardi said. "Mark has enriched the talent of our club by understanding the delicate balance between winning in Manchester and developing players to win a Stanley Cup. He is a passionate teacher and an emotional leader who has taught the prospects to be winners and consummate professionals."
Through seven seasons as Manchester's head coach, Morris has compiled a record of 290-205-24-33 (W-L-OTL-SOL). He has recorded a franchise record 313 regular season and playoff wins and guided the Monarchs to the Calder Cup's Eastern Conference Final in 2007 and 2010.