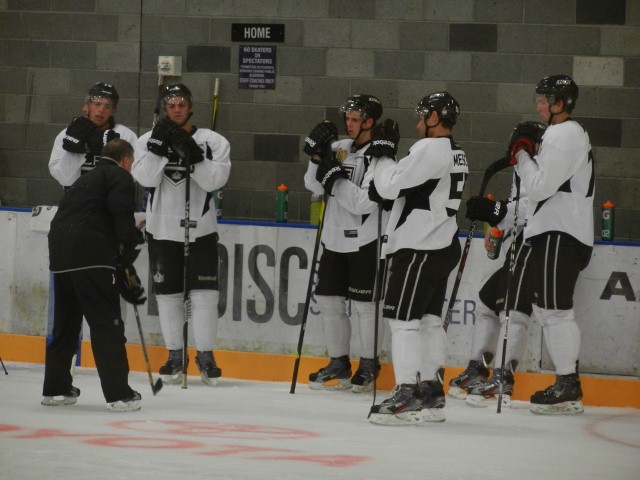 Several brief notes I've jotted down during the first two days of development camp:
-It's tough to get a firm read on anyone this early in camp. The morning on-ice sessions are used to build fundamentals, and without the forwards, defensemen and goaltenders on the ice at the same time, it's not easy to put the player development into perspective. In the afternoons, the three groups converge as camp gradually picks up in battling and intensity. On Monday, there were two-on-two possession and boards battles; today there were three-on-three scrimmages with goaltenders across the width of the ice.
-That said, the players who have participated in previous development, rookie and training camps are clearly the more developed players at TSC this week. In other words, the players who have played games in Manchester – or Los Angeles, in the cases of Tyler Toffoli and Tanner Pearson – are the more advanced players on the ice. Jordan Weal is another Manchester-based player who continues to grow. One on-ice instructor remarked "He wants to get better" while noting Weal's competitiveness.
-You can hear about players' size, but until they dress in their equipment, it doesn't mean that much until you see them up close. Derek Forbort looks big in his gear and was solid in his boards battles on Monday. Kurtis MacDermid, Kevin Gravel and invitees Scott Sabourin and Cameron Maclise all have good size. Justin Auger is the biggest player in camp and showed some surprisingly soft hands in tight areas. Joel Lowry, Nic Dowd and Michael Mersch have filled out and look "big."
-I've been impressed with Colin Miller, who appears to be among the smoothest skaters coming out of junior hockey at this camp. The 20-year-old captain of the Soo Greyhounds in 2012-13, Miller advances the puck well and appears to have a hard, accurate shot. He seems to be comfortable keeping the game simple and making plays – though again, it's tough to get the most firm reading on these players without having seen them in a wider scrimmage.
-Valentin Zykov, the youngest player participating in camp, isn't afraid to drive to the net. One on-ice instructor noted he "jumps on loose pucks."
-6-foot-4 defenseman Alex Roach is present but not participating at camp due to an undisclosed injury. Dominik Kubalik is listed on the camp roster, though I haven't seen him on or off-ice at TSC.
-More news will follow on Wednesday afternoon, which has been designated as the media-attended on-ice session.