Throughout the next month, LAKI will be reviewing the top 10 moments of the Los Angeles Kings season as a recurring feature entitled "I Was There."
KingsCast recently finished a similar endeavor, complete with screen grabs, video highlights and commentary. Alex Kinkopf's #TopTen list is recommended as a great account of the 2012-13 season.
I Was There #9: Quick passes Hrudey for first place in franchise playoff wins
Though I favor individual plays over the best "games" or "stretches of play" of the season, today's moment is one of the exceptions. As Jonathan Quick has raised the quality of goaltending to levels the franchise had never experienced, his postseason impact has set him apart from all previous Los Angeles goaltenders, including Kelly Hrudey, whom the team honored with a Legends Night during the season.
The quality of goaltending had not yet risen to the level seen in the NHL today while Hrudey manned the crease at The Forum, so the comparison between Quick's and Hrudey's postseason numbers isn't exactly the most useful comparison of their postseason accomplishments in Los Angeles.
Quick: 50 GP / 3,078 MP / 29-21 record / 2.03 GAA / .929 Sv% / 7 SHO
Hrudey: 57 GP / 3,519 MP / 26-30 record / 3.53 GAA / .883 Sv% / 0 SHO
Still, keep in mind that Quick's career playoff numbers were even better at the time he passed Hrudey with his 27th career postseason victory courtesy of a 3-0 blanking of San Jose in Game 5 of the Western Conference Semifinals. Quick had already moved into the team's postseason shutout lead with a 4-0 win over New Jersey in Game 3 of the 2012 Stanley Cup Final.
And while this I Was There entry is more of a celebration of Quick's overall playoff achievements as a King, he was still able to do things like this in Game 5:

-courtesy KingsVision
There was a little bit of a leg to Quick's head by Logan Couture on that last highlight, by the way.
Aesthetic beauty: It's tough to gauge the "aesthetic beauty" of 24 overall saves, though this was clearly one of Quick's top performances of the postseason. He also had a 35-save shutout in Game 1. The concentration he showed in making the adjustments on the deflected Dan Boyle shot in the third highlight above was remarkable, and also influenced the following #SadLogan tweet after Quick let in Duncan Keith's goal on a long range slapshot in Game 5 of the Chicago series.
Really quickie. Where was this 10 days ago

— Logan Couture (@Logancouture) June 9, 2013
Lasting impact: Considering Quick moved into sole position of first place in a franchise statistic, I'd say "very high." This is a record that will obviously endure. If you're looking for a lasting image of Quick's dominance in the Los Angeles-San Jose series, it's likely this "larcenous" save on Pavelski late in Game 7, however.
KingsCast #9: Kopitar's got wings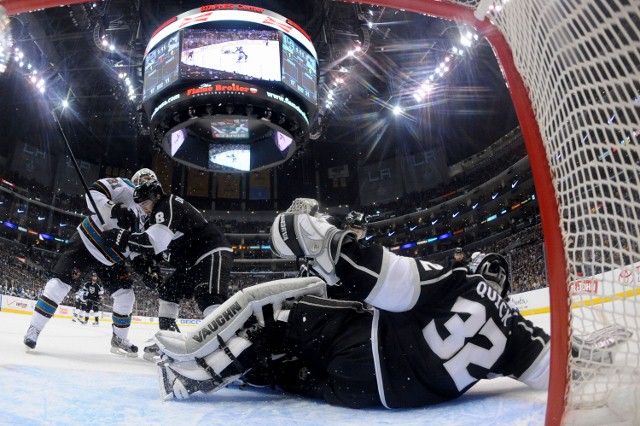 Previously on "I Was There"
#10: Toffoli's first goal