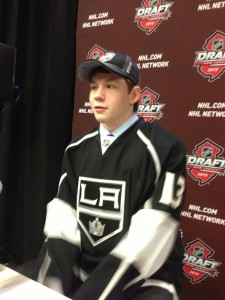 Valentin Zykov
Position: Left wing
Shoots: Right
DOB: 5/15/95
Height: 6'0
Weight: 208
NHL Central Scouting final ranking: 7 (North American skaters)
NHL Central Scouting midterm ranking: 8 (North American skaters)
Grant Sonier's ESPN.com Mock Draft: 28
Stats (QMJHL-Baie-Comeau): 67 GP, 40 G, 35 A, 75 Pts, 60 PIM
On whether he had "a clue" that he might be taken by the Kings:
"I was real happy. I didn't expect it that L.A. would draft me. I was really, really happy."
On whether he thought that he'd go earlier in the draft:
"Yeah, a little bit. But it doesn't matter"
On whether it's a "dream come true":
"Yes. Dreams come true."
On his season in Baie-Comeau:
"The last season I impoved myself a lot. Because of the Baie-Comeau Drakkar I was drafted by L.A., so I'm really happy that I went to them. It's a good city."
On whether his decision to play in North America was a good decision:
"Yeah, of course. [Reporter: Anyone over there that you'd like to thank?] I'd like to thank our coaches, Éric Veilleux and Pat Bosch. All the guys who just supported me all the year. They're a great bunch of guys. A good organization – GM Steve Ahern."
On being named the CHL Rookie of the Year and being drafted:
"It's pretty exciting."
On how he would describe himself as a hockey player:
"A power forward…put the puck on net, make scoring chances."
On the player he idolized growing up:
"I like Pavel Datsyuk, but I'm not the same style."
On if he's able to explain why he had to wait to be drafted in the second round:
"Ask them. [Reporter: Do you think that teams are still a bit afraid of drafting Russian players?] There's a lot of factors. I don't know which one is the most. As I said, ask them."
On which part of his game he feels he has to work on the most:
"Defense. If you are good defensively you are able to play in the NHL, I think."
On whether he watched much of Slava Voynov:
"Yeah, I saw highlights. He's really good. Really good defenseman."
On whether he hopes to lead Baie-Comeau back to the QMJHL final, or whether he hopes to be a Los Angeles King next year:
"We'll see. Just follow me, you will see. [Reporter: You think you're going to be playing in the NHL?] We'll see. [Reporter: Do you think you're ready?] I said we'll see. [Reporter: You are a politician.] I can't repeat it enough." [heavy laughs]
On the number of times he met with the Kings over the course of the season:
"Once in the season, maybe twice, and in the combine. Three times. [Reporter: Did you get any idea they were interested?] Yes, I had an idea, but I didn't know that I would go in the second round, so I didn't think that they would draft me. But, it happened , and I'm really, really happy."
On playing in a "sunny city":
"Yeah, that's nice. [Reporter: Leaving Baie-Comeau for L.A. is…] It doesn't matter. They're both good."
On his decision to leave Russia and play junior hockey in North America:
"I just wanted to improve myself, so I came here. That's why I came here, just to improve myself. [Reporter: Did you think it worked?] Yes. It worked…I hope I'll continue to improve here."
On the adjustment to the North American style of hockey and the smaller rinks:
"It's OK. The first few games, I just tried to feel the game, how it was here."
On the off-ice challenge of adjusting to a new culture:
"The language I knew before…I learned in school in Moscow. Off the ice, it was pretty tough, like gym. But it's O.K."
From Grant Sonier's ESPN Insider top-50 prospect list ($):
Valentin Zykov-#24
When Russian players come over to North America to play we usually marvel at their skill set, but in the case of this forward, that admiration has as much to do with his work ethic and character as his skill. Very strong on the puck with a willingness to compete and battle, his offensive output this past season was impressive as he scored dirty, hard-working goals. The downside to his game is his strength will be less of a factor when he plays pro hockey against men. This poses the question as to how much creativity he has on the offensive side of the puck? He doesn't display high-level hockey sense offensively, but still possesses the desire to be a secondary scorer while he finds his way.
From the press release announcing him as the CHL's rookie of the year:
"Valentin demonstrates extraordinary rigor in everything he takes on," said Eric Veilleux, Head Coach of the Baie-Comeau Drakkar. "He is serious in his training on and off the ice, and leaves nothing half done. He is intense, driven and a perfectionist. No other player on the team possesses as much discipline as Valentin. He has a calm and quiet temperament and a positive influence on his teammates in and out of the locker room.

"Valentin is one of the most complete players in the league. He is capable of remarkable games and adapts easily to different styles. He has great motivation, unusual perseverance and above all an extraordinary talent. His determination and self-discipline led him where he is today," added Coach Veilleux.
NHL Central Scouting's Chris Bordeleau:
"He's an unbelievable talent; scores the big goals. He's going to be special. Great skater, strong kid. Really a solid kid. He goes into the corner and comes out with the puck. He has great hands, can shoot the puck, passes the puck, does everything well."
Also from NHL.com:
• Zykov had a breakout season with Baie-Comeau in 2012-13, his first in North America, registering 75 points (40-35–75) in 67 games. He was selected as the Quebec Major Junior Hockey League's Rookie of the Year and Offensive Rookie of the Year and also named to the All-Rookie Team.
• He was named the 2012-13 Canadian Hockey League Rookie of the Year after leading all first-year players in goals (40) and points (75). He also paced all QMJHL rookies in playoff scoring with 10 goals (10-9–19) in 19 playoff games.
• In 2011-12, Zykov played for CSKA in Russia's junior league recording 11 points (5-6=11). His 105 penalty minutes ranked second on the team.
• He represented Russia at the 2011 World Junior 'A' Hockey Challenge and the 2012 Under-17 World Hockey Challenge.
FAVORITES
NHL teams: Detroit Red Wings, Montreal Canadiens
NHL player: Pavel Datsyuk
Music group: AC/DC
Movie: Pursuit of Happiness
Actor: Will Smith
Website: NHL.com
Sport (other than hockey): Ping-pong
Superhero: Spider-Man
Dream car: Mercedes