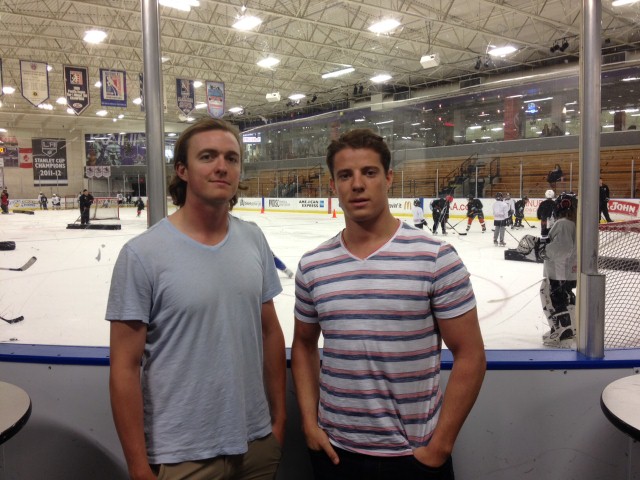 It was a quick turnaround for the two newest Kings, Matt Frattin and Ben Scrivens. After arriving in Los Angeles late Sunday night, they toured the team's practice facility in El Segundo, took physicals and addressed the media as part of a conference call on Monday before heading back to the airport and returning to Toronto.
LAKI will also host a pair of KingsVision interviews with Frattin and Scrivens; until then, enjoy the transcript of their media availability.
Matt Frattin, on learning about the trade:
"I was out at the lake this past weekend, and I got a call from Dave Nonis, who is the GM with Toronto, and he relayed the message to me that I got traded to L.A. A little later after that, Ron Hextall gave me a call, too, and kind of just tried to set up some stuff for me to come down after that."
Ben Scrivens, on learning about the trade:
"Similar story. I was at home in Toronto, and I got a call from the assistant GM, Claude Loiselle, of Toronto. He informed me that there had been a deal made and I had been involved, and I was going to L.A. He thanked me for my time and a little while later I got a call from Ron Hextall and got everything rolling to come down to L.A. today and meet everybody down here."
Scrivens, an Alberta native, on his familiarity with the Sutter family:
"We're both familiar with the Sutters, since obviously it's a storied hockey family. But I don't know any of them personally.
Frattin, also an Alberta native, on Scrivens' comments:
"Yeah, same with me."
Frattin, a natural right wing, on his ability to compete for a top-six role as a left wing:
"I played a few games with Toronto on the left side. I'm definitely comfortable over there. My strong side's my right side, but I'm just going to come to camp and just try and earn a spot. That's what everybody's going to be doing, and I'm just going to do that myself too."
Frattin, on the condition of his left knee following two surgical procedures:
"The first time they repaired it it was a five-to-six month rehab period, and then I played two months on it, and then I re-tore it in the Buffalo game, the third or fourth game after the lockout started. They cleaned it up and took 40% of the meniscus out. I was out for three weeks after that and then came back and towards the later part of the season and into the playoffs I felt like I was at 100% and playing like I was."
Frattin, on whether he's familiar with any members of the Kings:
"No, I don't know any personally. I know Matt Greene is also an alumni of the University of North Dakota, where I went, too. He was there a couple years earlier than I was, but I'm sure we'll get in touch and maybe catch up. That's basically the only guy I kind of know on L.A.
Scrivens, on whether he's familiar with any members of the Kings:
"The only guy I had met before was Dustin Brown. He's an Ithaca, New York native. Obviously, I went to school at Cornell, so during one of the off-seasons there he had skated with us a little bit, but it was brief and in passing. I think I only skated maybe a couple of times with him. Other than that, I just know people through other people. The hockey community is quite small when you get to this level, so I know a lot of people who have played with guys on the team, and I've heard nothing but good things. I know I can say for myself I'm really excited to be joining this locker room."
Frattin, on Kings prospect Derek Forbort, a teammate at the University of North Dakota:
"He's got a huge body. I think he's about six-five, six-six. He's definitely brings offense and defense to his game. I played two years with him, and he just kept progressing as a player. He's a great guy on and off the ice, and he's definitely a room guy and a character guy that should help out in the future."
Frattin, on Dean Lombardi's assertion that he had been interested in him for some time:
"Yeah, that's definitely exciting knowing that the team that just traded for you definitely wanted you for the past couple years. I'm definitely excited for an opportunity, and wherever they kind of slot me in, that's where I'm going to try and play my best. Personally, I did not know there were too many trade talks. I mean, you hear rumors within the media, but you don't try to think too much of it, because Toronto and the media is pretty crazy up there. But other than that, most of it was probably behind closed doors, and I don't think too many people knew about the trade rumors."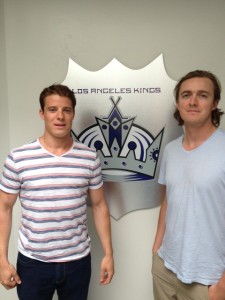 Scrivens, on entering a situation as the clearly defined back-up goaltender:
"I mean, that's the problem no matter where you go. Everybody wants to be the guy. Everybody wants to be the number one. Obviously I'm still a young guy in the league, and for me to come in behind Quickie and learn as much as I can with him and work with Billy Ranford, it's a great opportunity but also a great challenge. That was my role in Toronto by the end of the year, was trying to push James for ice time and for starts. So I really don't see it as too much of a change coming in to L.A. You have to earn every minute you get on the ice. But, saying that, the better you play, the more chances you get. Hopefully I can provide a good counterpunch when Quickie needs a break, and hopefully I can force the coaching staff into a difficult decision into how often they want to play me because I'm playing well. That's all you can do, and that's all I'm going to focus on."
Frattin, on how familiar he is with Los Angeles and Southern California:
"No, I'm not familiar with Southern California at all. This is all new to me. So far the past 15, 20 hours here, it seems very welcoming, and everybody around the rink has been warm and welcoming, so it feels really good."
Scrivens, on how familiar he is with Los Angeles and Southern California:
"I've spent a little bit of time around here. My wife is actually from Camarillo, just north in Ventura County. So I'm a little bit familiar, but I definitely wouldn't call myself a local by any stretch. I'm sure we're going to find some spots that we like, and really start to form some roots early on. We're both really excited to be in L.A. and to be part of the organization here."
Frattin, on scoring his fourth career NHL goal against Los Angeles in the 2011-12 season:
"I mean, I'll always remember the first one. I don't really remember that one exactly, but I remember that was an overtime game. I believe L.A. won that one…"