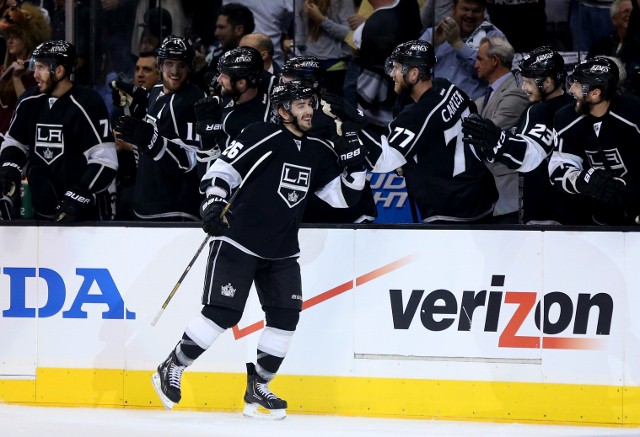 By signing burgeoning 23-year-old defenseman Slava Voynov to a six-year, 25-million dollar extension, general manager Dean Lombardi has crossed off the most important task from his pre-July 5 checklist.
Voynov's contract, which averages 4.17 million dollars per year through 2019, is a palatable cap hit for a team that now has 7.7 million dollars with which to allot to eight players to comprise a full roster.
Past any salary cap jangling, the contract could turn out to be a significant coup for Lombardi. Though the circumstances amongst contracts differ – it takes less money to entice a player to commit long-term to Los Angeles than it would for Nashville or Phoenix, for example – the 4.17 million dollar cap hit is actually closer to the former rather than the latter targeted in the 3.5-to-5 million dollar ballpark LA Kings Insider had projected last month.
A look at comparable contracts reveals that the Kings appear to be in a completely fair situation considering what they'll commit to a dynamic young player whom they'll have between the ages of 23 and 29. Voynov, a coveted right-shooting defenseman, followed up a 48-game, 25-point (6-19=25) regular season with an 18-game, 13-point (6-7=13) playoff run. Four of his six playoff goals were game-winners.
Similar contracts, courtesy of CapGeek:
Player, age: Annual cap hit / Expiration of contract – Team
Keith Ballard, 30: 4.2 / 2015 – Vancouver
Ed Jovanovski, 36: 4.13 / 2015 – Florida
Tomas Kaberle, 35: 4.25 / 2014 – Montreal
Marc-Edouard Vlasic, 26: 4.25 / 2018 – San Jose
Anton Volchenkov, 31: 4.25 / 2016 – New Jersey
Mark Giordano, 29: 4.02 / 2016 – Calgary
Roman Josi, 23: 4.0 / 2020 – Nashville
Andrej Meszaros, 27 4.0 / 2014 – Philadelphia
Tim Gleason, 30: 4.0 / 2016 – Carolina
Zbynek Michalek, 30: 4.0 / 2015 – Phoenix
Filip Kuba, 36: 4.0 / 2014 – Florida
Cam Fowler, 21: 4.0 / 2018 – Anaheim
Jack Johnson, 26: 4.36 / 2018 – Columbus
Voynov and Drew Doughty becoming unrestricted free agents together in the summer of 2019 is a concern, though with the Kings' window of opportunity appearing to be sturdily propped open this decade, it's certainly something that the team won't be losing any sleep over for the foreseeable future.
This does have an impact on the team's efforts to re-sign veterans Rob Scuderi and Dustin Penner. Los Angeles has an average of just over $959,000 per roster spot to allot to free agents, a group that includes RFAs Kyle Clifford, Trevor Lewis, Jordan Nolan, Alec Martinez, Keaton Ellerby, Jake Muzzin and Jonathan Bernier and UFAs Brad Richardson, Scuderi and Penner.
Bernier will be traded soon, and the versatile Richardson has also likely played his last game as a King. For Scuderi to re-sign without any current contracts leaving the table, he'd have to accept less than what he'd earn on the open market, while Dustin Penner would have to agree to a friendlier, hometown discount. At this point, it appears unlikely that either player will remain with Los Angeles next season.
Voynov, who was also pursued by club Traktor Chelyabinsk, receives a fitting and well-deserved reward after committing to the Kings and opening the season in AHL-Manchester during the lockout despite continued overtures from his hometown KHL club.
"They were all over him again," Lombardi said in January. "'Come back here. Let them let you go. You shouldn't have to go to the minors. You won a Stanley Cup. We'll pay you two million dollars.'"
Not only did Voynov continue his commitment to the Kings, he thrived in Manchester and completed his AHL stint with the firm backing of his general manager.
"Now, the next thing, is the guy going to pout? He, for the most part, played his ass off," Lombardi said.
"That was a pleasant surprise over there. He didn't get permission [to go to Russia], and it didn't affect him at all. He has grown so much as a person and in his maturity since he was drafted here."