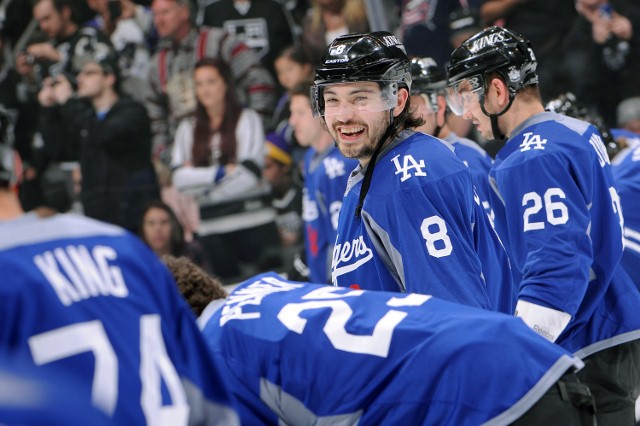 The Coors Light NHL Stadium Series that will bring NHL hockey to Dodger Stadium on January 25, 2014 represents an idea championed by the Los Angeles Kings and backed with collaboration between the team, the Los Angeles Dodgers and the National Hockey League.
Though the Kings had visions of hosting an outdoor game prior to this year, the firmer possibility of Los Angeles hosting an outdoor game started to come into focus when the league emerged from the lockout in January.
"We've made it clear for a few years that if they were to consider it, we want it," said Kelly Cheeseman, Chief Operating Officer, AEG Sports, in a May conversation with LA Kings Insider.
As it turned out, the interest was mutual, and the timing was just about perfect. The league was looking to expand its popular Winter Classic event while capitalizing on the raised profile of its players brought about by the 2014 Olympics, assuming the NHL, IOC and IIHF will reach an eventual agreement.
Considering the Kings were less than one year removed from winning the Stanley Cup during the period of negotiations – and advances in refrigeration and ice integrity made warm weather climates feasible options – Los Angeles was seen as an appropriate market to host an outdoor game.
"I think you look at that and you say, 'OK, L.A.'s celebration of the Stanley Cup was a little short lived, so let's give 'em another reason to celebrate,'" John Collins, the NHL's chief operating officer, said in a conference call at the event's announcement.
"Look at what the Ducks and the Kings have done in terms of really promoting youth hockey, really going back to Gretzky 20 years ago. And I think that's the opportunity. That's what we're trying to do with the Stadium Series. We're trying to get this event to more markets, to give more people an opportunity to tailgate and celebrate around hockey. Going to L.A., I think we have a good plan for how to pull it off, obviously with the Kings and the Ducks, but I think if we do well in L.A., it opens up the opportunity to look at some other markets. Doing it in what, I guess, you think of as a 'non-traditional market' for a Winter Classic really does set us up to get to some additional markets down the road."
With the mutual interest, "I think it just came down to getting all three of us in a room between the Kings, the Dodgers and the league," said Cheeseman.
"There's always the 'Yes, we'd like to do this', but then there's 'How do you do it?' and 'When do you do it?'"
That "when" is next January 25 – a malleable date that allows some wiggle room in the event of rain – a forecast that isn't uncommon in Southern California in early winter. It also falls within the Dodgers' schedule of being able to replace and maintain the field prior to the start of the 2014 Major League Baseball season.
Representatives of the league, the Kings and Dodgers toured Dodger Stadium one month ago for a sightlines tour and to gain a better perspective of the layout of the event and various logistical concerns – those refrigeration trucks have to be parked somewhere – while shoring up the blueprint of how to make the Dodger Stadium event a unique experience that pays tribute to its local and regional surroundings.
"A lot of the planning right now is about making sure that this game brings L.A.," Cheeseman said. "We are different than any other city in the league, and we can do some unique things that a lot of teams and organizations can't do, so we want to make sure that we reflect Southern California in all of these events, so that's important to us."
Of course, the ethos of Southern California living may be at its most accurate when sitting under a darkening, palm tree-silhouetted, post-sunset sky at a baseball stadium that practically requires a car to access.
"I think you could have a lot of fun with the fun with the event in terms of the way you stage it and the way fans kind of celebrate the game," Collins said. "I like the idea of tailgating in shorts."
While the NHL oversees the actual Kings-Ducks game, the ice will be installed with ample time for the Kings to host a series of ancillary events.
"The process of probably doing a second-tier event in conjunction with the game, like an alumni game, we'll need to make a decision on pretty quickly because that'll be a part of the ticketing process," Cheeseman said. "Things like minor league games or junior hockey games, all that stuff will kind of work itself out, because you have to work off the timeline of when we can practice and all the skates and stuff go into the following week, what opportunities are there for you. Once we lock all that in, it all kind of falls in place. But our goal would be to do something big on Friday night before the game the following day, and I think we have a huge opportunity to do something pretty special."
The event will allow both the Kings and Ducks to further one of their core efforts: to continue to grow the game and raise hockey's ceiling in an area that has already made significant inroads regionally. The advancement of Emerson Etem (b. 1992), Beau Bennett (b. 1991) and Jonathon Blum (b. 1989) and the increase of California-born junior, college and minor league prospects is a representation of Gretzky's influence on the growth of the sport in the state.
"We want as many of our fans and as many as our local kids to touch that ice, to be in the stadium around it all throughout the week," Cheeseman said. "There'll be a special allocation of tickets that are specifically for youth hockey. That's something that the league has done a great job on in all of the stadiums with the Winter Classic. We expect that to continue. We know that's continuing at Dodger Stadium, so I think that's what special about this, is we want this to be about the kids – kids in…their jerseys and Kings jerseys around the ice – as many kids as can get on it."
As for Gretzky, the Kings appear to be taking an open-ended approach towards securing his involvement.
"I think any time you think about our organization and past players, you think about Wayne. He was obviously the greatest hockey player that's ever played the game and played for our organization," Cheeseman said. "We hope there's that opportunity, but all that stuff needs to kind of get ironed out before we can make any sort of commitment there."
Though the Ducks are the visiting team, they've been included in much of the planning discussions to date and would certainly benefit from the widening of the hockey scope throughout the southland.
"Our goal with the Ducks – as it always is – is as much as we have a rivalry on the ice, off the ice we need to grow the game locally in Southern California and the state of California. So we will embrace that relationship and work with them to grow this opportunity for them," Cheeseman said. "As much as we'll look to provide that opportunity for our season ticket members and all of our key clientele and customers that get access to the game, that they have the same right, and I certainly hope they have the same success with it."
The Dodger Stadium event is one of six outdoor games to take place next season and the first Stadium Series event to follow the January 1 Winter Classic between the Detroit Red Wings and Toronto Maple Leafs at Michigan Stadium. Games will also be hosted at Yankee Stadium on January 26 and 29, shortly before the Meadowlands-centered Super Bowl XLVIII, in addition to Chicago's Soldier Field on March 1 and Vancouver's B.C. Place on March 2.
Any possible cannibalization of attention is off-set by the "national-scale" awareness and strong television ratings outdoor NHL games generate, according to Collins. "Any time we've played in the Winter Classic, it's been the highest-rated regular season game," he said.
"We recognize that if you do more than one, it has a potential to be diluted," Collins said. "But we think the benefits of this on a local market basis, and then we think cumulatively. This is going to be better for the sport, better for the business."