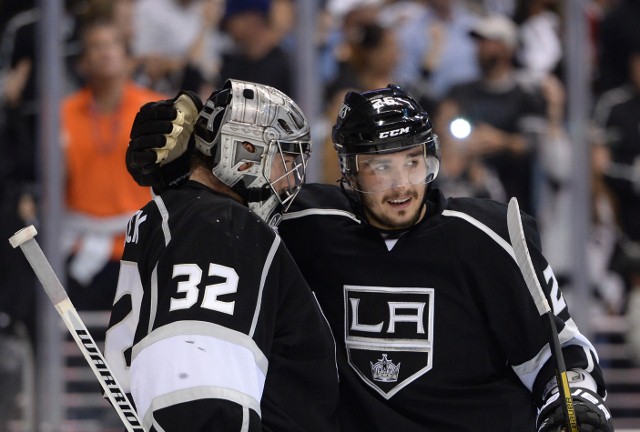 Defensemen aren't necessarily judged on the points they produce, but any measurement of Slava Voynov's game has to take into account the numbers he's put on the scoreboard since joining the Los Angeles Kings in the 2011-12 season. In 138 career regular season and playoff games, the right-handed shot has accounted for 59 points on 20 goals and 39 assists – including a bizarre, seeing-eye shot in which he broke his stick on a slapshot in the second period of Game 3 before the puck found its way off Corey Crawford's pad and into the net. It was described as a "broken bat single" after the game by Justin Williams.
He's a plus-10 in 16 playoff games this postseason, a fairly remarkable account of his value to a team that averages exactly two goals per game.
Voynov spoke to the media following his two-point performance in Game 3. On Tuesday and Wednesday, his teammates described the value that the 23-year-old has to a Kings team that trails the Chicago Blackhawks two-games-to-one in the Western Conference Finals.
Slava Voynov, on his Game 3 goal:
"I had one second…and aimed at an empty spot at the net, and the puck went where I wanted. But a broken stick – the puck just went slow. I'm lucky."
Voynov, on the team's home/road discrepancy:
"I don't know why. This playoff, we play on the road not too good. In the first round we played against St. Louis – same thing. Just play games and try to win every game."
Voynov, on the team's physical play:
"It's very important for us to play physical against top guys. It's our organization."
Voynov, on whether taking key players out of their game is part of the gameplan:
"Oh yeah. Play physical, simple in D-zone, quick in the middle zone. Get our chance, score goals."
Voynov, on scoring goals and helping the offense of a team that doesn't score many goals:
"I'm on the team too, so I score, the team scores."
Voynov, on Jeff Carter's play:
"He plays all the time well. Speed, scores goals, makes a chance for us with passes."
Voynov, on the Duncan Keith's high stick on Jeff Carter:
"It's playoffs…A lot of injuries in the face. Carts, and Regehr too."
Voynov, on how much he talks with Rob Scuderi throughout the game:
"He talks about some moments on defense and how to play better. Faceoffs, where I go, he goes. That helps me sometimes. [Reporter: He says you know more English than maybe we think.] My English, still the same thing."
Rob Scuderi, on whether it's difficult to communicate with Slava Voynov:
"No, I think he knows a lot more than he lets on. I think it's pretty easy when you're saying the same 10 words to each other and you try to get a feel for each other, and he's done a great job."
Justin Williams, on how Slava Voynov seems to find "quiet ice" during congested play:
"Have to ask him. He seems to find some ways. As you said, he seems to find some holes. Even though he doesn't speak too much English, he talks a lot on the ice surprisingly. You always know when
he's open. He jumped in the play. He scored some huge goals for us."
Williams, on whether he has picked up on any Russian:
"No. Not even the dirty words."
Sutter, on Voynov and finding production from unexpected sources:
"You know, you have unsung always at playoff time the farther you go. Basically what happens, if you don't make the playoffs, what are perceived as star players take the heat, or coaches. As you go further down the road in playoffs, the only way you do it is by having great depth. There's guys that get a little bit more spotlight, usually because of offensive production. So when you talk about someone like Voynov, that's why we put him in a lot of situations to excel at what his skill set is. Basically what you're asking him to do is maximize his skill set. Simple. If you do that, you get an opportunity to play in those situations. All it is for someone like him, it's one more year's experience removed from playing in the American League, coming up partway through the year, playing in the playoffs, playing back in the American League this year, coming back to the NHL, then to play the same amount of minutes again at playoff time. It's just a little bit more experience."
Sutter, on Brown's assertion that Voynov is able to withstand battling against larger players:
"I think there's a lot of talk made about size, you know, big teams and all that. Quite honest, it's a bunch of bull. When you look at the actual stats part of it, I think everybody's team average is 6'1″ and about 204. That's what our team is, that's what their team is. Some guys are just under it, some just over it. Is there a big stature difference? I don't think so. We try and have him so he's not always on the ice against Hossa, Bickell, so he's more into his skill set, so he can maximize his skill set, not put the square peg in the round hole."
Sutter, on his first impressions of Voynov after joining the Kings:
"I guess what I remember most was he wasn't playing much if he was here. It was a big adjustment for him. There definitely was a language barrier. Whether he was uncomfortable with not wanting to converse, whatever it was. That's an issue. Have to be able to coach a player and team. You have to be able to communicate. That was an issue here, in a lot of different areas. That was really important to me. The next part of it was, because of the roster, the team, I forget when it was, I know there was a point that we sent Slava back to Manchester. At that point, it was to find a roster spot for King and Nolan. Then he came back to the big club when we traded for Jeff. Basically it was to replace Johnson. We were basically saying, Okay, we're on a fine line here, we're seeing if we're a playoff team or not, but let's put the young player in there, have a veteran player to partner with him. What's the progress he's made since then? I think we put him in a position to succeed, not to fail. He's a young player. He has so little experience, you think about it, game experience at this level. Quite honest, he's probably got as much playoff experience as regular season experience. I bet it's close now. There's been highs and lows in this season. There's been highs and lows in this playoffs, that's for sure."
Matt Greene, on Slava Voynov's maturation process:
"Slava has been great. He's been great last year since he got called up. It was a bit of a logjam here before he got up here. But he's been awesome. Same thing from when I first got here. We knew we had a really good player with him. Now he's delivering. He likes being in the play. He really does a good job of taking care of his own end. He's been great. We've seen that since day one, though.
Greene, on whether he has learned any Russian from Voynov:
"No. I have one phrase. [Reporter" Which is?] I'm not saying it."
Greene on Voynov scoring as his stick broke in Game 3:
"Yeah, that's playoffs, man. Crazy things happen. That's it. Sometimes you need that. You need a little luck. We got it last night."