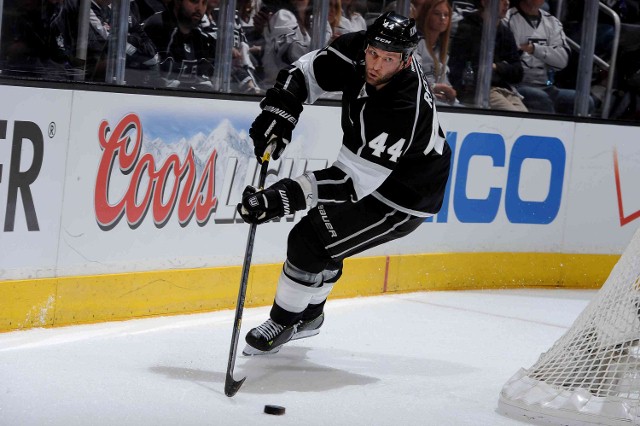 The Los Angeles Kings signed unrestricted free agent Robyn Regehr to a two-year extension through the 2014-15 season. Regehr, who made 4.02 million this year, will make three million dollars in each year of his new contract, according to Darren Dreger.
Regehr was acquired from the Buffalo Sabres on April 1 in exchange for the Kings' second round draft picks in 2014 and 2015.
There are now four defensemen currently under contract for next season – Drew Doughty, Matt Greene, Willie Mitchell and Regehr – though it is unclear whether Mitchell, who has not played this season due to inflammation in his knee and a pair of knee surgeries, will be ready to play once training camp opens. "I guess it's safe to say there would be a legitimate concern now whether he plays next year," Dean Lombardi said at the trading deadline.
Darryl Sutter acknowledged throughout the spring that Regehr's arrival provided what had been lacking in the absence of Mitchell.
"I think both are experienced guys," he said Thursday when asked if Regehr had provided what Mitchell had provided to the Kings.
"Both are great locker room guys. Both are great work ethic guys. Both are always well-prepared for games. So has he done that? Obviously we're still playing, so he must be doing that."
The sentiment was reinforced by Regehr.
"They told me that they wanted me to be a good defensive defenseman, physical guy, help on the penalty kill – doing things like that," the 33-year-old said Thursday. "I had a really good understanding of the things that I needed to really work on, and Darryl had mentioned that they felt that they were missing a veteran presence during the season unfortunately because of injury, with both Matt Greene and Willie Mitchell missing most of the year. To try to come in and help out in that way, that's what they felt they needed."
It's also what they've received. Known as an defensive stalwart and an effective penalty killer, the Kings killed off 27-of-30 (90%) penalties in the regular season following Regehr's arrival and 64-of-73 (87.7%) overall, including playoffs.
The extension does raise questions of impending roster and contractual decisions with a shrinking salary cap and in advance of free agency, which begins on July 5.
As it stands, the Kings now have just under 11 million dollars to spend on a collection of restricted and unrestricted free agents. Slava Voynov, a restricted free agent and the most important of the group to be re-signed, is likely to command a ballpark of 3.5 million to five million dollars in his next contract – a range likely weighed heavier towards the latter than the former.
"You've got to be careful at times getting too bogged down so the player can focus on playing right now," Lombardi said in March in regards to Voynov's contract negotiations. "But it's safe to say I wouldn't anticipate going to July 1st on this."
Regehr's extension calls into question Rob Scuderi's future with the team. Scuderi, in the final year of a four year, 13.6 million dollar contract he signed in the summer of 2009, would almost certainly have to take a pay cut from the 3.4 million dollar average of his current contract.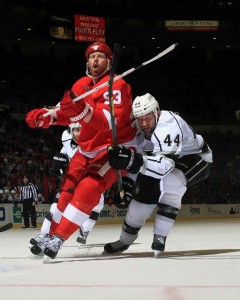 That the team has only three active defensemen from its current rotation signed through next season could mean that re-signing Scuderi is a priority, though of the seven restricted free agents who have appeared in a playoff game, four are defensemen – and three appear to be less expensive options. Voynov will get a hefty raise, though Keaton Ellerby, Jake Muzzin and Alec Martinez are all useful, more budget-friendly defensemen who could fill spots on the blue line of a team that isn't helped out at all by the salary cap's reduction from 70.2 million to 64.3 million dollars in 2013-14.
On top of the team's defensive salary cap concerns are pending restricted free agents in Trevor Lewis, Kyle Clifford, Jordan Nolan and Jonathan Bernier and unrestricted free agents in Dustin Penner and Brad Richardson.
A 13-year NHL veteran who entered the team's locker room without much familiarity in April, Regehr has firmly planted his feet in the city of Los Angeles over the span of two months.
"I wouldn't say it was 'easy,' because there are so many things that are new," he said when asked whether the mid-season transition was aided by his established NHL tenure.
"It's a new team. I didn't really know anyone on the team. I had met Jarret Stoll a couple times at his golf tournament, and I knew Drew Doughty briefly at a [Hockey Canada] training camp, but that was it. There were new players, a new city, new equipment, new everything. And the way the teams play isn't always the same, so you're adapting to that. So there is a lot. It's an unsettling feeling, I would say. Maybe that's the best way to explain it. But you just try to work on as many things as you can – talking to the coaching staff the first day you go and ask 'What do you expect of me as a player?' What are you looking for?' And that way you get a very good understanding of what you have to focus on, and then from there you work with that. Sometimes you might need to do a little bit more video right off the bat because you're not seeing things maybe the way you're used to, but you try to get up to speed as quick as you can."
More from Regehr:
On playing back-to-back games on Saturday and Sunday:
"It really doesn't matter. We didn't know who we were going to be playing until last night. There was a lot of uncertainty, and right now I think we're just happy to know who we're playing, and we're off on the plane here today. It doesn't matter if it's back-to-back or if there's a day in between games. We've all played lots of hockey, and we have the ability to adapt any way possible. I know it's going to be alittle bit different with the afternoon game in Game 1, four o'clock. But you've just got to alter your preparation and make sure you're ready to go."
On ways to win more consistently on the road:
"Well, all the games really were close. But, yeah, we would like to see a little bit more offensive output. But we have certain keys that we need to execute in order to win on the road, and we've just got to do those. We've got to do a better job that way. But for us, all we're thinking about is going there and getting ready for Game 1. We know it's going to be a loud building. It's a very fun building to play in, and we've got to win Game 1. We don't really look back on all those things, all the stats and stuff. There's just things that we need to do, a game we need to play, and we need to play it hard, and if we do that, we'll give ourselves a chance."