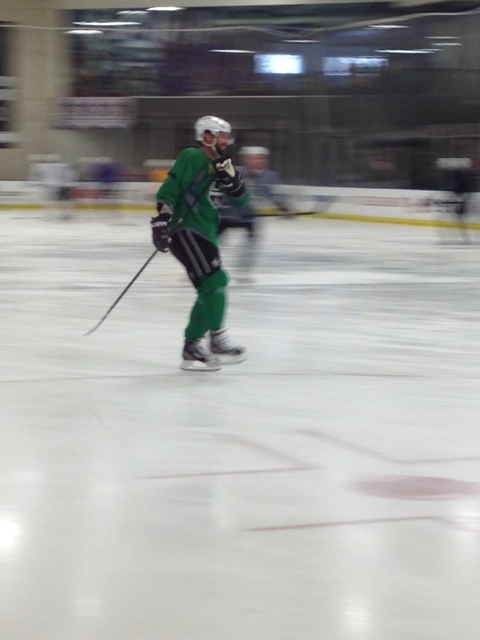 Jarret Stoll practiced lightly with the team for the first time since he suffered a concussion on an open-ice hit from Raffi Torres in Game 1 of the series against the San Jose Sharks.
After taking the ice in a green non-contact jersey at roughly 11:50 am, he shot pucks at an empty net prior to taking several laps around the ice and joining the team for the start of practice, where he was mostly confined to the perimeter during team drills. He concluded the practice by taking quick shots in succession at Jonathan Bernier and an open net and stretching with the team. After taking a few additional shots at Martin Jones, he left the ice at 12:43 pm.
This was his first light team practice. Stoll had skated on his own Friday, marking the first time he had taken the ice since the hit from Torres. He rode a stationary bike twice earlier in the week in his first physical activity.
Darryl Sutter, on whether he's encouraged by Jarret Stoll taking the ice:
"It is what it is. He's got a brain injury. It's not funny. He's got a brain injury. Can't play. We play with every other injury because you're hurting, but you can't play with a [brain injury]. It's very simple."
Sutter, on the concussion protocol and steps towards a player getting cleared to play:
"You know what, when he gets hurt, then symptoms – concussion symptoms – seven or eight symptoms, which basically tell you whether it's a concussion or not. Obviously he was symptomatic, so symptoms subside. Then you do your baseline tests. Then you do light activity. Then you do light activity with a group, see if there's any other symptoms, and then you have to by symptom-free again, which basically is the next day. Right? So it's still a- [Reporter: A ways.] Yeah."
Colin Fraser, on whether he and Stoll were talking on the ice:
"No, I mean I saw him yesterday. He skated yesterday, obviously quickly. If he's skating again today, he must be feeling better, right? So he was more out there I guess shadowing me around more to get his roots down and to just get a little skate in I think – this is my opinion – without overdoing it at the same time. But he looks good, and he must be feeling good if they're letting him still skate."
Fraser, on whether it was good to see Stoll on the ice:
"Good to see him out there. I mean, I said it before. He's a huge piece to our puzzle, and he's a huge loss defensively especially on faceoffs, especially, especially against a team like this who's good on faceoffs. It's a big loss for us, but I think we've adjusted well. Lewie's done a heck of a job. I guess he's a natural centerman coming out of junior. He's done a great job for us, and he's a smart player. Lewie's the kind of guy that you can put anywhere and he can play any position."
Fraser, on Stoll:
"People ask you all the time, 'How's Stolly doing?' Only Stolly knows how he's doing, cause head injuies – it sounds cliché – but it could be 24 hours, it could be a year, you never know, right?…Nobody can ever know, except for the actual person. So it's a good sign that he's skating again today."