THIS IS 30
The Los Angeles Kings resumed practice at the Toyota Sports Center on Monday morning. It was a full team practice that did not include fourth line winger Kyle Clifford, who is out with an undisclosed injury. Sutter declined to elaborate on the injury during media availability on Sunday.
Tyler Toffoli continued to skate with Colin Fraser and Jordan Nolan, a line that debuted in Game 5 of the St. Louis series. Also taking part in the skate were call-ups Tanner Pearson and Anthony Stewart, who skated with Brad Richardson.
Defenseman Matt Greene remains "day-to-day" with an injury unrelated to his back. Though he took part in practice, there is still no firm indication on the severity of his injury or when he could return to the lineup.
"Just cruising along and rehabbing and listening to the doctors. That's it," Greene said.
Greene turned 30 on Monday. To commemorate the milestone, the team wore green practice jerseys. He said much of the team spent the previous evening at "a fun little shindig," in which the Anaheim-Detroit game was on in the background.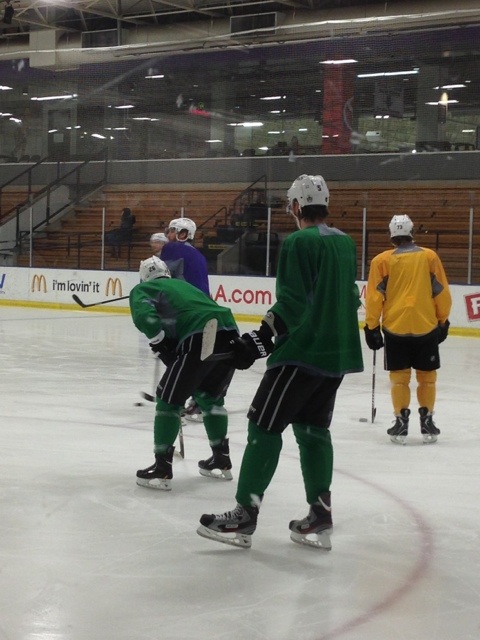 CALIFORNIA LOVE
If there was any disappointment over narrowly missing the first ever all-Southern California playoff series, it wasn't profoundly expressed in the Kings' dressing room.
"It was out of our control," Jarret Stoll said of facing San Jose in the second round. "Anaheim would've been good for Southern California, for youth hockey all around this area. It's never happened before, so that would've been exciting. But it didn't happen, and San Jose's going to be a big challenge for us. Games 1 and 2 in our building. It's very nice to have home ice, and we've got to take advantage of that. It's going to be a battle."
Darryl Sutter spoke of what both of the potential California series meant from a competitive standpoint within the Pacific Division while calling attention to the lessened travel in the second round.
"Even watching the Anaheim-Detroit game last night, quite honest, you're pulling for the team in our time zone. It says something about our division, quite honest," he said. "I know how disappointed Anaheim would be today, but if Anaheim would have won last night, that's three teams from our division. That would've been three hundred-point teams out of the four still playing, out of the 15-team conference, which is significant. You know what? You talk about it being a short trip, but if you look at how close the teams are in our division, you've probably got to go through one or two of 'em, and that's what we're doing."
SHARKS SURGING
Center Logan Couture is coming off a tremendous series in which he scored three goals – all on the power play – and added five assists in San Jose's four-game sweep of Vancouver. The 24-year-old tied for 10th in the NHL with 21 regular season goals.
"He's a goal scorer. He finds a way to get it done. That's it," Greene said. "There's a lot of guys on that team that we've got to be aware of. They've got a lot of high-skill guys. We've just got to slow them down a little bit."
The Sharks engineered more offense by moving versatile defenseman Brent Burns to the right of Joe Thornton midway through the season, which slotted players down a line and increased the team's offensive depth. When Los Angeles and San Jose met for the first time on March 14, the Sharks ranked 29th in the league with 2.16 goals per game and with an 18th-ranked power play that worked at a 17.0% clip. Their final regular season numbers represented a major offensive surge. San Jose finished with 2.42 goals per game, which ranked 24th, while their power play leapt from 18th to seventh overall, finishing the year with a 20.1% success rate.
The Sharks averaged 3.75 goals per game in their series sweep of the Canucks, buoyed by a power play that operated at a 29.2% rate.
"There's probably five or six guys on that team that we've got to neutralize, and we've got to shut down, get in their face, make it a very uncomfortable game for them," Stoll said. "That's what playoffs are all about – making it uncomfortable, taking away time and space, getting people out of their comfort zone and staying out of the penalty box, too. We can't be in the penalty box against this team. We know that. We've seen the difference in how many power plays they got and how many power plays Vancouver got in the first round – and they capitalized on it. They had a good power play. They scored some goals."